Warning!
This post is in our archives. Links in this post have been updated to point to similar bikes available to bid on eBay.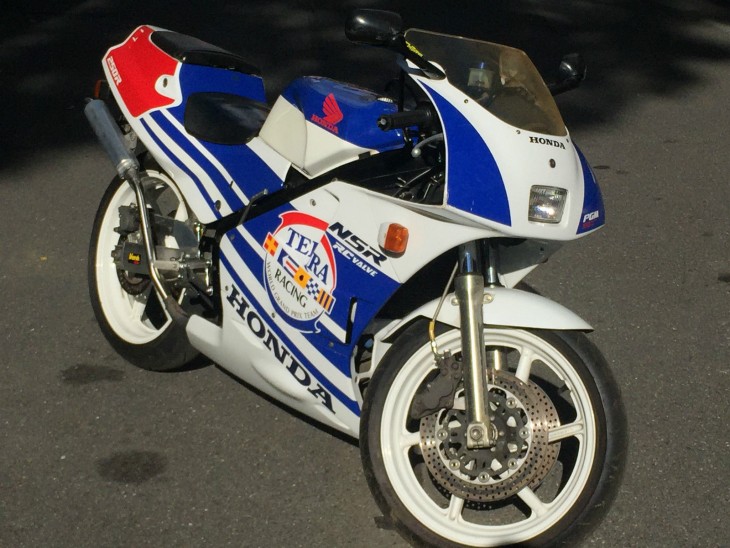 An update of the earlier 1988 MC18, the 1989 Honda NSR250R model saw evolutionary changes to the bodywork and styling of this small-displacement sportbike. But the most impressive feature was the highly-evolved PGM-II electronic control unit.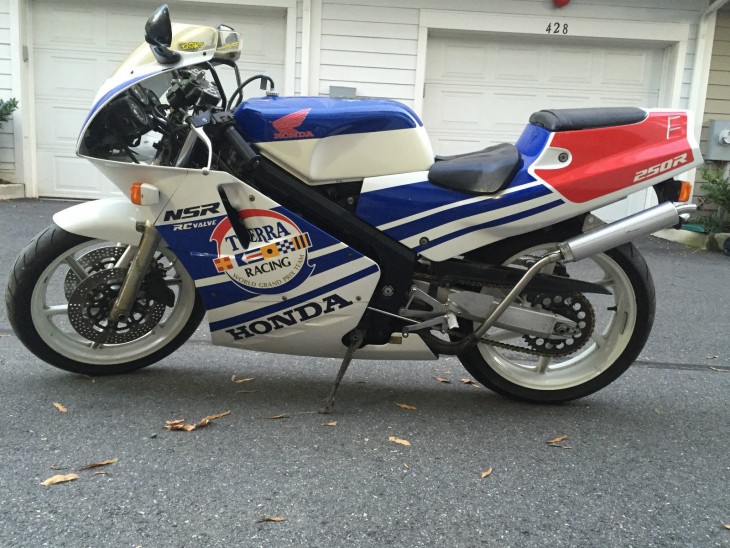 As brutally simple as two-strokes are in concept, there is real art in the tuning, and Honda's PGM-II orchestrated the bike's cutting-edge technology, using throttle position and engine RPM to create a "three-dimensional" ignition map to maximize performance of the tiny terror and reduce the lightswitch power delivery common to two-strokes.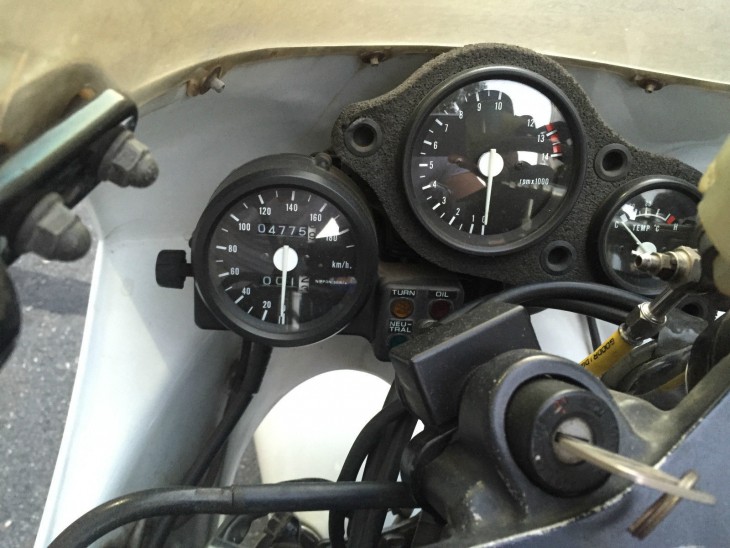 The 90° liquid-cooled 249cc v-twin was backed up with a six-speed cassette gearbox and, from the factory, these were limited to 45hp by Japanese law. But there was plenty of additional power waiting to be unleashed and with a sub-300 lb dry weight, there are huge amounts of performance on tap for back road warriors and track junkies alike.
There is a Buy It Now price of $7,500 listed and, considering the recent influx of bikes just old enough to avoid the 25-year ban, I'd say he's aiming a bit high: like many more recent imports, this example does have some scrapes, scuffs, and cracks, and it's not one of the more desirable SP or Rothmans bikes.
From the original eBay listing: 1989 Honda NSR250R MC18 for Sale
I am selling my 1989 Honda NSR 250R MC18-II two stroke motorcycle. For those unfamiliar with this bike, it is the street version of Honda's legendary 250cc Moto GP race bike, the NSR250. Despite it's small displacement, this is not a beginner's motorcycle! The two stroke engine is very powerful for its size and the bike weighs in at less than 300lbs. On a twisty road, it will leave larger displacement bikes in the rear view mirror. Plus the sound, feel, and power delivery of the two  stroke engine is unlike any four stroke motorcycle. The bike is in overall great condition, with 4,775km (<3,000 miles) on the clock. There are a few minor scratches on both the bodywork and one exhaust silencer (see pictures) but no other significant damage. The bike kick starts from cold on the first try and runs/revs very smoothly (see video).

Honda never sold this bike in the U.S. as the EPA banned most two stroke powered road vehicles in the '70's. As such, they are extremely rare. There are a handful of these bikes in the U.S., some here legally, and others illegally. In general, two strokes less than 25 years old are still banned by the EPA, so use caution if you are looking at a similar bike that is newer than 1990. This bike was imported legally by myself directly from Japan, and I have all the US Customs paperwork to verify its legality. I also have a clean and clear Virginia title in my name, which has an 11 digit VIN that matches the bike's frame number.

Photos: The first seven photos show the bike from various angles and the speedo/odometer in km. The remaining photos show the following marks & scratches: right front fairing, center front fairing, left front fairing, right indicator, left body fairing, right exhaust silencer, & rear seat fairing.
The seller also includes a short video clip of the bike being started from cold. When new, these weren't built to the absolute highest standards and some parts didn't weather well. In addition, they were often purchased by young people whose riding skills were often outstripped by their enthusiasm and when a limited budget has you choosing between maintenance and beer, the latter is going to win out more often than it probably should.
As always, remember to check your local laws before bidding. Or salivating: this influx of recently-imported two-stroke sportbikes really has me wanting something like this, even if it's limited to "off-road use." That ugly little tacked-on headlight is just begging to be replaced with some smooth, track-only bodywork.
-tad