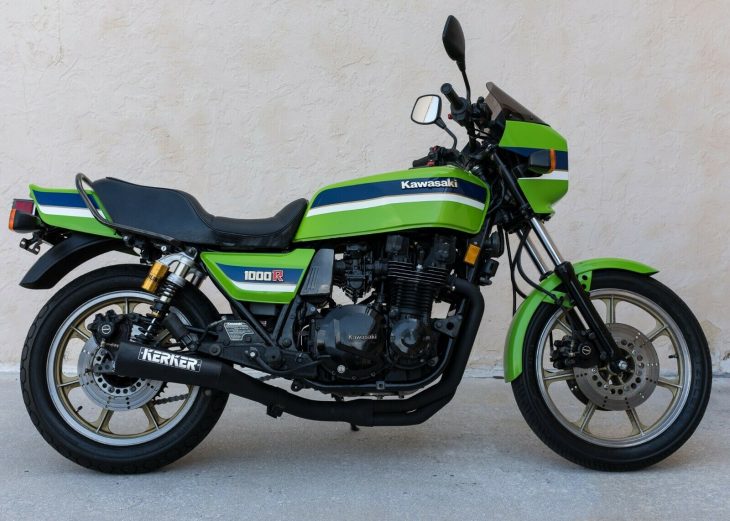 Used to be factories could build race replicas by throwing on a garland sticker, some reservoir shocks, a rorty pipe and a loud paintjob. Just basic mods and some raucous pigments got you looking a lot like Eddie Lawson back in 1983, though getting near his lap times still required a pile of special parts, and just a dollop of otherworldly talent. 
Kawasaki celebrated Eddie's pre-500cc grand prix 1981 AMA Superbike championship in high style, churning out about 1,000 examples of the wild 1983 Kawasaki KZ1000R. The engine came straight out of the regular KZ1000, albeit with a few tweaks. The bodywork was from the mighty GPz 1100, while the seat and bars were near-takeoffs from Lawson's race-ready mount.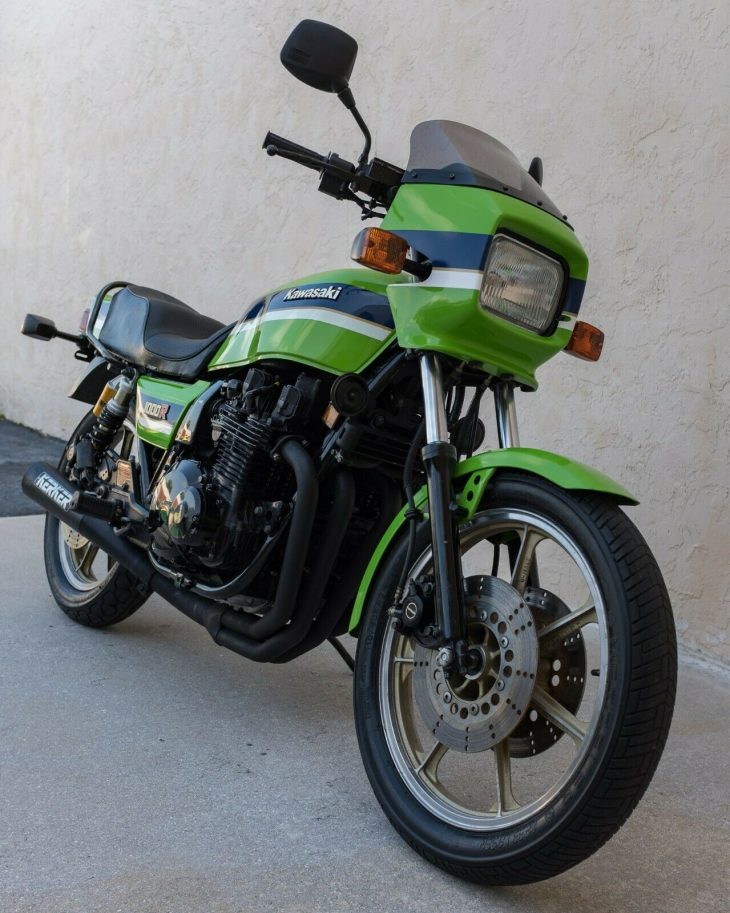 The lovely thing about the Eddie Lawson Replica is that there are no hyper-performance parts to get in the way of everyday rideability. The big mill is air-oil cooled to keep temperatures in check as simply as possible. It also sports a roller bearing crank assembly to insure magnificent longevity. 
This ELR has been ridden, and it shows, but that is part of its charm. The nicks, rubs and touch-up paint show someone did their best to do right by the bike's namesake, racking up just over 16,000 miles in the process. Nonoriginal parts are few and far between, though some lovely Ohlins rear shocks have made their way to the party. 
From the eBay listing: 
1983 Kawasaki KZ1000R – Eddie Lawson Replica – Factory Race Replica

This is an extremely original example of the limited production, special edition superbike commemorating Eddie Lawson (1981-82 Superbike Champion and four-time 500cc World Champion). Less than 1,000 ever produced, with some sources citing only 750 having been made (www.motorcycleclassics.com). When we first saw this bike at the Barber Vintage Motorcycle Museum it made an immediate impression, and we knew we had to have one. Wearing infamous Kawasaki racing green paint, the KZ1000R is powered by a 998cc double-overhead camshaft inline four. The Kerker 4-into-1 is factory included.

This motorcycle came from a high-end collector and has been well-preserved and well-loved. As far as we can discern the paint is all original, as are nearly all of the components on the vehicle. The non-original items include the fairing decals and brand new Ohlins rear shocks. All electric components function, as do all of the gauges and dash indication lights.

We have completed the following maintenance items:

• Fresh oil change.
• We rebuilt the petcock.
• Steering bearings were just replaced.
• New drive chain.

We'd like to disclose all of the imperfections in writing for full transparency. Please refer to all photos, as well as the additional photos and videos linked below:

• There is touch up paint on the back of the front fender.
• The mirror mount on the front brake master cylinder (right-hand side) has material missing but still functions.
• Scratches on the underside of the tank with light dings on other parts of the body.
• There is a light abrasion on the back side of the right fork.
• Small tears along the edge of the seat.

Clean title in hand. A must-have bike for the collection that you wont be afraid to ride!

$22,000.00 – Accepting Offers

Please see all videos and additional pictures.
www.burnupcompany.com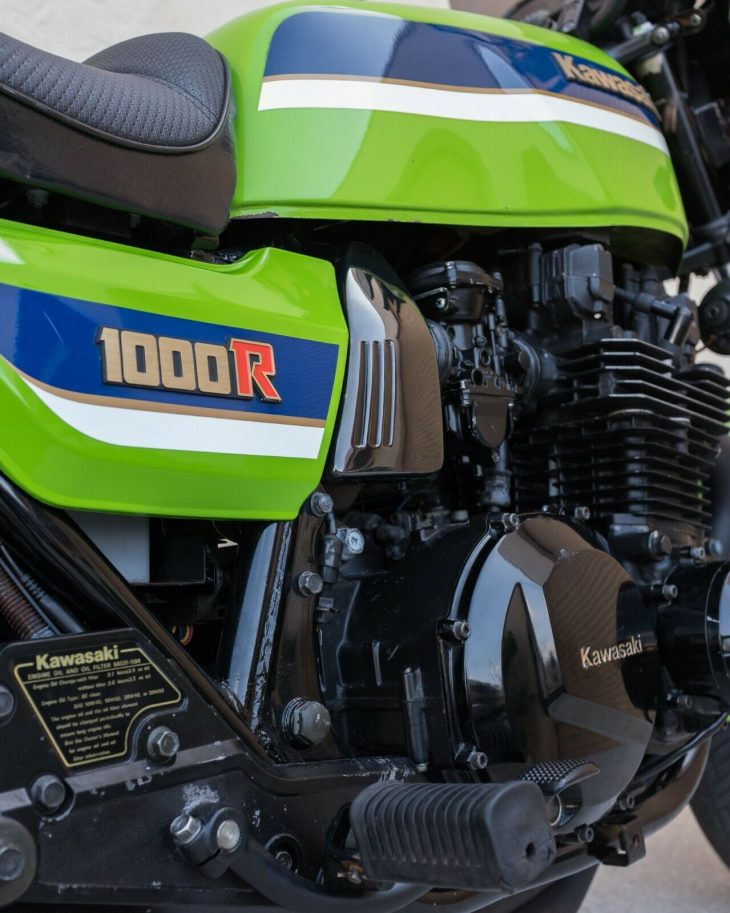 At $22,000 buy-it-now, the seller knows what they have. While the ELR might not be the highest-performance race rep ever built, it might be the most iconic, and it celebrates a true American icon to boot.