Warning!
This post is in our archives. Links in this post have been updated to point to similar bikes available to bid on eBay.
Every post will be sent right to your inbox every morning when new posts are made. We will never sell our list or spam you. Plus you can click links to bid or buy right from the email and skip the site entirely. Subscribe to Rare SportBikes For Sale today!
These three authentic race bikes are very special in their historical value, for winning and for not!
First Up:
Bike:  1999 Honda CBR900RR Erion Racing; Ex Kurtis Roberts
Location:  California
Price:  POR
The seller, RMD Motors, is sparse on the details, but it should be obvious what you're looking at being that this bike is said to be authentic.  They do state that the bike produces 200hp at the rear wheel, comes with nothing other than what is in the photos (Read: No spares)–but that does include Kurtis' actual leathers.
The AMA Formula Xtreme series is intended for production bikes, with some, but not many, rules on what parts of the bike you can exchange for aftermarket parts.  The intent of Formula Xtreme is to allow as many types of motorcycles to compete, anything from inline-fours to air-cooled V-twins.  Formula Xtreme racing is usually one of the more competitive and entertaining races of an AMA weekend; Many veterans such as Eric Bostrom, Jake Zemke, Josh Hayes, Nicky Hayden and Kurtis Roberts among others have cut their teeth in Formula Xtreme.
Erion Racing has continued to be a prominent name in Honda AMA racing with even a special Erion Racing edition CBR929RR released for the U.S. market by the manufacturer.  For 1999, Erion Racing was the winner of the Formula Xtreme championship with another title in 2000.  I'm not adept on the Formula Xtreme rules for 1999, but it's obvious looking at the bike what some of it's features are:  Race bodywork with mounts, analog tach',  race fuel tank, larger radiator, Erion SS/Carbon full exhaust system, aftermarket triple clamps, Ohlins forks & rear shock, Brembo calipers, Marchesini wheels and I'm sure much more that I didn't notice!  This is a chance to own a fantastic looking, legitimate, race bike with a championship under it's belt.  I'm unaware how many races this particular bike won, I'm not sure about the 900 designation as this should be a 919 or 929 based on the year, but you still have a serious piece of AMA history regardless and I'm sure RMD would be happy to answer your questions.
See this Erion CBR900RR on RMD's website here.
Next Up:
Bike:  2002 Kenny Roberts Proton KR3; Ex Nobuatsu Aoki
Location:  California
Price:  POR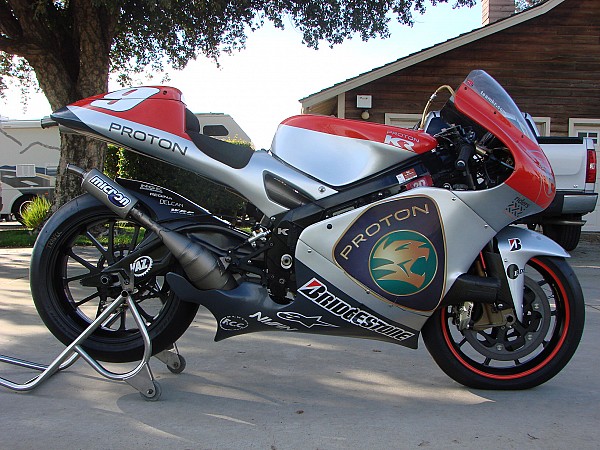 As you may know, 2002 was the last year for two-strokes in MotoGP.  Two-strokes had their last hurrah in 2001, but couldn't overcome the 490cc deficit they had to the four-strokes in 2002 and were finally obsolete–How you may feel about this is up for debate.  Regardless, Proton KR racing had a respectable finish in the 2001 championship with Nobuatsu Aoki & Jeremy Mcwilliams finishing 12th & 14th in the championship, respectively.  The disadvantages for the privateer team of Proton KR were immense and they didn't receive much help from their V-3 format.  The four cylinder bikes of 500gp had the most tractable power delivery–If it's possible to say that for a GP two-stroke–while also having the most power.  As an example, the NSR500v was a V-Twin example of Honda's factory NSR500 designed for privateers and had nowhere near the power of the factory bike.  The theory was that the two and three cylinder machines had a lower weight and could out corner the larger bikes, in practice the two and three cylinder bikes hadn't a chance but on a wet course or a very tight one.  The Proton KR3 debuted in 1997 and was a joint venture between legendary racer Kenny Roberts and Malaysian giant Proton.  While they may not have won any championships, or come close–and as frustrating as I imagine it was for KR–I'm sure "King" Roberts enjoyed it, I know I would have!
This example looks to be in fantastic condition.  The seller states that this bike will run and comes with a small selection of spares.  As I'm sure you can imagine, it would be no small feat to run this bike anywhere, especially when consumables are accounted for.  However, if you have the funds, ask yourself:  How many times does a 2001 500GP bike come up for sale?
See this bike on RMD's website here.
Lastly:
Bike:  2004 Kenny Roberts Proton KRV5 XM2; Ex Kurtis Roberts
Location:  California
Price:  POR (Rumor has it $300,000)
The Proton KR KRV5 debuted in 2002 with the adoption of four-strokes.  The V5 in KRv5 denotes that this bike has a 60deg V5 arrangement and a displacement of 990cc, putting out 200hp @ 15,000rpm.  The bodywork appears to be the latter iteration of the KRV5, which is consistent with the Valencia technical inspection sticker.  For 2004, Kurtis Roberts was only able to finish twice in France and Brazil with 15th and 19th, respectively.  The bike for sale here shows a technical inspection sticker for Valencia in 2004, however Roberts never started the GP at Valencia in 2004.
So, what are you getting for your money?  As things stand right now, you'll get a fully functioning seven year old, privateer, MotoGP bike with a minimal spares package.  This bike currently doesn't hold the value that any of the factory bikes would and shouldn't for a long, long time.  However, none of those factory bikes are currently available–that I'm aware of–and you'll probably be waiting a very long time for one to pop up if you don't already know someone who has one.
See the bike on RMD's website here.
So, all of these bikes look to be from the same seller/collection, but which one is the one to have if you can only choose one?  Obviously, the most expensive will always be one of the Proton KR bikes, with a large gap back to the CBR.  My money says that the 2002 Proton KR3 will always be the most valuable bike of the three; The most important influence being that it is one of the last two-stroke 500GP/MotoGP bikes to ever be produced–privateer or otherwise.  The 2004 KRV5 will always be a interim MotoGP bike and if the rules are again revised to allow 1000cc bikes, it won't even have a displacement draw.  The CBR is a National Championship bike, even if it's only in Formula Xtreme, and that kind of provenance doesn't come everyday.
There are two kinds of collectors these bikes are for:  One who has a decent amount of money to spend on a collector bike, and someone who has obscene amounts of money for a collector bike.  The Proton's are obviously the expensive bikes with the Erion CBR checking the affordable box.  Both of the MotoGP bikes have parts that you're never going to be able to purchase from any retailer, and I'm sure the CBR has some good HRC bits on it too.  I wouldn't be ashamed to have any of these three bikes, but I'd absolutely love to have a final year Grand Prix two-stroke.  If nothing else, spend a little time to enjoy the photos!
AG