The four stroke small-sports are definitely whipping up on the stock market this year, and this barely used 1989 will likely continue the trend.  It's a cornering machine with 60 hp and ready-to-ride weight well under 400 lbs.  New repro bodywork to preserve the excellent factory set can only help.
The progressive-license wars had been going on for several years overseas, and all of the big four had four valve inline fours available with racey lookalike styling.  The Yamaha won the refinement award with the EXUP exhaust valve tailoring the torque curve, and build quality was just shy of the red benchmark.  Except for the fields with numbers, the specs read like its big brother OW-01 – Deltabox frame, Genesis top end, quad Mikunis, dual front disks, and staggered alloy wheels.
The owner's not saying much about the history or whether this example is an import, but despite the nearly three decades it shows no corrosion and has Colorado paperwork.  Some 1989's have updated seat console and fairing while this one has more details from a few years before, perhaps an aficionado could comment.  From the eBay auction:
Never raced.

This bike comes with two sets of plastics.

The plastics on the bike currently are Japanese racing repro's.

The bike comes with the original plastics in fantastic condition.

In addition the bike comes with original manual, rear footpegs, back seat,
spare perfect condition radiator and hoses and a new red front fender.

The bike does not smoke or drip.

Tires are older and should probably be changed before serious riding.

There is a hairline crack in the original front fender not noticeable unless you look for it.

The original pipe has a couple of scratches that have been touched up but there are no
dents or damage of any kind.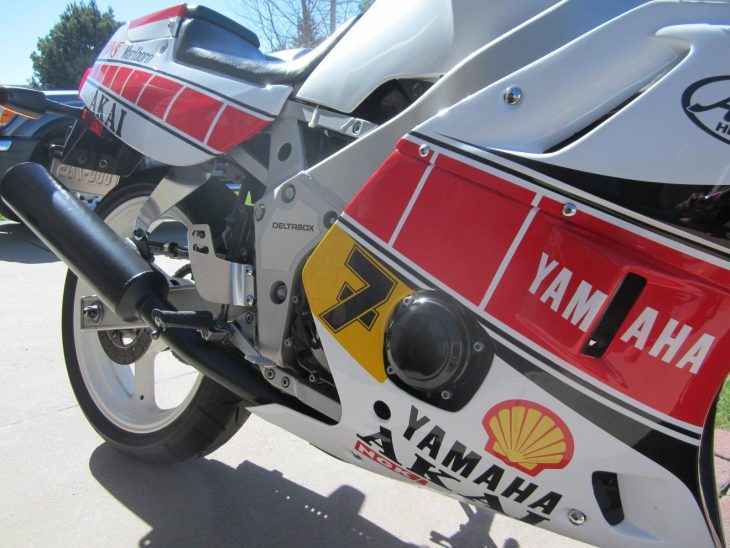 Though the FZR-400 was imported for a few years, the displacement arms race and premium MSRP curtailed its long term success.  Riders with a track day habit or easy access to some twisty bits have re-discovered the segment, and the bikes can be maintained at home. This one looks too nice to track, but could certainly take in some turns on the way to a bike night…
-donn