10.30.2017: Last seen in February of last year, this RG500 is back on eBay for $68k AUD, which is roughly $52k USD today, representing a bit of a discount since the last time we saw it for sale. Good luck to buyer and seller! -dc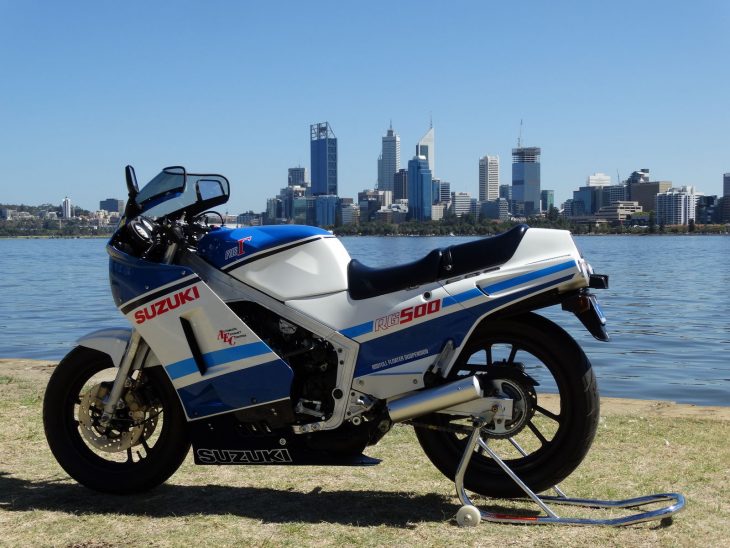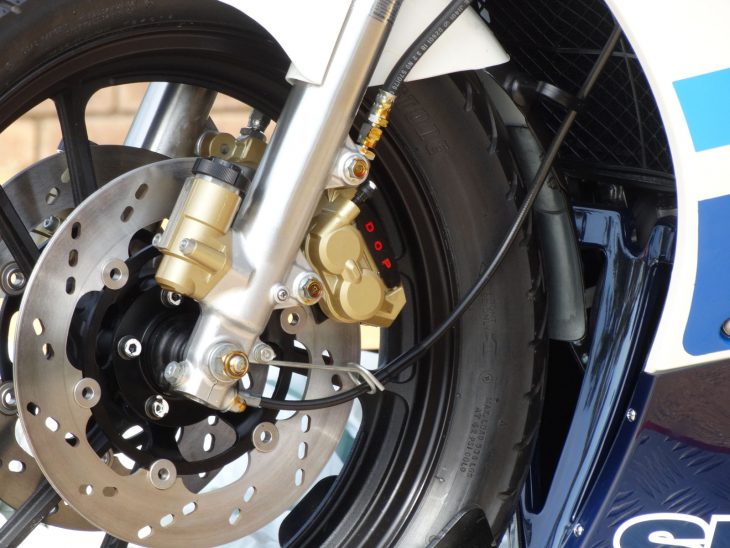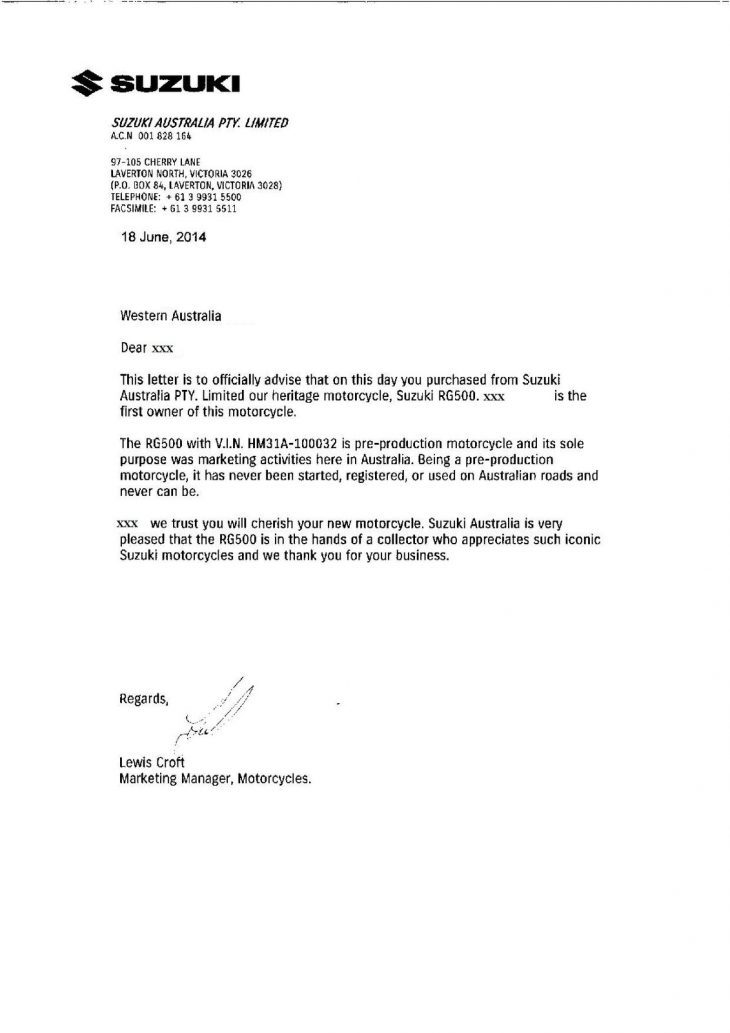 Within a hair's breadth of a 1985 Grand Prix machine, the RG500 has a water-cooled two-stroke square four between the alloy perimeter frame.  The 498 cc's generate 95 hp and the entire package weighs under 350 lbs., both numbers improvable with some professional tuning.  Suspension is right-side-up forks and Full Floater monoshock rear, and brakes seem small for the expected 146 mph top speed but appropriate for the weight.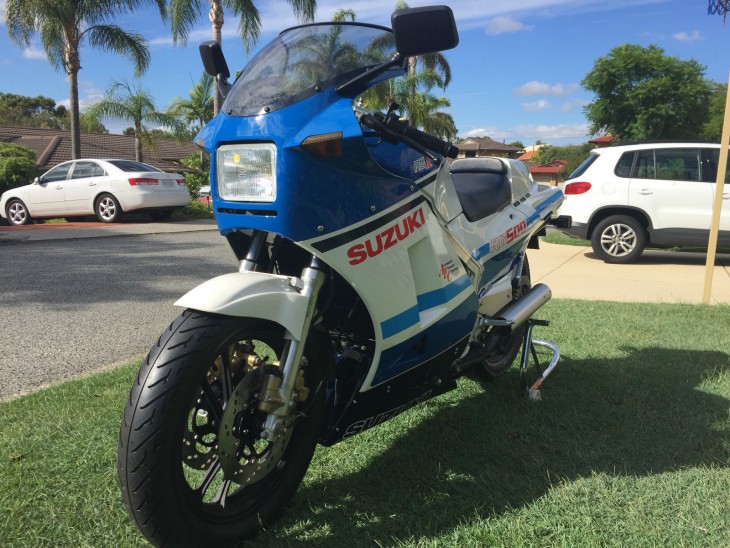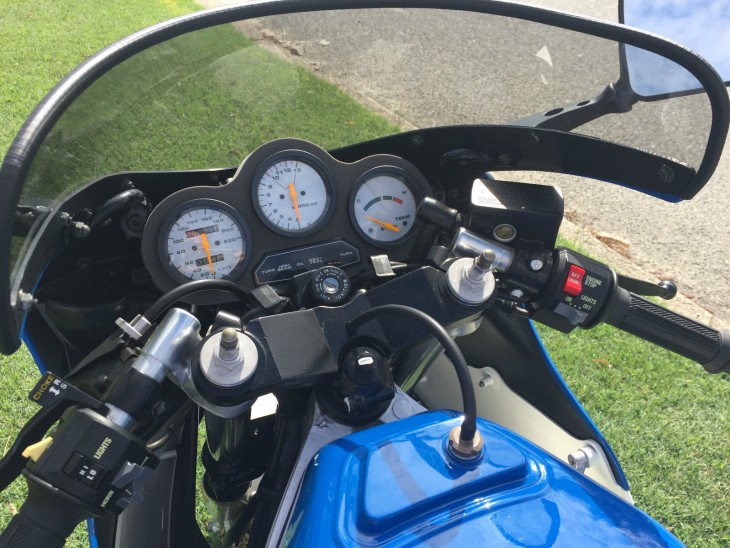 A pre-production marketing bike and never run, this is as close to a time machine as there could be.  Not a mark on it, and includes a nice certificate of authenticity from Suzuki Australia.  From the eBay auction:
Lets start by saying this bike has been for sale before and is not suitable for those who are going to ride the bike. It is a collectors bike only.
Secondly the bike shows 9kms on the odometer from being pushed around at various shows by Suzuki Australia prior to the RG500`s release in 1985.

This is a genuine new/never started RG500 that was previously used by Suzuki Australia as their show/demo/promotional bike prior to the release of the RG500.
It was never a "spanner" bike for dealerships apprentices to practice on.

The bike is what it is. The only thing I have added is the single seat option. It also comes with many now unavailable books, brochures, factory Gamma stand etc
No Vin Plate.
Will export worldwide at buyers expense.
The bike is in "as new" in condition and and has a supporting letter of authenticity from Suzuki Australia.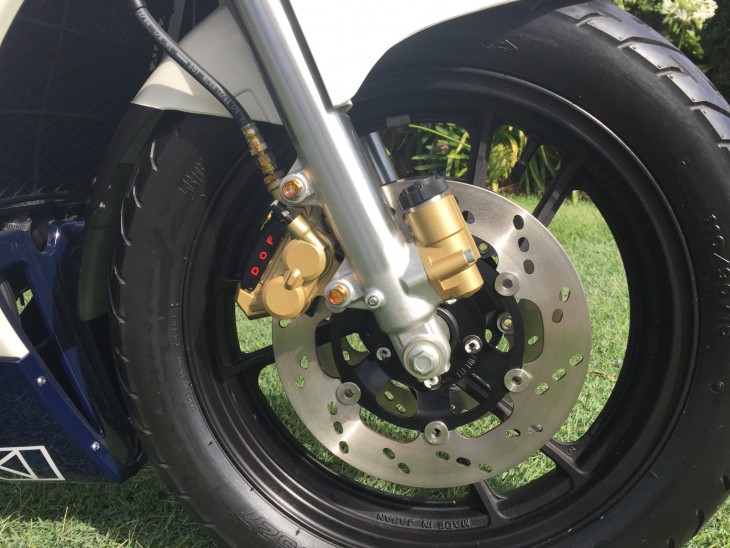 A four-time 500cc GP Championship winner, the RG500 is very close to being the racer with lights you've heard about.  The four flat-slide Mikuni's, the 12,000 rpm redline, the different sized wheels, 16-inch in front to help turn-in, all state the facts.  But this one is of course a bit different.  Likely never to be run, it has survived three decades on display and in storage.  It is the sportbike fan's Barcelona chair or Alessi tea set  ( a little more exciting ), exquisite but better to use something else and save this for the next generation…
-donn