To have been in a 1986 showroom – Suzuki had the RG500 and Yamaha the RZ500, but Honda again went for a bit more lightness and made their GP replica a 400, which at least made sense in Japan.  This example from north of the border really shines considering its nearly 16K miles.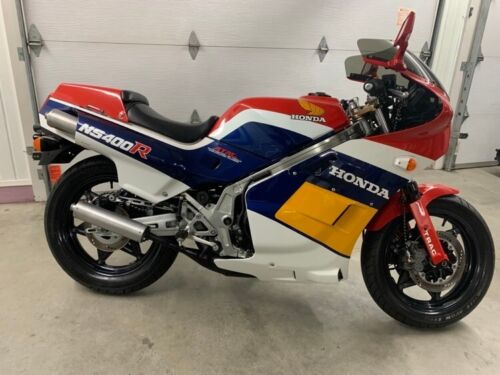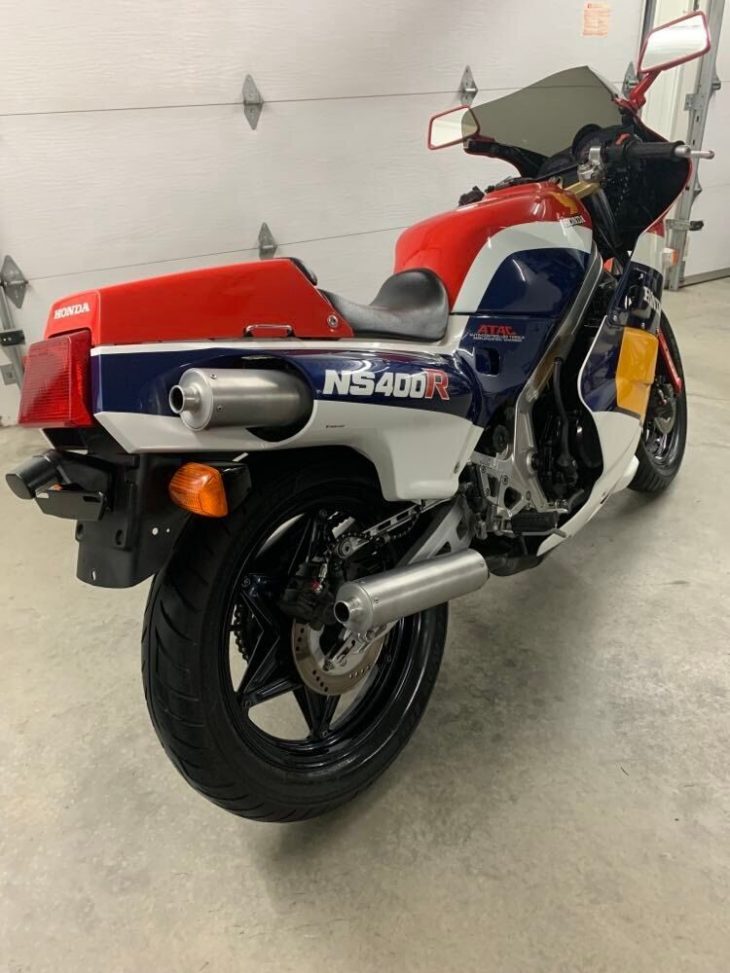 To keep up with the other race reps, Honda produced a fair likeness of  Freddie Spencer's NS500 racer, with a peculiar V3 smoker, small pattern alloy chassis, and classic full fairing.  Three Keihin flat-slides are in the vee, making 72 hp available on an ATAC power valve-assisted torque curve.  Sleepy through 5,000 rpm, the screaming shortly starts and runs to 9,500 rpm and 125 mph.  Forks were air-assisted with TRAC anti-dive, and a Pro-Link monoshock was underneath.  Brake and tire sizes remind you that this a potent middleweight rather than a superbike.  Oil injection and all the street gear brought the fueled weight up to just over 400 lbs. wet, not bad though Spencer's 500 weighed almost 100 lbs. less.
Offered by a private individual in Quebec, this excellent example looks complete and correct right down to the sidestand fairing.  Freddie's signature is on the seat bottom, though present day etiquette would have it right on top of the tailcone.  A quick video is offered – here –.  We'll let the comments from the eBay auction pick up the story –
1986 Canadian NS400R Freddie Spencer HRC EDITION with the signature – V3 cylinders – 2 stroke – very RARE: less than 400 sold in the whole America… never produced for USA market – 360 lbs dry weight (approx).  Includes current Quebec-CA Clean title/ownership at my name… Immaculate condition and excellent very rare example of a 36 years old collectable 2 stroke bike… only 25,330 km (15,740 miles)… a similar NS 400R like this one just sold for $25,300 this past January at Mecum auction in Vegas (You can see it on last picture).

Only imperfections I could see are a very small paint crack under right side mirror (professionally repaired)… you can see it on the zoomed picture with a green arrow. The brake hoses are not oem because the rubber was cracked in a few places on the previous ones… and it was hard to find an oem hose.

The rear top muffler guard are dismantled for a better look… but is in perfect condition like you can see in the picture.
Reviewers told of a street machine with clear racing lineage, though the power valve system civilized its manners more than most smokers.  None of the mid-size two strokes were offered in the USA, and though they've had some grey market presence here, all were retired by the end of 1987.  Maybe some hi-res pictures would help the puzzling lack of bids, but we'll be watching.
-donn