Our site started over 15 years ago and it was originally a blog that directed readers to interesting classifieds found online. Today we've become a marketplace in our own right as readers wanted to ensure their bikes were listed on our site, sometimes exclusively, and sometimes in conjunction with a listing elsewhere like eBay or Craigslist. This is keeping us very busy and the response has been overwhelmingly positive.
When we don't have a "Featured Listing" to post on the site for a particular day, we still comb the internet for interesting finds. But for readers that want their bikes on the site we ask for a Featured Listing to be considered. Read all the details! Long story short, we ask for 1% of your asking price or reserve.
If your bike meets the criteria in the link above, you can start the process by sending fees via PayPal to dan@motoringblogs.com and then we can start a draft based on your seller description. You are welcome to send as many photos as you like and videos as well. Drafts usually take 2-3 days to build and we'll have you approve the draft before anything is published.
Thank you too all our readers, buyers, and sellers, for supporting RareSportBikesForSale.com for 12 years! Sincerely, Dan Crouch
---
As a practice we re-host images and ad copy to preserve the listing for future reference. If you would like additional attribution for your work we are happy to accommodate. Please email me at dan@motoringblogs.com
---
About Us
---
Dan Crouch – Owner and Founder
Dan learned on a 1980 Yamaha XS400 Special co-owned with his buddy Paul. His first sportbike was a Yamaha FZR600. Following that a 1993 Ducati 750SS, a 2004 Honda RC51 Nicky Hayden and a 1995 Aprilia RS250 Chesterfield. Dan works full time for Oregon State University in the Office of Enrollment Management. His current stable includes a 2019 KTM Duke 390 a 2019 Volkswagen Golf R!
---
Current Contributors
---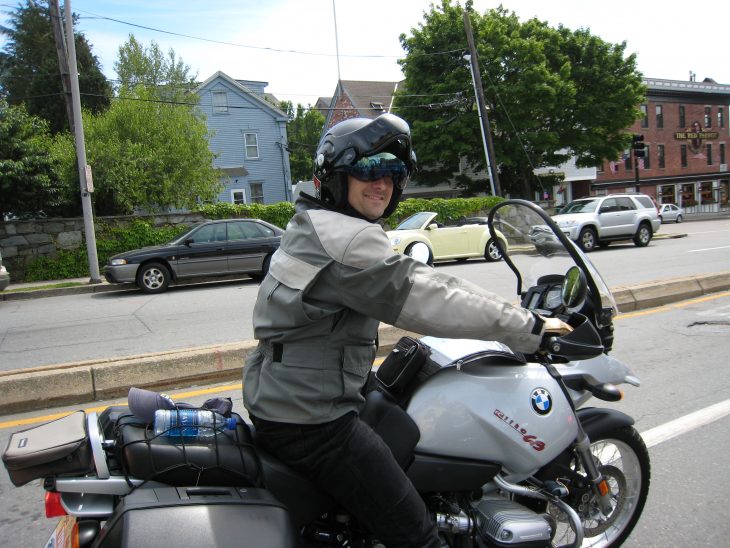 Donn – Contributing Author
I've spent most of my time in the NY/NJ/CT area, been riding since age 15, almost 30 years in the air traffic control business, always had bikes if not the sportiest – Honda CL350, Kawasaki H1, Honda CX500, BMW R75/5, BMW K75S, BMW R1150GS, and currently Ducati ST4S. Iron Butt Association member. Last big trip was Newfoundland in 2015, 3600 miles and three overnight ferries. Hoping for a track day this year and a cross-country trip at some point.
---
Mike – Contributing Author
Mike has been riding on two wheels since the age of 4, starting on the dirt. His first streetbike was a Kawasaki AR50, but he quickly graduated from there. He still has that AR, in addition to several other sportbikes – a few of which were found right here on RSBFS (see pic)! Hobbies include track days and spending time with his wife – who rides as much as he does.
---
Doug – Contributing Author
Active member National Ski Patrol
Motorcycles, music, IPA's, WF8T, drums, photography, tacos, IPA's, drums, photography, tacos
---
William – Contributing Author
William has always shared a passion for motorcycles, and gravitated to rare and oddball models. In the past he has owned SOHC Hondas (Including a Seeley framed bike) as well as a couple of Nortons. Right now his garage includes a few Italian bikes from the late 90s and early 00s.
Bimota: SB6R, SB8R, SB8K
Ducati: 1000SS, S4 Monster, 999R
Aprilia: RSV Mille R Haga
---
Emeritus Contributors
---
Aaron – Contributing Author
My first bike was an '82 Kawasaki GPz750, which was quickly joined by a 2000 Suzuki DRZ400. The GPz left months later to make room for a '97 Honda VFR750, which is my main ride currently. My wife shows up my skills every weekend on her Kawasaki ZRX1200. My longest trip was a week-long tour of Nova Scotia in 2015, 1500 miles in a week under rainy skies and marred by two breakdowns. I also rode the GPz to Indianapolis for the MotoGP race in 2014. I spend most of my weekends riding in an around Charlottesville, Virginia. During the week, I am the city editor at the Charlottesville Daily Progress.
---
Tad – Contributing Author
Tad Diemer is a Southern California-based writer and marketing professional who has been posting for RareSportbikesforSale.com since 2014 and is obsessed with all things related to motorcycles and cars, especially weird marques and rare models. Much of the space in his brain that would normally be devoted to "the names of co-workers" is instead set aside for remembering random facts about Bimotas and model-year changes to 1990s Ducatis. The word "savant" has been applied to him by friends and acquaintances, both alone and sometimes preceded by "idiot," and he believes he may have been adopted, or possibly conceived out of wedlock, as the clearly-expressed gearhead gene appears nowhere else in his extended family.
---
Ian – Contributing Author
I caught the motorcycle bug around 5th grade. I stayed with dirt bikes until college and that is when I knew I had to have something different I began reading about "grey bikes". Of course an RG500 was at the top of my list to own. I still haven't fulfilled that dream. Of course I was a Schwantz fan so I set my sights on a RGV250. I did own a Lucky Strike RGV250 (VJ22) before selling it in a moment of weakness. I currently own a 1996 RGV250SP (VJ23) and am rebuilding a 1990 GSXR400R. I definitely favor anything that you have to use premix with but am a fan of anything different and exotic. When I'm not slaving away at the RSBFS corporate headquarters I am video editing a cable news network
---
Rem Nivens – Contributing Author
Rem's first bike was a CBR 600 Hurricane he bought in college. But then he took a long break from motorcycles (regretting it ever since) and got back in the saddle in 2007 on a SV 650 and since has added a 2003 VFR 800. He's also a huge fan of MotoGP and of racing in general. Rem works in government and also plays drums in an occasional band.
---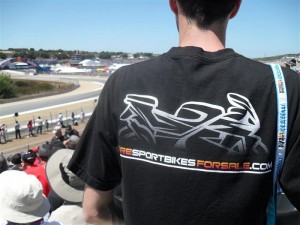 Jared Schafer – Contributing Author
I have always had an interest in performance vehicles and racing. This is my first riding season and I have been learning on an SV650 and hope to get my own bike very soon. I am also a huge MotoGP fan and enthusiast. I also enjoy classic BMWs and anything from the motorsport division.
---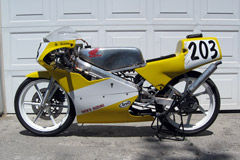 Alex Grossi – Contributing Author
Alex has been into street bikes for as long as he can remember. Alex's first street bike was a CBR600F and he currently has a Honda CB125S & RS125.
---
Philip Heung – Contributing Author
Phil learned to ride on a 50cc PGO scooter while working in Taiwan. His first proper motorcycle was a 1991 Suzuki Bandit 400 in Boston, and currently commutes on a Yamaha XT225 Serow in Hong Kong. Phil now owns a small collection of older Japanese and Italian bikes.
---
Jay Bernard – Contributing Author
Started in the industry in 1978 working for Honda and racing off-road, then took to the streets in 1980. Continued street riding as well and started road racing in 1993 on a Ducati, switched to Aprilia 250 in 1996 and ended racing in 1998 to form a five rider Aprilia 250 Team competing in the Aprilia CUP Challenge in 1999, 2000, 2001. Started and instructed the first Track Day school for street riders in Texas in 1997. Owned and operated a top performing Aprilia dealership from 1999-2007, number one for Aprilia sales in 2005 for USA.
---