Update 4.22.2015: This bike is heading to a new home. Congratulations to buyer and seller! -dc
Update 10.6.2014: Now on eBay, links added. -dc
Certainly not the handsomest machine, Buell's XBRR was a factory racebike based on their XB12 streetbike that featured Buell's customary obsession with mass-centralization and weight-reduction. Both very good ideas, considering the powerplant was based on Harley-Davidson's antediluvian 1200cc, pushrod v-twin, but de-stroked and bored-out to 1339cc. With huge 62mm throttle bodies, the race-spec engine puts out 150hp and 100lb/ft of torque. It has no real powerband and pulls from just off idle until you run headlong into the 8,000rpm limiter.
But while the engine is the motorcycling equivalent of a big-block Chevy, the rest of the package definitely goes its own way. In classic Buell style, fuel is stored in the frame and oil in the swingarm, allowing a low center of gravity and providing good surface-area to keep things cool. The bike also features Buell's signature Zero Torsion Load perimeter front brake, with a Nissin 8-piston caliper!
While I realize that Buell's eventual move to a Rotax-based powerplant was necessary for the bike to compete on the world stage, there's something cool about their use of a lumpy, torquey all-American v-twin, and the XBRR is probably the very last word in fast Harleys. And it's likely to be the last word for some time. Instead of capitalizing on their rich racing history, Harley seems very content to rest on their "bad to the bone" image to sell bikes. Which makes sense as racing would require them to actually make bikes that can win races…
Normally, I like to fill in some blanks with the history of a bike in question, but in this case is our old buddies over at AutoMania have already done a fantastic job detailing this history of this machine.
From the AutomaniaGP website: 2007 Buell XBRR for Sale
My love of riding what I term "Anvils" has carried me on the frames of many older and what some people would refer to as "antiquated" rides. Most have been air-cooled BMW's, some of which have genuinely surprised riders, others reacting with phrases such as "There goes a garage sale looking for a place to crash". There is an extremely satisfying feeling of using an outdated Engine as a basis to build a quick and sometimes surprisingly fast motorcycle. With that that explanation, please do not think me out of plumb for lusting after this particular bike, the 2007 Buell XBRR Production Race Motorcycle we have here at the shop.

This bike was originally owned by Harley Davidson of Fredricksburg on the east coast of the US. They raced it during 2007 and it was the #2 bike for their racer Brian Bemisderfer. In 2010 it was bought by it's present owner who was going to race it in the lightweight Twins class in Utah and also running it in Sounds of Thunder which is a AHMRA class. While on the Dyno at Harley Davidson in SLC the crankshaft let go. It had not even been to the track. Two sets of crankshaft parts were obtained and sent to John Hoban of Darkhorse Crankworks who built and balanced a new crank. The motor was then sent to Latus Harley Davidson in Portland Oregon and they rebuilt the engine.

Since then the bike has set in an office on static display. It is fully race prepped and starts immediately and runs nicely. It has not been to the track. It is modified with: Burns race muffler, STM Slipper clutch, Brembo master cylinder and a Penske rear shock. It was fitted with a starter motor and lightweight lithium battery but also comes with the hand held remote starter. Included are e 3 or 4 different rear sprockets and a 1 tooth smaller front sprocket, a new primary chain and one or two cylinder head temperature sensors. Included also is all of the data acquisition tools and CD's, receipts for parts and labor for recent work and some minor spares. The bike has never been registered, having been issued an MSO by Buell when sold new originally. The MSO will be supplied to the new owner or an Oregon title created, which ever is desired.
Just 50 were planned, although 56 were rumored to have been produced. The XBRR was almost $31,000 when new, and the bike competed in AMA racing in the Formula Xtreme class. Its inclusion in that class was very controversial at the time, since it was intended for "production-based machines" and some of the other teams argued that the XBRR was anything but.
This example features a very desirable slipper-clutch, something the bike desperately needs that was not originally included. And the traditional Harley black-and-orange paint definitely looks better than the stock yellow!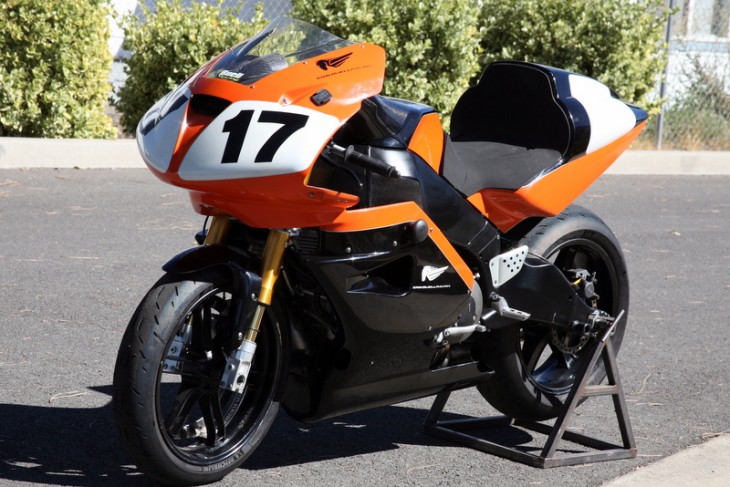 At $20,000 this could be a great way to go racing for a reasonable price, and although bodywork might be a bit hard to come by, tuning parts for the engine should be obtainable. Plus, how hilarious would it be, passing riders on a bike with a non-unit gearbox? Not to mention the noise! The noise!
-tad