You read correctly, 1 mile on a 2002 RC51. This fine piece of Nicky Hayden history is . Yes, I know this is not a Nicky Hayden replica, but it is the year in which he won the AMA Super Bike Title on the RC51.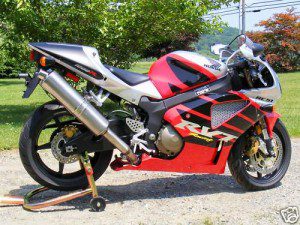 So why is this being listed on RSBFS.com? Well, it falls under the "Survivor" category for RSBFS.com.
The owner says:
Well how about a………………BRAND NEW MOTORCYCLE , A 2002 Honda RC51 RVT 1000cc 6-speed Red & Silver Metallic that is. So now this is it, this is your last chance to own a BRAND NEW RC-51 V-Twin liquid cooled Super Bike. This year model has the improved PGM-FI, (fuel injection system),suspension and swing arm, same as 2006 model. This bike is brand new, out of the crate, from the dealer to my garage. Not a mark, not a scratch, or even been sat on, no disappointments. Only 1 MILE from factory. Bike comes with owners manual, tool kit and a new oil filter. The battery is brand new, and the bike has been run periodically. This is a unmolested motorcycle, so why would you buy used and abused when you can have a BRAND NEW BIKE? I lost interest so my loss your gain. Serious Offers Considered
Honda no longer makes the RC51 so if you have a Honda Collection or simply have a thing for Japanese V-twins you definitely should give this one a look. It's like stepping back in time to 2002. I had the opportunity to ride a 2002 demo model and was impressed by the linear power it produced. As a matter of fact, at the time I sold one of my FZR400's and was going to buy a RC51, but then life happened and those plans fell through and I lost my FZR in the process 🙁
Click here to view some of the past RSBFS RC51 we've posted.
Cheers!
dd