Warning!
This post is in our archives. Links in this post have been updated to point to similar bikes available to bid on eBay.
Every post will be sent right to your inbox every morning when new posts are made. We will never sell our list or spam you. Plus you can click links to bid or buy right from the email and skip the site entirely. Subscribe to Rare SportBikes For Sale today!
1994 Honda NSR250 SE
Location: Argiroupolis, Athens, Greece
Mileage: 1,000 since rebuild
Price: $7,000.00 B.I.N.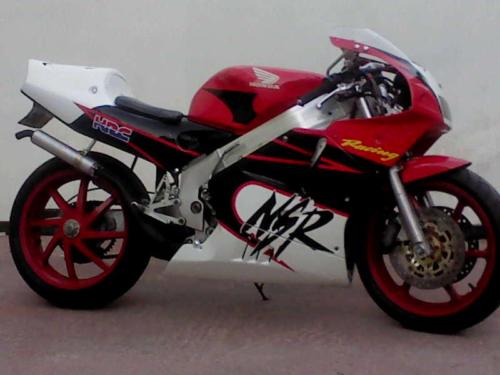 A good looking NSR if I do say so myself!
If I had to take a stab at this I'd say this is listed by my buddy Nick at TwoStrokeRaceLab.com. Nick is a well known PGM Tech and you can usually find him lurking on NSR-World.com and the like helping 2 stoke owners save a few bucks fixing the electronic brains instead of buying new ones. If this is Nicks NSR you can rest assured it's well sorted and ready to rock.
NSR's are always a welcome site on RSBFS.com and I'm always honored to write one up. MC28's, in stock trim, will deliver about 40-45hp which depends largely on who you talk to.
De-restricting the 28 is a little trickier than a MC21 which is due largely in part to the PGMIV electronics, but it's not impossible to coax a little more power out of them.
New cylinders, pistons & rings. All seals & bearrings are new. Pirelli tyres are new. JHA complete exhaust systems. HRC carburator kit complete. PGM 3 full power electrics. The bike runs more than great (65 hp)
As I mentioned before this one is good looking and ready to rock and roll cranking out 65hp. I'd love to throw a leg over a 65hp NSR because I know how light and quick mine feels with a scant 45hp. This bike would be an absolute hoot to rip around on.
If you're not afraid to import a bike from across the pond or if you're already across the pond and looking for a de-restricted MC28 I'd hit up the seller and investigate a little deeper.
You can check out the auction here.
Cheers!
dd