Listed originally in October 2011, this DB1 is back on eBay. Previous auctions have seen this one bid into the high teens but maybe this spring it will sell for the buy-it-now of $30k. Links updated. -dc
Here we have a lovely example of the first Ducati engined Bimota's the DB1. This bike dates from 1986. The bike had a 750cc Desmo engine and 453 of these bikes were made in this standard model form. Just have alook at the pictures and you see high level components from the likes of Brembo and Marzzochi. The normal high quality craftmanship and gorgeous aluminium machinings are present. One unusal feature of this machine is the fully enclosing body work last seen in the 1950's on the Vincent Black Knight.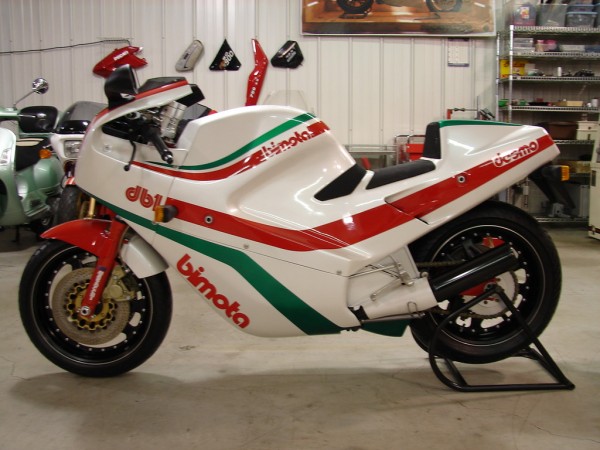 The owner says the following:
Up for auction is a 1986 Bimota DB1. This is a very clean motorcycle that I am selling for my Dad who is selling his collection. This bike is is brand new with zero miles and has never been started.

The Vin# is DB100023. The condition of the bike is fantastic. There is no title or mso with this bike.
The auction on eBay is here.
The owner is looking for nearly $30,000 for this beauty. One cannot help but think $30k is too high for this bike and it might be a while before a seller turns up. Perhaps you should make an offer.
AS
36 Responses.