This appears to be a super rare 851. I did a quick search and there is one for sale in Australia as well, so at the time of this posting, 2 are for sale at the same time! Pretty cool eh?
document.write('Super rare 851 on ebay
');Super rare 851 on ebay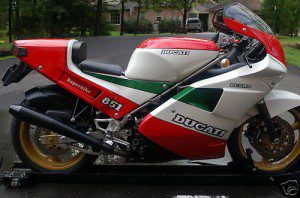 Quote from the seller:
This is one of the approximately 50 bikes imported into the U.S. "for racing use only". it was titled and registered, and ridden (street only!) a bit more than 2800 miles by the original owner. The only deviations from stock are the modifications needed for street use. These include swapping the slicks for street tires, adding a mirror and turn signals (mid 60's BMW bar end), a horn and a speedometer (digital bicycle speedo). In addition, an air filter element was fitted on top of the open airbox (in order to preserve internal organs!). The wheels were repainted (when the stock Marvic paint began to fall off!) with custom matched PPG Durathane. The brake and clutch fluids were changed 6 months ago, the oil and filter last week, and the timing belts were replaced last winter.

Vehicle Condition

The bike is in as close to new condition as can be expected for a 21 year old with 2800 miles. It has lived in a heated garage under a dust cover, and is mechanically and cosmetically excellent. There a few very minor defects consistent with it's age and mileage, photos available on request.
I went to the Ducati site and looked in the Heritage section and it does show a bike just like this one, but doesn't offer much information regarding a limited production kit bike. I'm sure some of our Ducati fans will set me straight and give us all of the 411 on this beauty. When produced Ducati outfitted these with Marvic wheels and racing exhaust. This one still has both and shows very well in the pictures. I am guessing this is a very desirable Ducati for any collector.
dd
Update: Just as I suspected Mark Morrison would be able to tell us all about this super rare machine. Mark left the info as a comment, but it won't show up for everyone to read so I thought I would edit the post to help.
Quote from Mark Morrison – Ducati Expert
Only 10 of these bikes were brought into the states in 1989. They had European VINs and were for race track use only. Street legal 851's began to arrive in June 1990. This is a nice bike being the first model and is actually if I am correct, an 851 kit. These bikes were the homologation model with 120bhp and 17″ Marvic rims instead of 102 bhp and 16″ composite wheels. They were supplied new with slicks and a headlight and tail light but no mirrors or indicators.

Cheers

Mark
Thanks for the info Mark!