Is there a better road sport bike than the Honda CBR 900 RR ? In my option, not. The first Fireblade is simply an amazing motorcycle. You can ride it to work, in traffic, going grocery shopping, blast on your favourite track, go touring, it basically is good for anything. I have bought a few years ago exactly a 1993 model like this. Every time I move it, in and out of the garage, I am amazed by how light it is. Its looks are classic sport bike, and within the Honda family, second only to the HRC bikes. And then comes the refinement, the fast steering (for all models with a front 16 inch) and that indestructible, ductile and torquey motor. This model year Fireblade, still used carburetors and yet you will hardly need to use the choke (just on really cold days). After 20 years, it still springs into life like if it was new. It doesn't vibrate or make any nasty noises. Brakes are still powerful enough and that luggage space below the folding rear passenger seat is so useful . They simply don't make bikes like this any more.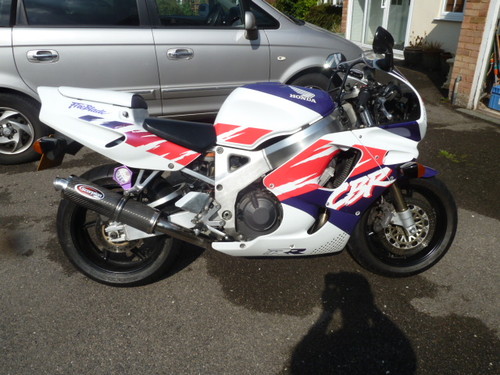 Despite the fact that this Blade had already 4 previous owners, it does look good. It has the original turn lights, the original muffler is also provided (see gallery below) and the fairing and fuel tank look good too. Coming across nicely kept original Fireblades is always a treat.
The current bid of 2000 GBP  failed to meet the reserve. At 2950 GBP this can be yours….now.
That fake carbon bit  on the fork clamp needs to go, and once you have cleaned off the glue, you might unveil a clean piece of metal.Here's how the seller describes it:
I have for sale my 1993 Honda Fireblade RRN, registered January 1994.

The bike has only covered 14,900 miles since new.

This bike was originally sold through a Glasgow Honda dealer and has remained in the Glasgow area throughout its life.

Over the years, the bike has only had 4 prevoius owners

Apart from the brake lines and Scorpion full stainless steel system, an original example. Comes with the Original End Can as well

It also has:

A new original Honda screen

Honda chain and sprocket set

New fork seals and oil

Original Honda single seat cowl

The bike has also recently been fully serviced by a Honda dealer .

It goes, handles and stops as its meant to.

I suggest you come and view the bike if you can to see the excellent condition its in. It is a 20 year old bike, so don't expect new condition, but would be easy to clean up and make very nice indeed.

The bike is Mot'd until June 2014 and taxed until Dec 2013.

No swaps, tyre kickers, or test rides without £3,000 as a deposit and proof of insurance.

Winning bidder should make contact with me within 12 hours of auction end. Cash is best.

If you have any questions about the bike, please use the " Ask The Seller A Question" facility. Don't buy then ask questions to find out it's not for you.

Please note that the bike is being advertised elsewhere and as such, I reserve the right to end the auction early should it be sold via other channels
And a video is also included (always a nice touch):
Claudio