When I was a child in the mid 80s, I used to spend my summers in the sea resort of Santa Severa, just north of Rome (Italy). I still remember being totally captured by a guy who used to park his RG 500 along the sidewalk besides the beach. Quite a sporty ride to go to the beach don't you think ? I thought the sea salt and the sand wouldn't do any good to the 2 stroker. What was most special though, were 4 hand crafted "Jolly Moto" expansion exhaust pipes that made the bike look and sound like a race machine. What we have here is the little brother of the RG 500, the featherlight V powered RG 250.
1989 Suzuki RGV 250 with just 7000 km on eBay in Germany
This sample found in Germany was ridden between 1989 and 1995. It was then sent to sleep for a few years, until in 2010, when the owner gave it a fresh refurbish with some track ready components as described below (including those nostalgia inducing Jolly pipes):
Due to lack of time I am selling my Suzuki RGV 250 VJ21. The machine has hardly run, from 1989 to 1995 RGV was used on the road, then un-resigned and put to sleep until October 2010. As of 2010, was brought back to life, but since then only little driven.
Did the RGV converted into racing machine (professional), but can also be driven on the road, according to the. With a few simple steps (from turn signals, lights taping) the motorcycle is ready for the track, such as classical two-stroke Cup classic race.
The engine runs perfectly and has between 8000-12000 rpm right performance.
Vehicle accidents, garage car, Car Cover (2 entries) is available. The motorcycle can be sample hazards.
The following parts are included:
· Top racing exhaust system Jolly Moto, alone has cost more than 1,200 DM;
         converted to one-man operation;

· Both cylinders before about 100 km new Nikasil coated gehoht with new original flask equipped;

· Stainless steel brake lines;

· Racing air filter cover is installed, the closed air filter with this I give, so will the bike a little quieter;

· On 34-he tuned carburetor;

· Sachs Racing shock absorber, fully adjustable rear installed. The original I-strut with it;

· Racing cap;

· Tinted MRA Racing Screen with stamps and marks;

· Bobbins;

· Aluwinkelventile;

· ContiRaceAttack new tires mounted with CR2 rubber compound, 50 km ride.

· Rear fender is supplied.
  I have found a hairline fracture when taking to the rear bodywork. (see pictures).
Viewing is also possible. Please register yourself. More pictures, and phone number on request.
Collection requested, the shipping can be arranged. The costs are borne by the buyer.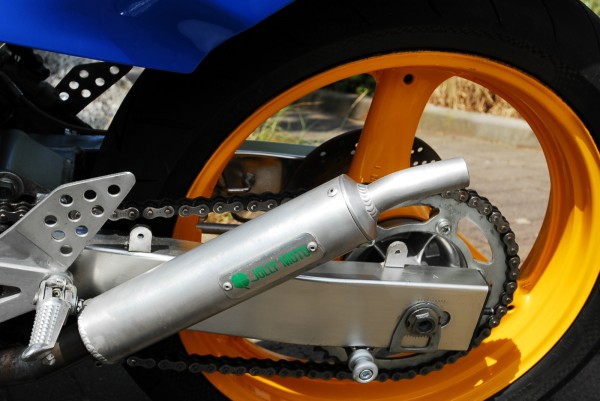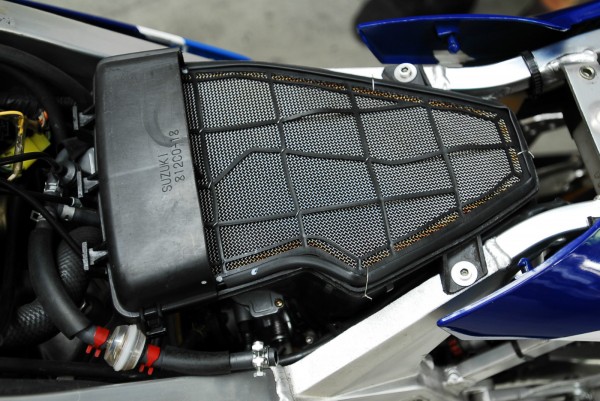 The RGV has a very low mileage of just below 7000 km. The repainted rims always cause some suspicion, but the picture with the very clean and scratch less cockpit might re-assure you.
With about a week to go and no reserve in place, this could be a bargain. Considering that many Germans are on holidays in these days, the Suzuki might go unnoticed. That won't be the case if you are a RSBFS reader 🙂
1989 Suzuki RGV 250 with just 7000 km on eBay in Germany
Claudio