Finding a Suzuki GSXR750R Limited Edition produced in 1986 is quite a task today. If that's not special enough for you, then you need to aim for the Yoshimura factory version:
This Hyper Endurance model features a unique color scheme with red and "smoke-dark-grey" paint instead of the classic blue-white-red typical of Suzuki. Even the turn lights are smoked ! Produced in very small numbers, if at possible this bike has even  a racier feel to it than the "standard" limited…So if you are looking for something this special and ready to pay a the right price for it and… you need to click on the link and the bottom of the page and book a flight to France where you'll find this beauty:
How sweet is that ? We all know that this model runs a dry clutch and that replacing it will cost you dearly but that also means that with the Yoshi exhaust  as fitted on this Limited-Limited Edition, it will make a pretty unique sound.
Here are the specs of this race ready 1986 model:
Overall Length: 2,120 mm (83.5 in)
Overall Width: 745 mm (29.3 in)
Overall Height: 1,215 mm (47.8 in)
Seat height: 765 mm (30.1 in)
Wheelbase: 1,455 mm (57.3 in)
Ground Clearance 125 mm (4.9 in)
Dry Weight: 176 kg (388 lbs)
Engine type: Air/oil-cooled 749 cc inline-4, DOHC, 16 valves. 106 hp (77.4 kW)/ 10,500 rpm, 64 Nm/ 8,000 rpm
The sample below seems in excellent condition and in the original trim apart from the exhaust and some bolts along the brake lines.
It is on sale on Ebay as a classified ad and it will be yours with 12.000 Eur. The bike has less than 12.000km a is fitted with a new battery and a new set of rubbers as described by the seller:
GSXR 750 Limited Edition Yoshimura

100 exemplaires produits.

Modele tres rare.

Pneus et batterie neufs.

Revision OK.

Carenage etat moyen.

Reprise possible.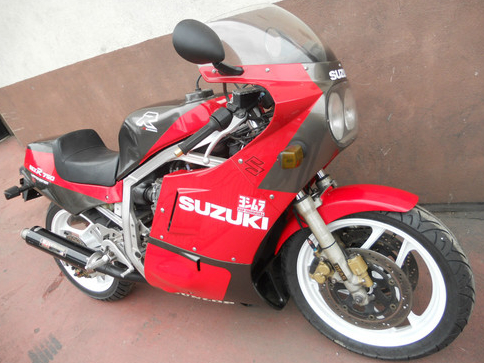 Suzuki GSXR 750R Limited Edition Yoshimura 
Claudio