After the beautiful 1991 green ZXR found in Switzerland, we have here another amazing looking 1993 model year.  Characterized by a true RAM intake concentrated on one side of the fairing, this ZXR was a natural evolution of the 1991 model. In this black and purple color scheme, it was known in Italy as the "pipistrello" (= bat).
I will never have enough of beautifully kept and unmolested ZXRs. In my opinion, one of the best road going sport bikes with a natural racy look, and riding dynamics…God bless the ZXR series…and Kawasaki, if you are out there, please get back to the drawing board and create another iconic motorcycle like this. I mean, we know that the modern ZX10-R is doing fantastically in both the WSBK with Sykes and also in the BSB (British Superbike), so I guess it s a good bike, but those looks simply can't match the sexiness of a ZXR 750…
Here is the description from the seller:
Sell ​​one ZXR 750

first hand with 7736 km

Like new condition, was standing covered in a garage 20 years and very little used (was 3 motorcycle)

As a motorcycle, it will no longer be in this state!!!

No difference to a new 20 years ago.

Absolutely unique and tinkering technically top.
The starting price for this one is 3300 EUR and a few days are left…and did I mention it has only 8000 km ?!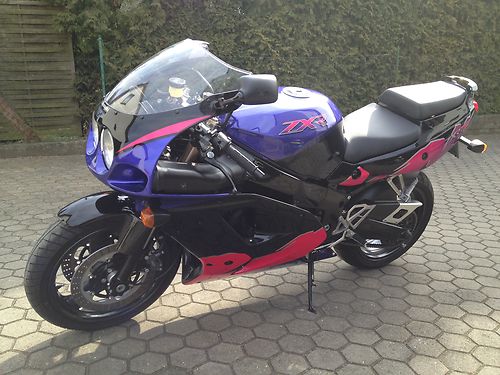 Claudio