As the riding season comes to end this side of the equator, the first signs of what might be a great buying period, appear. Readers of RSBFS will love this one, hopefully, just as much as I do. This 1991 absolutely pristine ZXR 750 is a real gem. How often do you come across this model, in these conditions ?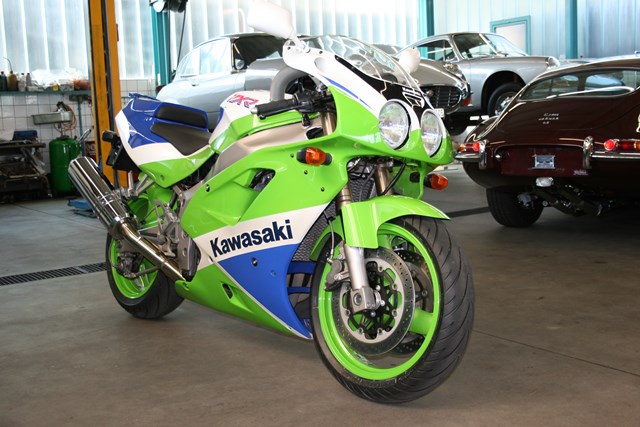 This single owner bike, doesn't only have less than 20.000 km, but is in full stock conditions, doesn't have a scratch nor any damage to its beautiful colors. It looks absolutely new. ZXRs have been very popular in the 90s, but often were misused. The 1991 model in particular, was my absolute dream bike when I didn't have enough money to afford a sport bike. For this basic reason, the ZXR will always turn me on, even more than other, more exotic and special models.
In 1992, I turned 18 and bought my first motorcycle, a very used (I think it had 8 previous owners) but yet brilliant, Yamaha TT 350. Yes, this was no sport bike, but I still loved it. At the same time, I dreamed about the Kawa 750. A local shop in Rome was selling a RR version, that the shop owner himself, previously raced for a few months. This race replica, had the red stripes instead of the blue ones (in addition to a single seat and a few mechanical differences :-)).
Its colors, the double headlights, the air ducts through the fairing and airbox, the high revving engine characteristics and obviously, its dynamic performance, made this bike the best sport bike I had ever seen. And so, about 20 years later, every time I come across a ZXR, my heart speeds up. About a year ago I even bought one on an impulse without having even seen it live. It turned out not to be a good sample and so a few months later I sold it. The ZXR is a bike that wants to be ridden hard, and when you do so, it is a pretty fast, even at today's standards. Very stable and precise, it has a beautiful gearbox featuring pretty close ratios even in its single R form, a srt of slipper clutch (at a time shen most us didn't have a clue of what that meant), a great sound, especially when you keep it above 9000 rpm where the engine smiles at you, and again, some of the best looks ever seen on a sport bike. Has there ever been a more beautiful, aggressive and exciting Kawasaki after the '91 ZXR ?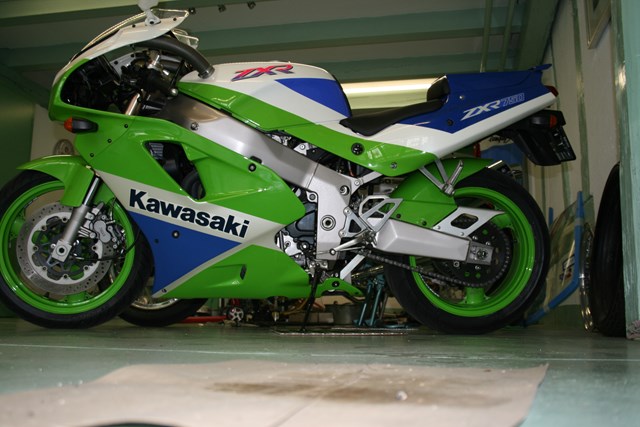 This sample is such a special find. I mean, it even has its original rear solo fairing, a true rarity in its own. The seller will also give you the rear passenger seat, a tinted windscreen and a brand new exhaust. The bike just had a technical inspection in August 2013, it has new tyres and brake pads. At a price of about 4400 $, this true rare sport bike for the conditions, is one of the best buy that readers of this site might come across, and one  that truly embarks the spirit of us who write here and you, who like to read us.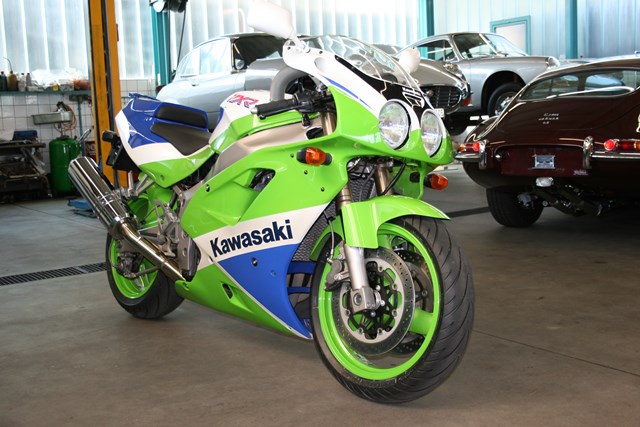 Looking at the cars in the background of the garage, the sense of quality that the pictures of the ZXR already portrait is confirmed even further. Again, when is the last time you have seen a ZXR like this ? Also the price is in  my opinion spot -on and absolutely fair. This gem, deserves a true enthusiast new owner and I truly hope, that whoever will buy this, desires it as much as I do, and will treasure every moment of owning such a great sample today.
Claudio