Update 6.14.2016: SOLD! -dc
Update 10.8.2015: Price updated. -dc
Foreword: Claudio is an Emeritus Contributor on RSBFS and posted with us mainly between 2012-13. This is his personal bike and he asked if he could list on the site. A nearly new RC30, of course! He wrote the post himself and is advertising it on our site. Good luck to buyers and seller! -dc
This is a Swiss spec Honda RC30, hand built by HRC in 1988 and first imported in Switzerland in 1989. The VFR750R was first registered by myself this summer! The bike currently has less than 700 km and it is absolutely new, as you can see from the pictures and the short movie attached. Together with the bike and its original stand, I will provide also the original documentation, the two keys and a new OEM CDI that will allow for full rpm usage. The Swiss spec bike has otherwise a CDI that limits the power by limiting the rpm.
Most of you will find that small squared headlight strange, but this is the way these models were sold in Switzerland. At the beginning, I also preferred the two large round headlights (Europe and US models) but after a while I came accustomed to the Swiss headlight and currently find that the bike looks slimmer in this trim. I know, that may not be the case for many of you out there 🙂 I am a motorbike enthusiast with a passion for sport bikes of the late 80s and 90s. I own myself several bikes and this is my second RC30. I ride every bike I own. I also continuously trade some…when I find a model I desire more 🙂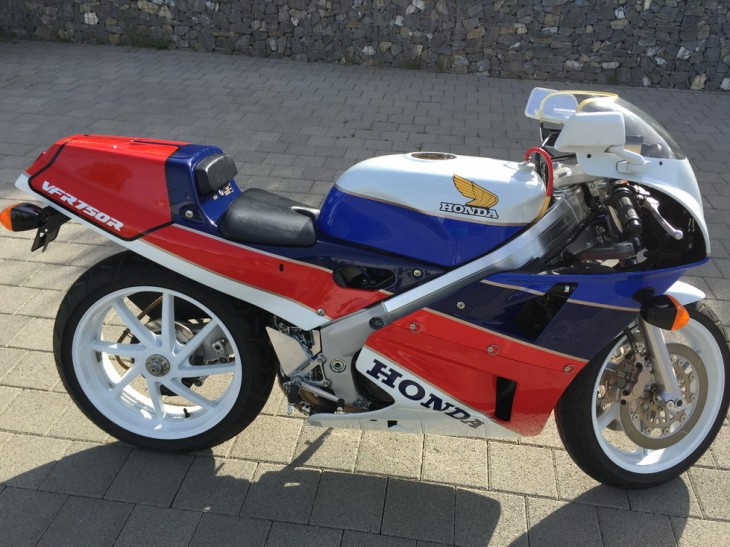 Like my other best finds, I have bought this new RC30 from a Honda dealership that is about to close. The bike was serviced with fresh liquids just before it was delivered to me. After a lot of thought, I came to the conclusion that it would be a shame to put miles on such a rare example and I would rather sell it to another collector or a museum. If it was down to me, I would have parked it in my living room, but my wife thinks that this ain't art and therefore it belongs somewhere else. If you have free space in your living room or if you want to experience the thrills of owning and/or riding a brand new Honda RC30, then please contact me.
I have previously sold a 1986 GSX750RR Limited Edition to a fellow enthusiast in Australia. As was the case with that bike, you will be responsible for organizing transport of the bike from Switzerland. I will assist you with all necessary paper work, preparation and potential logistics' contacts. I also speak German and Italian if that would make the communication easier for you. The bike is located in Switzerland near Zürich and can viewed upon appointment. If you are interested, please make me a reasonable offer considering the rarity of the bike in its current condition (one example with 700 miles sold by Bonhams in LA for 52000$).
In case of international shipment, I understand that there maybe additional costs for transport etc… To me it's also important that this RC30 goes into the right hands and that I establish a network of enthusiasts to be able to help each other in the future too. With this in mind, within reason I will try to come toward your specific needs. If you would like to make me an offer (offers below 30000 EUR will not be considered) or have questions, please contact me by email by clicking on following this link. I will try to reply within 1-2 days depending on my workload.
Thanks and ciao,
Claudio