Remember this ?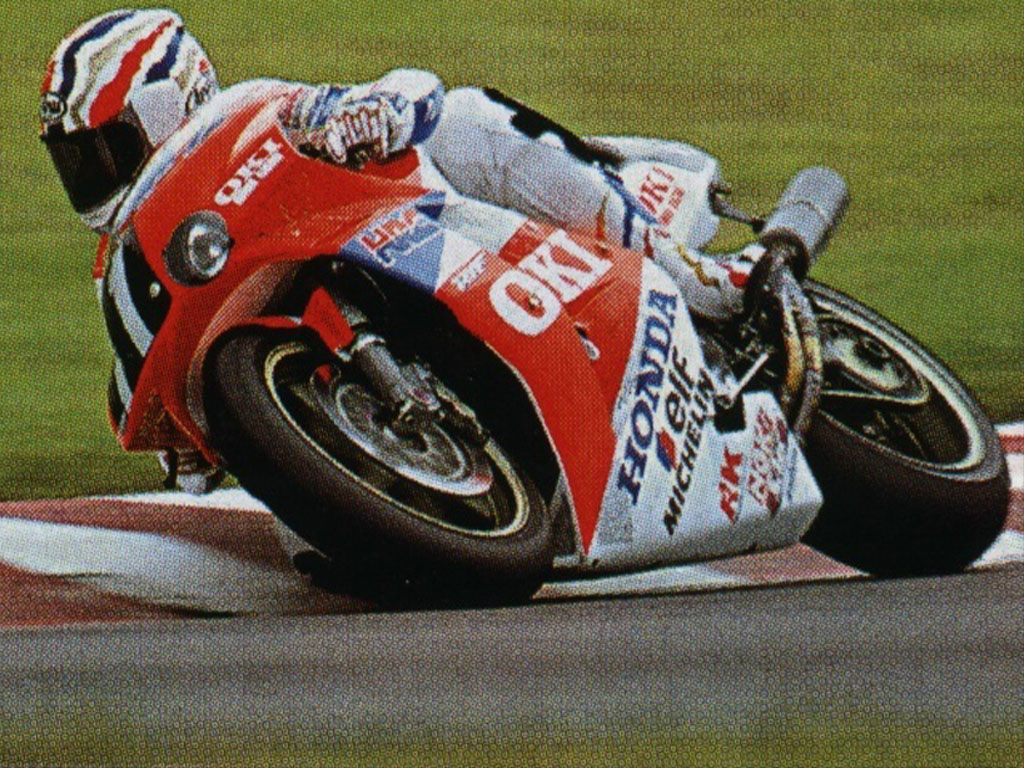 That's right, this is Mick Doohan at Suzuka on a factory HRC RVF.
What we have here is an OKI (see above) colored Honda RC30:
The bike had 2 previous owners and currently indicates 20500km on the clock. The frame has been polished and the paint scheme is not standard (experts out there please comment…) Difficult to judge the the conditions of this one and its origins. Nevertheless it is now fitted with its original muffler, turn lights and mirrors and was last serviced in April 2012 as the seller describes here below (translated by Google):
Rare RC30 at the legendary OKI design. The machine has steel braided brake hoses, accessories turn indicators, special painting in OKI design.
The RC30 was inspected by a specialist RC30 (Honda dealer) completely. Engine and carburetor adjustments are made​​, the engine is in its original state, there have been no performance-enhancing measures. After the last major inspection (April 2012) and new tires front and rear driven less than 100 kilometers. The RC30 is in very good condition, of course, after 20 years, minor signs of use. According owners accident.
Viewing by appointment gladly possible bike is registered, test drive, but only in good weather.
Under the new EU warrant of the motorcycle is privately sold without any warranty or guarantee or return.
Collection with cash payment within 10 days, Bidders must expect fees of 10% of the sales price.
The bike is available in Germany. With a current bid of 12,000 Euros and 8 days to go it has not yet reached the minimum price required. I would judge this could be in the range of 15-18k Euros but it is almost impossible to say as the asking price of such bikes can vary dramatically. Here in Switzerland where I live, I came across a former Suzuka marshall's RC45 with carbon fiber fairing, fully serviced and ready for the road that sold for about 13k Euro last year but at the same time I have seen standard RC30 and RC45 for 25-27k Euros…
Well I guess the best is to watch out for this auction and see where it goes.
Honda RC 30 OKI colors for sale on eBay.de
Claudio