We all love the Suzuki GSX-R series. The Gixxer was the first truly Superbike motorbike produced. It featured a full fairing, it was very light (and still is), it had beautiful double headlights, lots of horses and amazing colors. The most desirable GSX-Rs, are the, so called, "double R". The first one, came only one year after its debut. It was in 1986 that a small production Limited Edition were produced. The exact production number is unknown, and expected to be somewhere around the 500 units mark. The LE most notably featured a dry clutch. This is a unique feature for Suzuki. The rumor is that the clutch used was the same as on the RG Moto GP race bike. The cost of the original  clutch discs was about 2000 $ already then. Nowadays, spare original Suzuki clutches are hard to find, hence making sure that this organ is in good shape is essential. That is, whether you plan to ride your RR Suzuki, or whether you want to make sure that its value will be preserved. Other "special" parts included a hand made super slim single seat fairing unit (made of fiberglass)  and a very special seat (quotation of an original LE single seat unit can reach 1000$, provided you find one!) a unique aluminum chain, special colors, better brakes and electrically controlled (activated by the pull of the front brake lever) front fork anti-diving system (as opposed to the hydraulical system used on the Katana). A few days ago we saw a Limited parked just beside another of our favorite bikes: the Gilera Saturno 500. Both of them, being in Germany.
It turns out that the owner of these beauties, Roli, is parting from both of them. The Suzuki has 18.000 km on the clocks. It was serviced yearly and the maintenance included a new clutch (see above), new tyres, new chain, new gaskets etc. etc. All of these using original Suzuki OEM or Mikuni parts (carburetor's supplier). All the original parts are still available and provided together with the motorbike.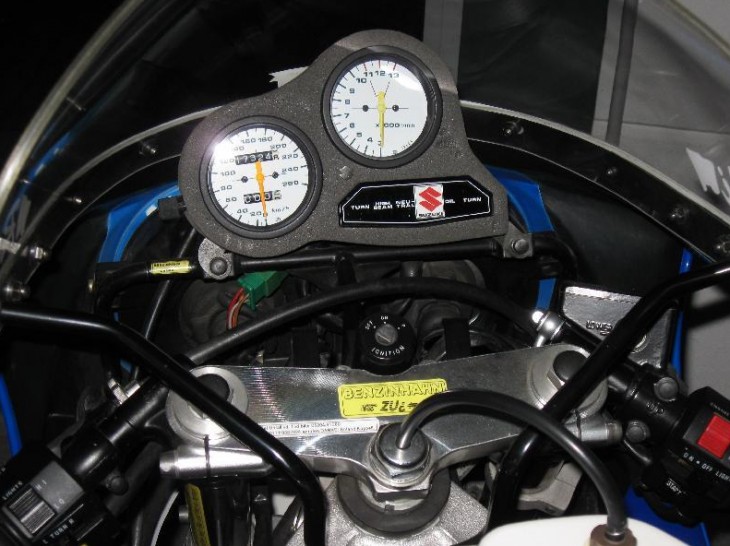 A second line of Mikunis is also available if you wish to display it at home on your office, as Roli describes below:
Type GR75AD 1986 Limited Edition. 18.000km. No gray market, official Suzuki Germany model with "classic" bike registration. Zero sevens vintage license plate or exchange Normalzulasung possible. Dry clutch completely rebuilt with original parts, including magnesium housing and all seals and O-rings, springs etc. All work carried out by Suzuki Weishaupt, and inspections (annually despite only a few km mileage).
Condition 1.2. Only minimal sunlight / UV damage causes. All original parts that have been replaced or removed by  accessories, and original packaging are included. TÜV vintage report ("motor vehicle Technically culturally and historically valuable vehicle declaration ) including Suzuki Germany driver's manual and "Supplementary Service Manual". Technical condition better than in 1986 (steel braided, DID 50 ERZ-525, BT45). On request with FG work or exhibition stage. No race and accident free. Every year, at ridden not more  ride 300km, service always run after Suzuki maintenance schedule. Mikuni carburetor with original parts (by Mik. Europe, not parts available at Suzuki anymore!). The accelerator pump working here now properly among others. All replaced original parts (mirrors, first clutch, bearings, chain kit, lines, etc.) are available and are given. A new unused original carburetor line is also included and can be used as an exhibition on display (eg to put them on the desk). 
The 1986 GSX-R 750R is still a very exciting bike to ride. At high speed, the bike is fairly quite but when the engine spans between 6000 and 8000 rpm, the exhaust delivers quite an aggressive sound with a complex mix of half orders on top of the dominant engine 2nd order. Then, when you get to release the gas, you hear that metallic noise from the dry clutch. The whole combination is a very special mix that no other motorbike delivers. Here we have the dry clutch noise similar (but quieter) than a Ducati, coupled with the smooth, high revving note, typical of four cylinder inline motor. Not having water cooling, the engine noise is even more prominent, once again adding to the uniqueness of the Suzuki Limited.
Like for similar bikes, first gear is relatively tall and the higher gears are really close to each other. At 23.485 $ this GSX-R special is entering the RC 30 territory. To be honest, I don't see why that shouldn't be the case. After all, this is still a true special and most likely produced in less numbers. We can argue that the RC 30 is a true HRC hand made race machine, but this Suzuki is so exclusive that deserves more attention than it has received from the market so far. It won't be as fast as the Honda but in many ways its rarity and most beautiful shape of any Gixxer, will let you adore it.
I am personally a lucky owner of one of these and I do treasure it very much. If you are looking for a 1986 Limited, this might be for you. If interested please get in touch with Roli directly, by clicking on the link below.
Good luck Roli !
Claudio