What do you think of the pictures below ?
Aren't these a beauty one next to the other ? It's almost a shame to separate them. Well, the red one, apparently, must go.
The Gilera Saturno is a 500cc single cylinder bike. On the scale it scores just 140 kg (dry). This ultra light weight, makes the tiny Saturno a very sweet handling motorbike. Add some of the best accomplished styling, a thumping sound coming from the Lanfranconi single exhaust pipe, a front disc brake from the Ducati 851 (full floating Brembo), clip-on bars, beautiful Aluminium foot pegs, and you a unique mix that can satisfy the most demanding motorcycle enthusiast. The engine isn't much powerful at all, it has only 5  gears, but it's the superb combination of these factors with its sound, style and handling that make this "little" Italian, a jewel. What's the best way of riding it ? You need to launch the machine, put it in 4th and with a steady gas position revving at any rpm above
4000, let it flow in between the corners. With fresh rubbers, the Saturno is a highly capable true sportster, and will easily handle any type of corner at fairly high speed.
The European 500cc version of the Bialbero, were produced in small numbers. The original project, was a 350cc for Japan only. Finding a Saturno on the market is not easy. In the last two years, we came across a few between Germany and Switzerland. Those samples were quite reasonably priced. In my latest search, I have found a few with at asking prices around the 10.000 EUR mark. This is clearly indicating a rise in quotations. This sample in particular, tops the lot, with an asking price of 12.500 EUR.
The bike features some nice touches, like the Brembo radial front disc pump and had a long list of fresh original parts fitted to it as the seller describes below.
Gilera SATURNO. 35 kW, 550 km, built in 1989, first admission. 07/1995, MOT 06/2015, accident free, engine gaskets (cylinder head, housing and closures and lids) all renewed without exception. Water pump overhauled. Flat slide Mikuni fitted with accelerator pump. Chainsaw. m. zzz520, various new aluminum Chainring. Luftfiltergeh, EXHAUSTS. and Ventilanst. adjusted. Brembo radial Bremsp. Handlebars of UCS. Universal Mount Bracket for vo. od hi and all original parts are replaced. All engine and chassis work by company Kabro.
Spare parts are tricky to find. In Europe we will miss Gottfried Hahne who sadly passed away few months ago. Gottfried was an incredible 2 stroke Kawasaki and general Gilera fan. Over the years he had collected a great stock of parts for all Gilera models and was the reference point for all Saturno enthusiasts over here. Gottfried, rest in peace, we will miss you !
If you want to secure this low mileage (550km) fine example of a standard red Saturno, (a limited edition in black is available in Europe), then you can contact the seller directly by clicking on the link below.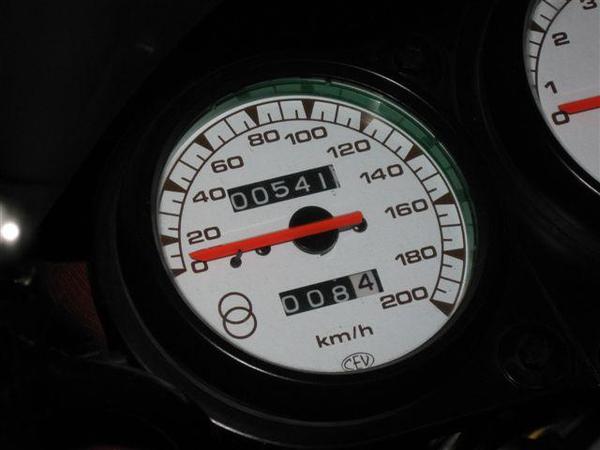 Claudio