In the early '90, this was a serious Superbike: The Yamaha FZR 1000 Exup. While Suzuki increased its GSX-R capacity to 1100 a few years earlier, Yamaha opted to pimp up the FZ750 power plant to 1002 cc which with its 20 valves delivered a staggering 145 HP @ a very down to earth 10000 rpm (in comparison to modern bike). That meant loads and loads of usable power at your fingertips.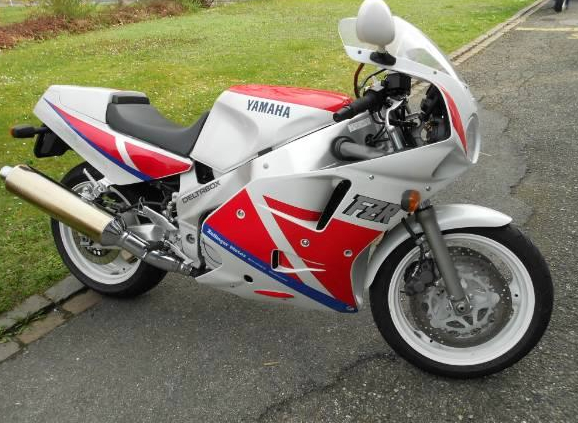 The sample above/below is:
1) in fantastic condition
2) in its best color scheme
3) at an even better price
With just 23000km form new, and 1 owner so far this is very promising. judge for yourself: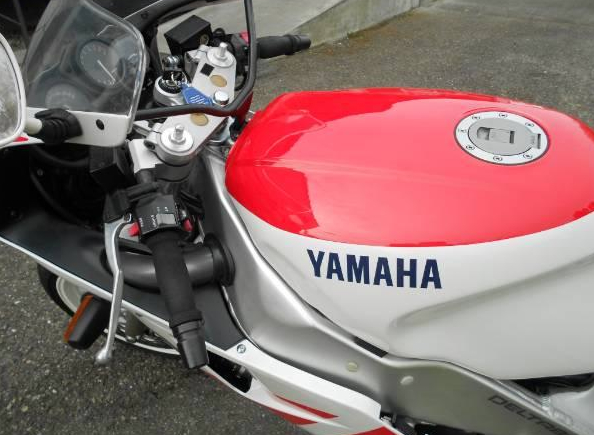 I personally have never driven one of these and often thought that the seating position seems a bit laid back, but with that powerhouse and the amazing for the time and still beautiful Deltabox Aluminum frame I really want to.
Some specs:
Engine and Transmission
Displacement: 1002.00 ccm (61.20 cubic inches)
Engine type: in-line four
Stroke: 4
Power: 145.00 HP (105.8 KW) @ 10000 RPM
Valves per cylinder: 5
Starter: electric
Gearbox: 5-speed
Physical measures
Dry weight: 214.0 kg (471.8 pounds)
Seat height: 775mm (30.5 inches)
Chassis and dimensions
Front brakes: Dual disc
Rear brakes: Single disc
Speed and acceleration
Power/weight ratio: 0.6776 HP/kg
Acceleration (0-60): 2.9 seconds
Top speed: 172 mph (275 kph)
And an inspiring brochure from those times (note the rider's position…comfortably seated and with the knee only out of the fairing):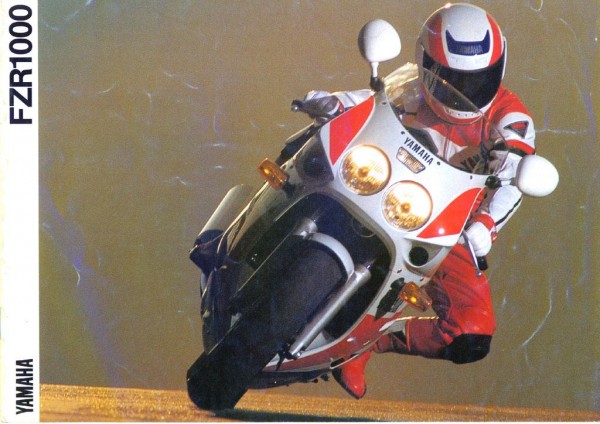 …pure nostalgia….
The seller describes the bike like this:
Wunderschöne und sehr gepflegte FZR1000 aus erster Hand. Die Yamaha ist Vorführbereit, ev. ein Flüssigkeits Service nötig. Auch für Liebhaber geeignet. Pneus sehr gut. 
Sehr attraktives Angebot.
For the non-German speaking, he confirms the excellent conditions and mentions that the only work needed would eventually be the replacement of fluids (oil, brake fluids).
This beautiful FZR is available in Switzerland form a private seller at the auction site. Yours with 2650 CHF! ($2753 USD)
Claudio