Between 1960 and 1978 Harley Davidson controlled first and owned later, an Italian firm in the area of Varese. This wasn't MV Agusta which eventually was also owned (for a very short time though) by HD.  Instead, it was called Aermacchi. Just like MV Agusta, also Aermacchi used to be in the aerospace business.  After the war, the company started to produce motorbikes that turned out to be very successful on the race tracks giving Harley Davidson a few world championship titles in the 250 and 350 cc categories.
Here we have a modern cafe racer/scrambler interpretation of a 1978 AMF HD 350 2 stroke powered bike: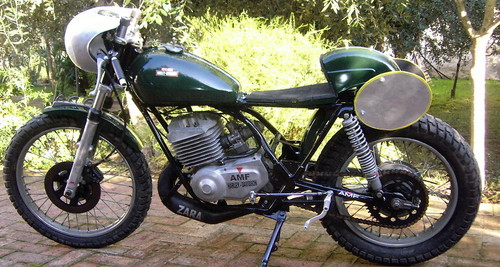 The bike is on sale on eBay and located in Italy. the starting price is 2100 Euro (about 2700 $). Shipping is offered across Europe for an extra 400 Euro and the bike will be delivered by pallet.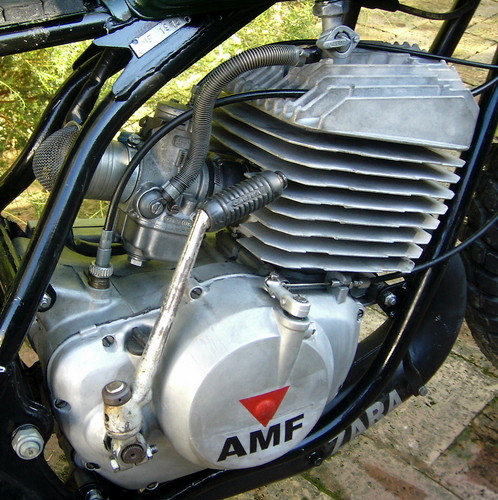 The seller describes the bike in good condition and like its motor:
AMF Harley Davidson HD 350 cc epoca 1978. Motore ottime condizioni,come pure tutto il resto. Spedizione in italia 190 euro. International shipping europa cost 400 euro. Per qualsiasi informazione basta chiedere. Invio altre foto guarda il video su youtube http://www.youtube.com/watch?v=vIhONxusiRw&feature=youtu.be 
He also includes a video as a proof of that:
http://www.youtube.com/watch?v=vIhONxusiRw
If you want to know more about the bike or would like to position a bid, please follow the link below:
1978 Aermacchi Harely Davidson 350 
Buon divertimento !
Claudio