The Suzuki GSX-R 750 is among the most sought after super bikes of the late 80s and synonymous of sportiness. Especially so, if the colors are like the ones of this almost pristine sample found in Germany:
The bike has less than 9000 km which is really rare for this particular version. The seller describes and documents well the condition of the bike:
Suzuki GSX R 750 with original mileage of 8088 km

One of the last oil cooled with genuine 8088 km. The vehicle is in an almost new condition, was deregistered in 2002 because of death and only now brought back to life. The oil is changed, engine running, makes no noise, the machine moves.

TÜV should be no problem.

The tires are on her profile as new, but according to DOT from the 1998.

The conversion parts for passenger seat. bracket, screws and trim are of course included.

The bike has a scratch on the exhaust, and also on the panel below (under the word "Marlboro").

Brake and radiator fluid should be changed and cleaned the carburetor. The bike in a collector's condition and will certainly get appreciation.

Papers, ie vehicle papers, 2 items, the bike was over 20 years in one hand!
As mentioned above the bike needs a service and cleaning the carburetors should improve the sleepy behavior of the motor that you can appreciated here below:
http://www.youtube.com/watch?feature=player_embedded&v=SNolysxHaNc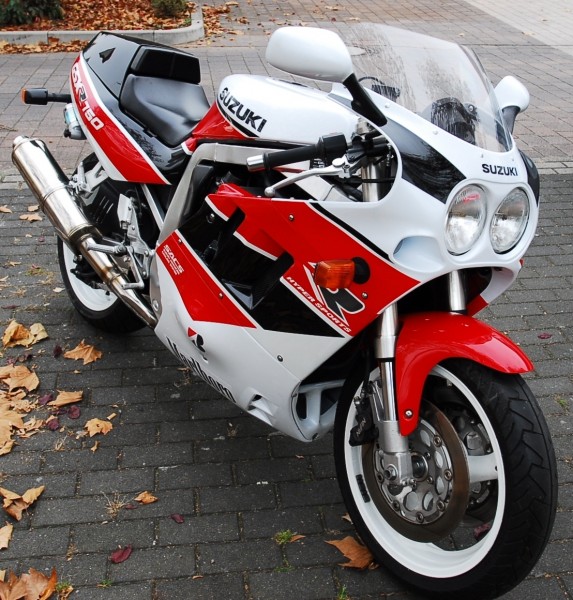 I must say that I love the colors on the GSX-R and that single seater unit looks the business.
The current bid is around 1700 $. I guess that the bids might go up to about 4k Euro.
If you are interested to know more or place a bid (the bike will be delivered across Germany for a price within 190 Euro), click on the eBay listing link below:
1990 Suzuki GSX R 750 for sale on eBay Germany
Claudio