Ducati is probably the most "limited edition" prolific motorcycle company out there. What we have here is a special edition of the 996. At the beginning Ducati started to differentiate itself from the others by using the suffix S or SPS for their track oriented models. In particular the SPS stands for "Sport Production Special".
In those times in Italy, Sport Production was a common form of national racing championship dedicated to serial production motorbikes. In a way very similar to the modern national superbike championships. Alongside these, were also the "Monomarca" racing formulas consisting of private riders with all the same equimpent (among which the most common and affordable were the Aprilia RS 250 or the Suzuki RGV 250 championships).
Going back to the Sport Production era you might also remember the Suzuki GSXR 750 SP and the Yamaha YZF 750 SP of the mid 90s.
This model here is an early SPS (using a Showa front fork):
On the rear it is fitted with a Swedish made single shock:
Later versions of the SPS used Ohlins also in the front likewise the top of the range 996 R that substituted the SPS models. This model was produced in only 150 samples and it carries the same colors as the racing bike used by one of the greatest Ducati riders ever: King Carl!
The bike has a very low mileage of 3600 km: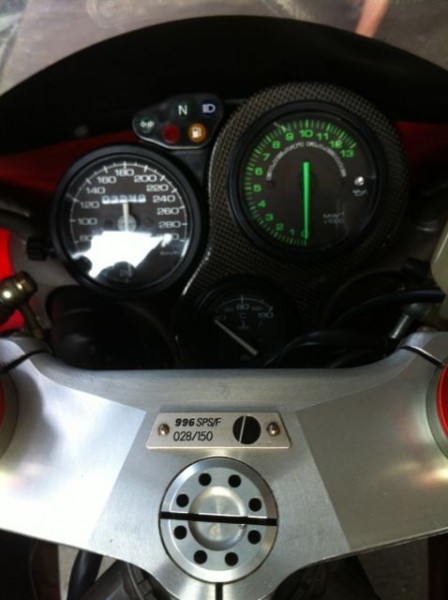 and comes with the original indoor cover and Ducati plate of authenticity:
Apart form the rear suspension and the flashy colors, the SPS model had his hidden treasures in the chassis. These included the light 5 spoke magnesium wheel and new frame with adjustable steering head.
This 996 special is on sale in Germany and posted on eBay with a reserve of 12.900 EUR (circa 17 grands in US currency). The bike is in original trim excluding the foot pegs and a few carbon bits:
Here a few words form the seller (translated from Deutsch):
I bought in 2008 and only once in a driver training moves without falling, since the machine is at my local dealer. The previous owner has to improve some details can (aluminum sprocket, footrests, rear stabilizer, various carbon parts) Probably the motorcycle owner once toppled or had a slight fall, as the brake pedal is slightly bent. Definitely, but no major damage, frame is original and all right, the trim is original and not repainted.

The bike comes as shown with the following accessories:
A covering
2 Exhaust
extradition badge
silvered folding key
new tires
TÜV requested anew
checkbook
If you are seriously interested, the vehicle can also be viewed by appointment. Questions will be answered.

This is a private sale, warranty and return are therefore excluded.
If you want to take part to this auction, click on the link below:
Ducati 996 SPS – Carl Fogarty – limited edition
Claudio