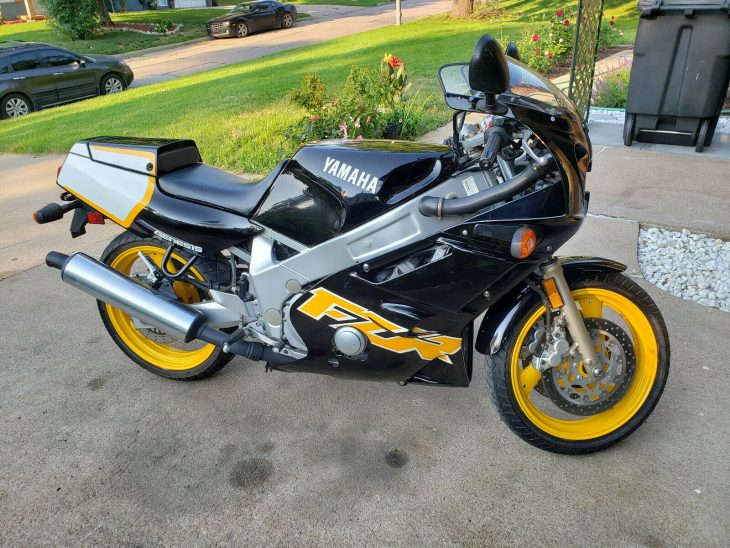 I do love a good round dual headlight FZR and this one does not disappoint! Okay, I'm not personally super fond of the yellow wheels, but that's not why we're here.
For me, this was an odd time for Yamaha as they were offering two 600's with no clear cut race model. Now, before you all start throwing rotten tomatoes at me, I know Suzuki offered two 600's, but theirs was a no brainer. The GSX-R was razor sharp and the Kan-O-Tuna was a little (okay, a lot) less focused than the Gixxer. Yamaha on the other hand, had the FZR that was really long in the teeth with undersized tires, spindly suspenders attached to steel frame and swing-arm and the YZF was . . . well, it was just an odd, upright pudgy thing with no real focus. As you probably know, it would take Yamaha 2 more years to really get serious about racing again with the YZF-R6 in 99′
This sweet little FZR ticks all of the boxes for me-
-All stock and original
-Clean
-Garage kept
-Low Mileage
-From the 90's 🙂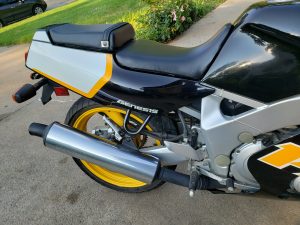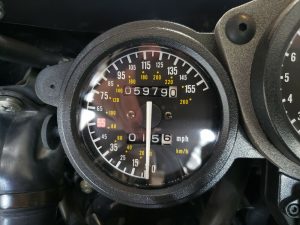 Notes from the seller:
A Rare classic!
These bikes are getting very hard to find in their original condition – unmutilated, unmodified, etc… with low miles.

Comes with original color-matching rear seat cover / racing cowl

Condition: It is not perfect, as it is 25 yrs old, but aside from a few small scuffs & scratches(see pics), it is overall easily 9/10. Although some of the scuffs are hard to see, I tried getting the light angle just right so they would show up as best as possible in the pics.
One of my favorite FZR600 memories is hearing the Genesis pinned and screaming at 11,500 . . . as it passed by me on my 400 🙁
I think I may petition upper management to change RareSportBikesForSale.com to DougsWalkDownMemoryLane.com. Speaking of upper management- If I'm not mistaken, our fearless leaders first bike was a FZR 600. Dan?
dd