Warning!
This post is in our archives. Links in this post have been updated to point to similar bikes available to bid on eBay.
Every post will be sent right to your inbox every morning when new posts are made. We will never sell our list or spam you. Plus you can click links to bid or buy right from the email and skip the site entirely. Subscribe to Rare SportBikes For Sale today!
Just last week, a long lost RSBFS friend reached out to me and welcomed my return to the rotation. Our conversation quickly turned to bikes, pricing and we both noted the lack to 2-strokes being offered for sale and how we both missed them.
After the conversation and without hesitation, I fired up the RSBFS GoDuckYouself engine and went in search of a smoker . . . A real smoker, not some weenie post 2000's oil-mix 4 mix contraption.
As you know by now, I landed on one of the most sought after NSR's in Forest Gump's Wide World.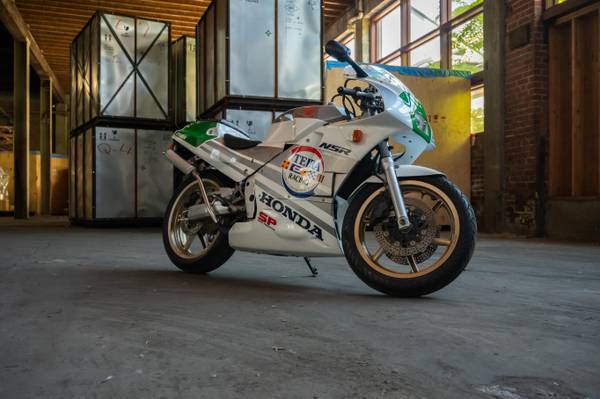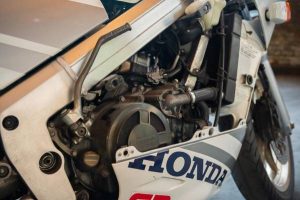 The IMPORTANT model specific info:
1. Magtek Wheels – 4.5″ rear
2. Dry Clutch
3. Fully Adjustable Front and Rear Suspension
4. Slippery Terra Racing Bodywork
5. High Silencers
The IMPORTANT info about this machine:
1. It's 32 years old
2. It's ONLY covered 1,450 miles
3. It "appears" to have all of the plastic bodywork tabs in tact. (this is huge!)
4. It has managed to escape the dreaded Japanese corrosion
5. The paint and bodywork "appear" to be in near perfect shape- I'll come back to this
6. It has spare engine parts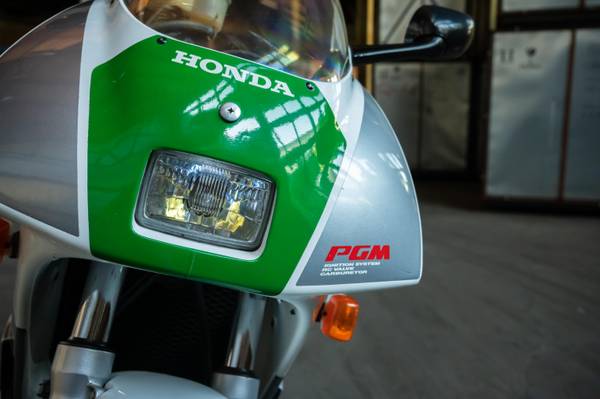 I've owned several NSR's and know all too well the pitfalls of them and based solely on the pictures- this one appears to be the real deal. The seller is asking $12,500 and shipping to your doorstep for around $750. Ouch right? But, unless you have some serious connections and leverage I don't think you'll find another one currently for sale stateside. Yes, it's that rare.
Here's the low down from the lucky owner:
1989 Honda NSR250R SP top specification of *THE* iconic 250cc 2-stroke GP race-replica of the late 1980 to early 90's. The NSR250R-SP (MC18-1118045 R6K) features distinctive Terra racing livery, Honda Magtek magnesium wheels & dry-clutch.

2170 kilometers shown and regular but limited use over the past 32 years recorded in the inner panels. New battery / fuel / plugs. Runs and rides well. Includes some spares – new OEM Honda pistons / rings / base gaskets / head gaskets / circlips / plugs.
Over our 12 year history, we've only featured a handful of Terra Racing NSR 250 SP's and the majority of them were listings from abroad.
2019 Sold for $7,750
2014 Sold for $9,500 in the UK
2012 Sold for $7,800 in the UK
2011 Sold for $8,600 in the UK
Knowing how utilitarian NSR's were in Japan this machine makes me smile. It's preserved. It's not been ridden to oblivion and back. It's Iconic. It's in the USA. It's For Sale!
Check out some NSR Grail on CL here!
Extra Credit Reading:
NSR250 SP Terra Racing Edition History
NSR250 SP Terra Racing Edition Specs
Just as I said I would- I'm getting back to the paint and bodywork . . .
Being the avid photographer I am, I can appreciate the time, effort and vision it takes to create great images. Hell, I'm the first person to hand my camera to anyone who says "Nice camera! I bet it takes great pictures!" My point? These are great images! But, not to a potential buyer of a $12,500, 32 year old machine. I want to see clear, well lit and detail oriented images. A smokey image of a scandalous looking motorcycle, peeking around the corner in and industrial setting is not reassuring to me 😉
Later-
dd