It's 2006 and Loris Capirossi and Sete Gibernau are the Ducati Factory MotoGP riders. You're at the track watching them blast down the straights at 200mph and thinking "Man, I wish I had a machine like that!". Reading your mind, an official from Bologna walks up and says "I can help you obtain the unobtainable." Cautiously, you look around and ask yourself "Did I say that out loud or am I dreaming?". Still cautious and unsure, you feel a startling tap on your shoulder. Mr Bologna repeats himself "I can help you obtain the unobtainable" Your reply is simply "Seriously? Where do I sign up?". Mr Bologna points to Ducati Island and motions for you to follow him . . .
A signature, $72,500, a 24 month wait and the next thing you know- you're throwing a leg over a 200hp, fire breathing, Italian Stallion D16RR Ducati MotoGP Racer Replica. Was it worth the wait? Well, truth be told, only 1500 people had to impatiently wait for their dealers to call and it's safe to say Commonwealth didn't have my number.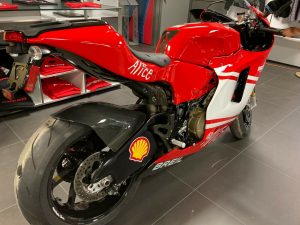 These are teenagers now and are starting to show their age . . . a little. The D16 looks a little bulbous when compared to today's MotoGP machines, but in typical Ducati fashion, it looks fast sitting still and drips with motorcycle sexiness.
From the seller-
Excellent example Ducati D16RR Desmosedici w/ 6,444 miles.
Not much to say- I'm thinking they were too busy polishing the drool off of their D16
As a quick reference, I did a deep dive into my RSBFS.com past and found this as a pricing sound board
Being completely transparent, I find it hard to believe these haven't eclipsed their original MSRP's. I believe these will increase in value, but perhaps the 1500 production number is holding them back a bit. What do you all think? Drop a comment below and let's figure it out.
Ciao!
dd