LE: Check
Low Miles: Check
Condition: As New
Bad Ass Level: It goes to 11!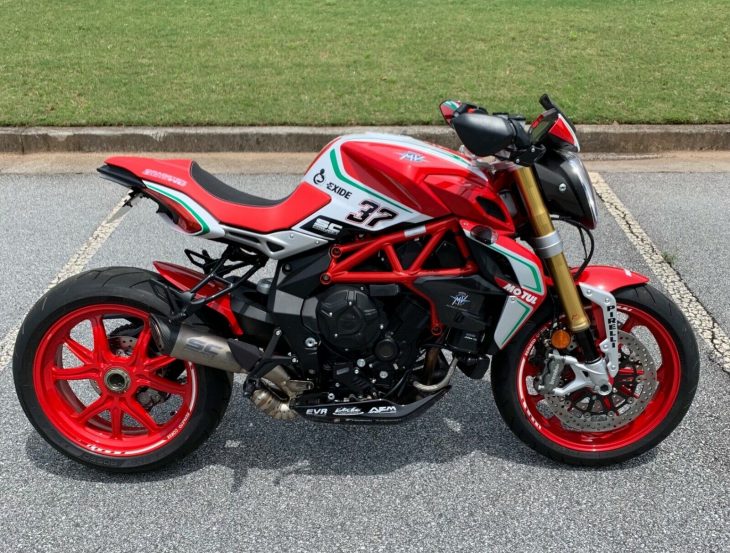 Confession: I've been passing over this thing for a few days now, but each time I did I'd stop and admire it. In full transparency, I probably skipped over it because I wasn't that familiar with the model and being the fat and lazy dude I am I didn't want to jump on Mikes GoDuckYouself engine to learn about it. As fate would have it, that all changed this morning while eating my Indiana style Avocado, tomato and Sriracha toast.
I'm in love and think this is one bad ass machine!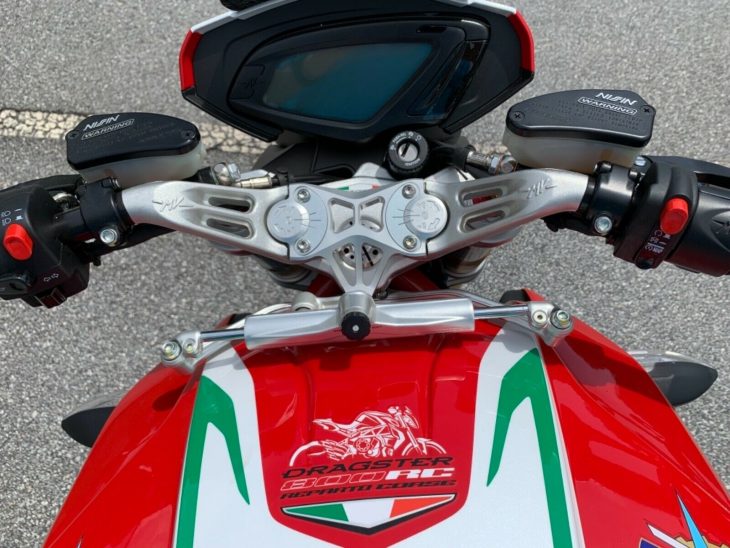 Straight from MV's Reparto Course (Race Department) is their hot rodded version of the MV's 800cc Brutale. The RC Dragster gets special paint that includes go fast race stickers and a pre-installed #37 on the tank. 37 represents the number of championships MV has won over the years. The RC model comes standard with a beefier 200 rear wheel and a SC Project exhaust that when installed bumps the 3 cyclinder power from 140hp to 150hp. I wouldn't change a thing on #70 because it already has the SC Project installed and the uglier than a Karens bad attitude rear fender removed. One of my favorite MV offerings is their Rekluse Smart Clutch System. These allow you to bang through the gears, up or down, with ease and without using the clutch. You only need the clutch when dropping out of neutral.
Check out what the seller has to say and I'll wrap it up-
MV Agusta RC SCS
Number 70 of 350, this very special motorcycle sold new for $27,995. With 181 miles on the odometer, It has been ridden around the block a couple of times. There are no scratches or blemishes anywhere on the motorcycle. Always stored in a heated air conditioned garage.
I'd have a hard time only covering 181 miles in 3 years with a bike that looks so freaking kool!
Here's a little clip I found on the GoDuckYouself search engine. It's worth the few minutes of your life to check it out. I'm really digging how the 3cyl sounds through the SC Project exhaust and I'm sure you'll agree.
Now, where did I put my mad money stash . . .
Ciao!
dd