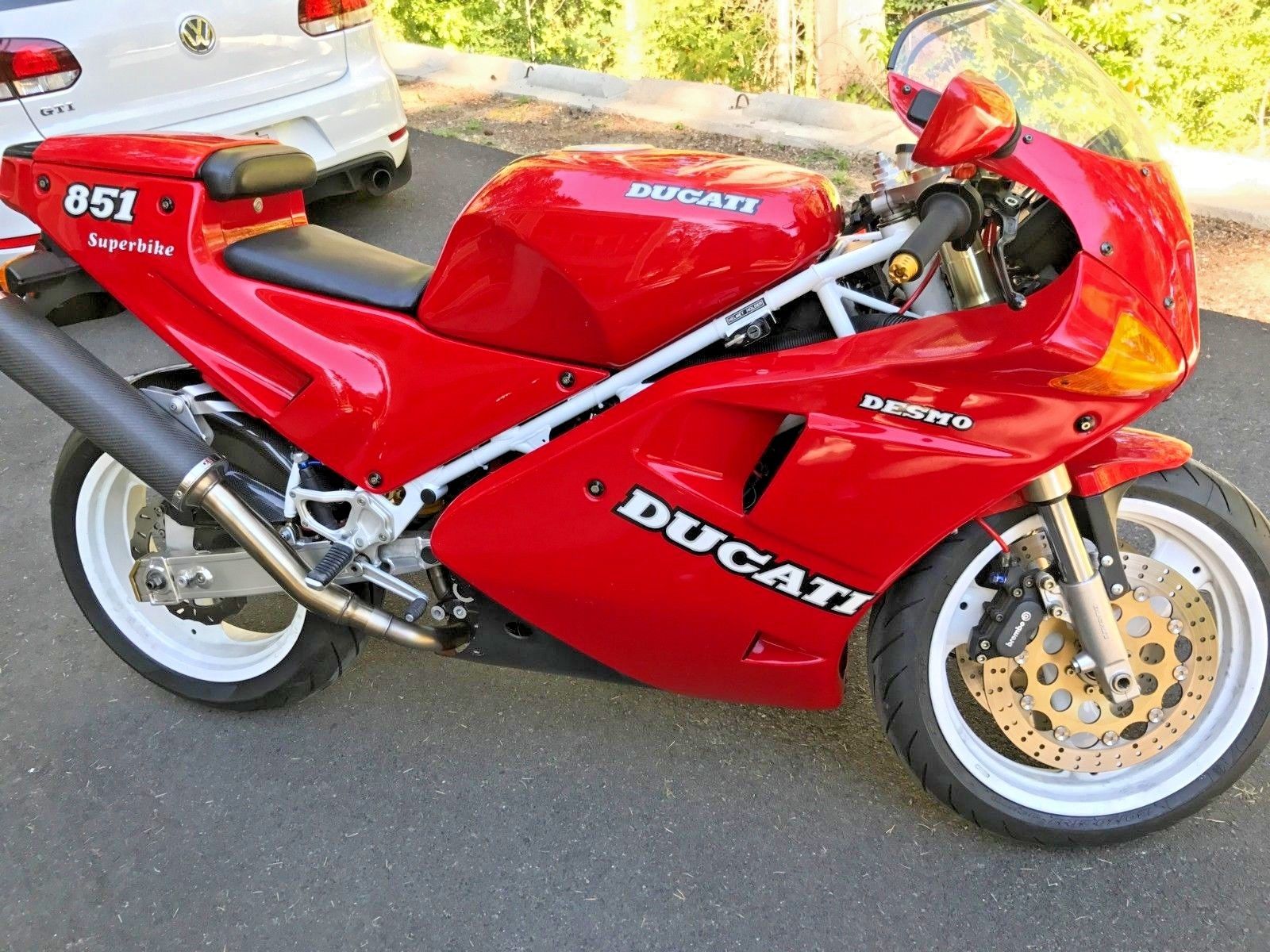 The Ducati 851 is a long-standing icon in the sport bike world. Leading the charge to Ducati's dominant run of WSBK titles, the 851 was as successful on the showroom/street as it was on the track. Simultaneously introducing liquid cooling, fuel injection and four valve desmo heads, the 851 was both the leading edge of where Ducati had been, as well as the foundation for the future. And the sound? All the booming twin noises you expect, with a very unexpected-for-a-twin high redline. Good looks never hurt either, and the 851 exhibits the classic lines of the 1990s sportbike. You gotta hand it to the Italians – they know how to build a supermodel that checks all the right boxes.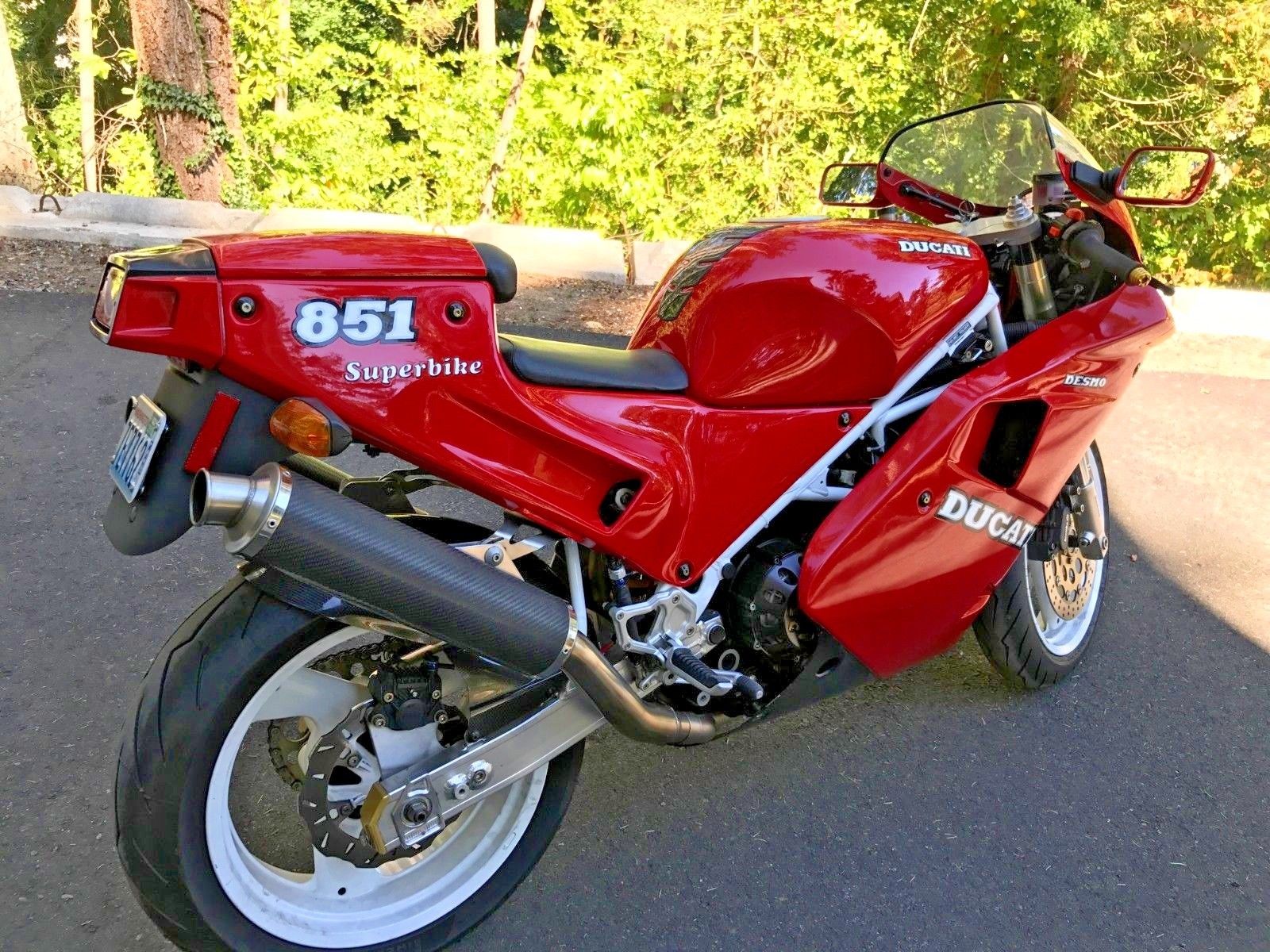 The development of "rubber band" Pantah motor was an evolutionary design in the 2-valve, air-cooled Ducati twin. The 851 motor took the Pantah guts and revolutionized the rest. Four valve heads were actually part of Massimo Bordi's thesis at University; this project allowed him to make them a production reality with the assistance of famed engineering firm Cosworth. Liquid cooling was a no-brainer; better control of heat allowed for closer tolerances and ultimately more (and more reliable power). Fuel injection – a first for Ducati – heralded the future of electronics in motorcycles and in racing. This feature also allowed for tuning and tweaking, necessary to extract the maximum performance from the engine/exhaust combinations tested. Utilizing known techniques, the chassis was a birdcage affair of straight steel tubing. Original plans called for a 16″ front wheel (1987 and 1988 model years), which was all the rage for GP machines at the time. However stability issues cropped up, and the now standard 17 incher was fitted. Later 851s received Ohlins upgrades from the original design Marzocchi units, and Brembos adorned the hubs front and rear.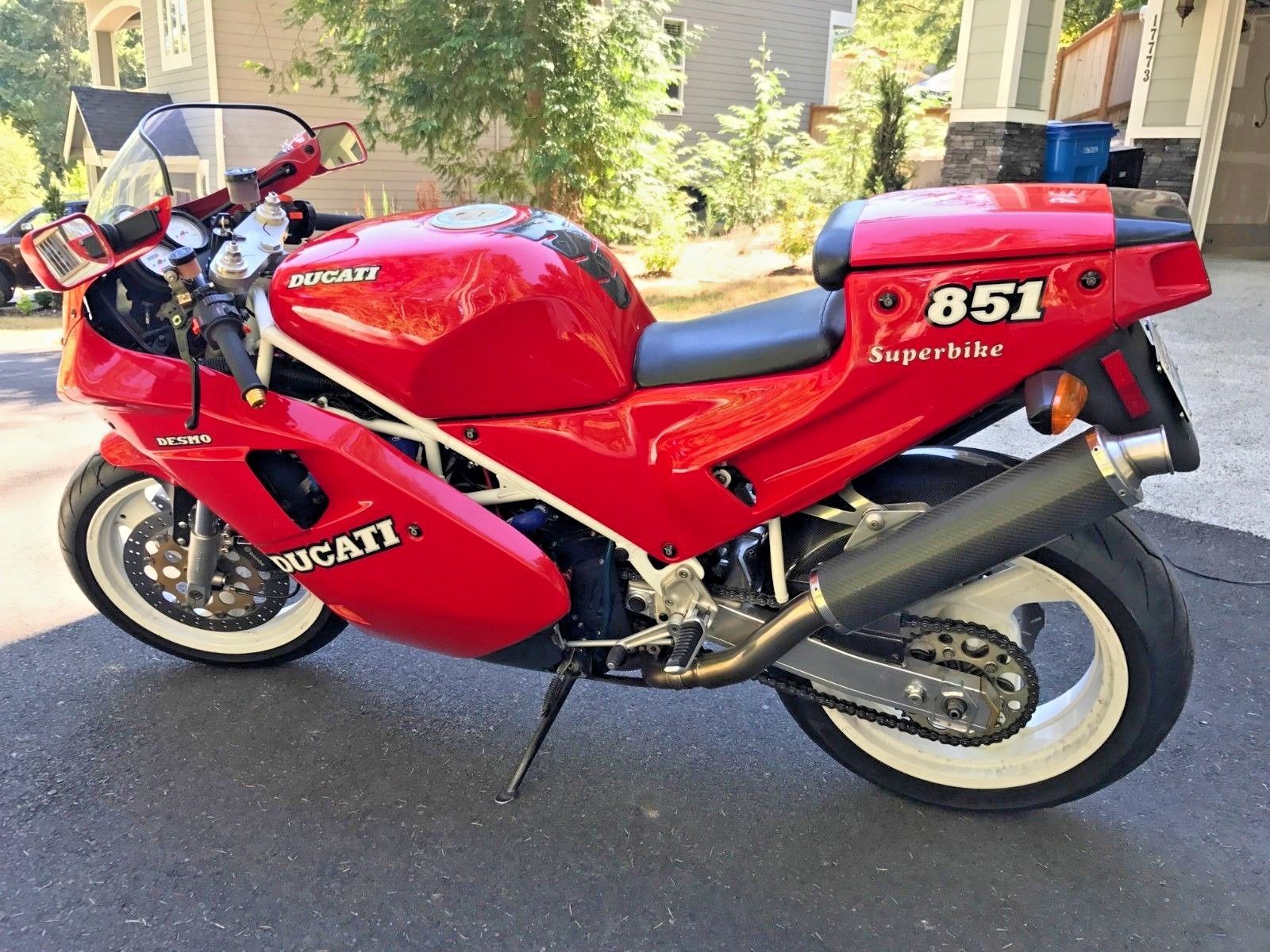 From the seller:
Up for sale is my 1991 Ducati 851. It's original, it's complete, it's immaculate, well taken care of, always garaged and under cover.
All original with tons of work in last 7 years.

Work in 2011 at 15k miles. Motor refresh, new rings, hone, bearings checked, valves adjusted, belts, everything gone through. Upgraded clutch slave New SS brake lines front/rear New clutch with basket open cover New coolant hoses Rebuild rear Ohlins shock Fast by Ferracci stage 1 chip and high carbon pipes.

Work done in 2018 at 16k miles. New front upgraded 916 Brembo rotors/OE pads, Diablo Rossi III tires, OEM battery. The bike is wearing original seat, original pipes and rear pegs now.
You won't find a cleaner original condition collectible worthy 851.
When introduced, the 851 was considered a bit of a high-strung, maintenance-intensive and potentially fragile offering – providing performance at the cost of reliability and/or longevity. History has clearly shown this not to be true, however. Yes, there are some unique service aspects to owning a Pantah-based Ducati, including frequent belt changes and valve adjustment intervals (when compared to your average sewing machine). However these are not the Fiat-related, oil leaking, rust buckets than many feared. These are actually quite robust and reliable steeds that continue to churn out the sound and performance expected, and readers should not hesitate to consider a higher mileage bike. We have, in fact, seen specimens with double the mileage listed here (16,000); provided belts have been changed and services rendered, this motor is well neigh bulletproof.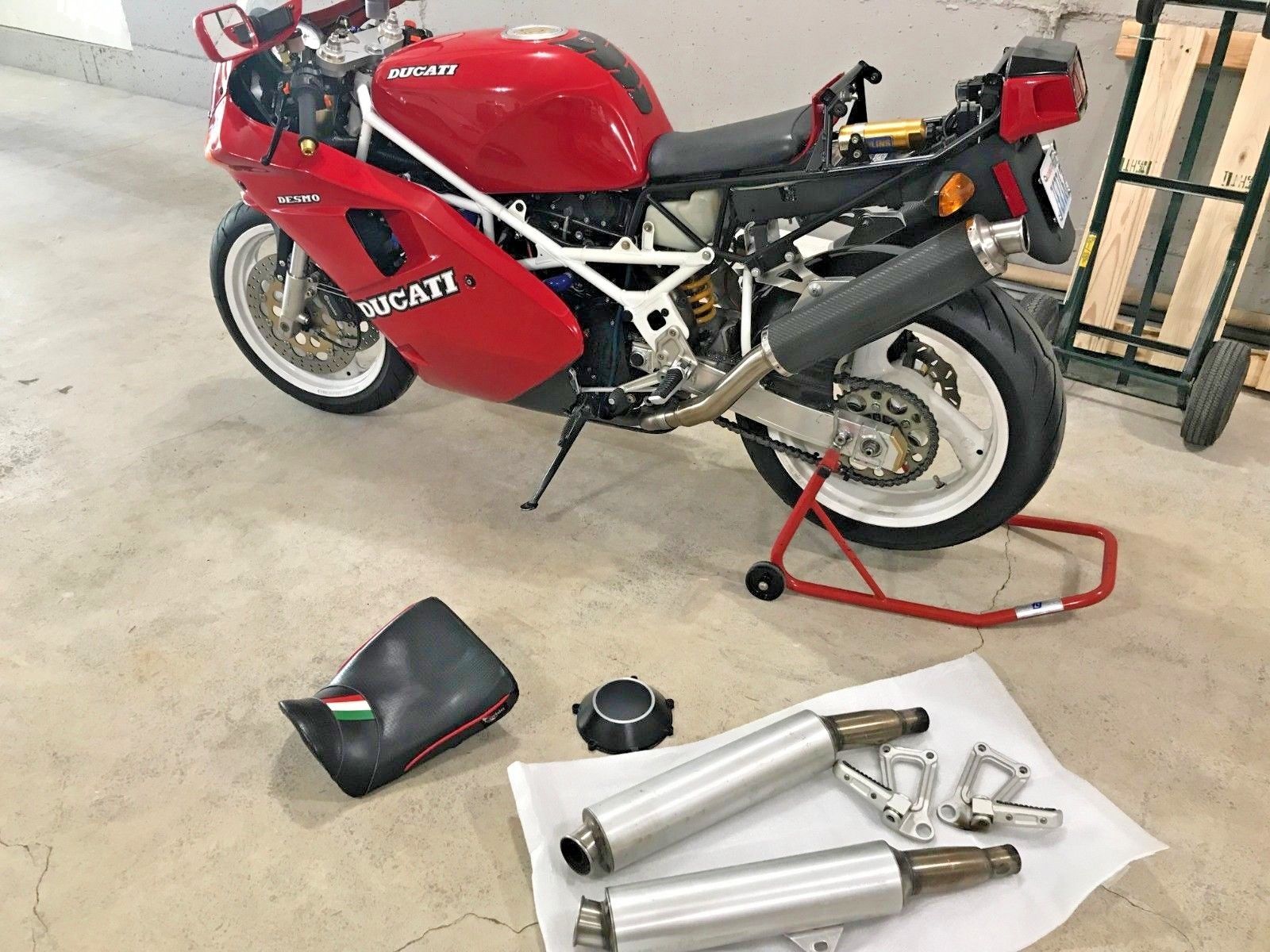 Today's particular example appears to have been used well, as opposed to well used. It is a '91 851 Strada (biposto). Yes, it has had some miles under the keel. But it has also had a decent amount of service, no doubt at the behest of an owner who keeps his machines healthy and in order. As part of the maintenance there have also been some upgrades. Like the factory, this owner has replaced components with newer available items, both maintaining and enhancing performance of the bike. Being a '91 model, it wears the white frame and white wheels – a striking combination ('92 and onwards went to black hoops). Is it really the cleanest original condition 851 we have seen? I would chalk that up to a bit of poetic license as this bike is not strictly original from a purist standpoint. But it is very, very clean – and continues to evoke visceral, emotional responses you might not find in a more modern bike. Whether or not it is worth the premium asking price is another matter (seller is open to offers). Check out all of the details here, and then jump back to the Comments section and lets chat 851s and higher mileage Ducs. Good Luck!!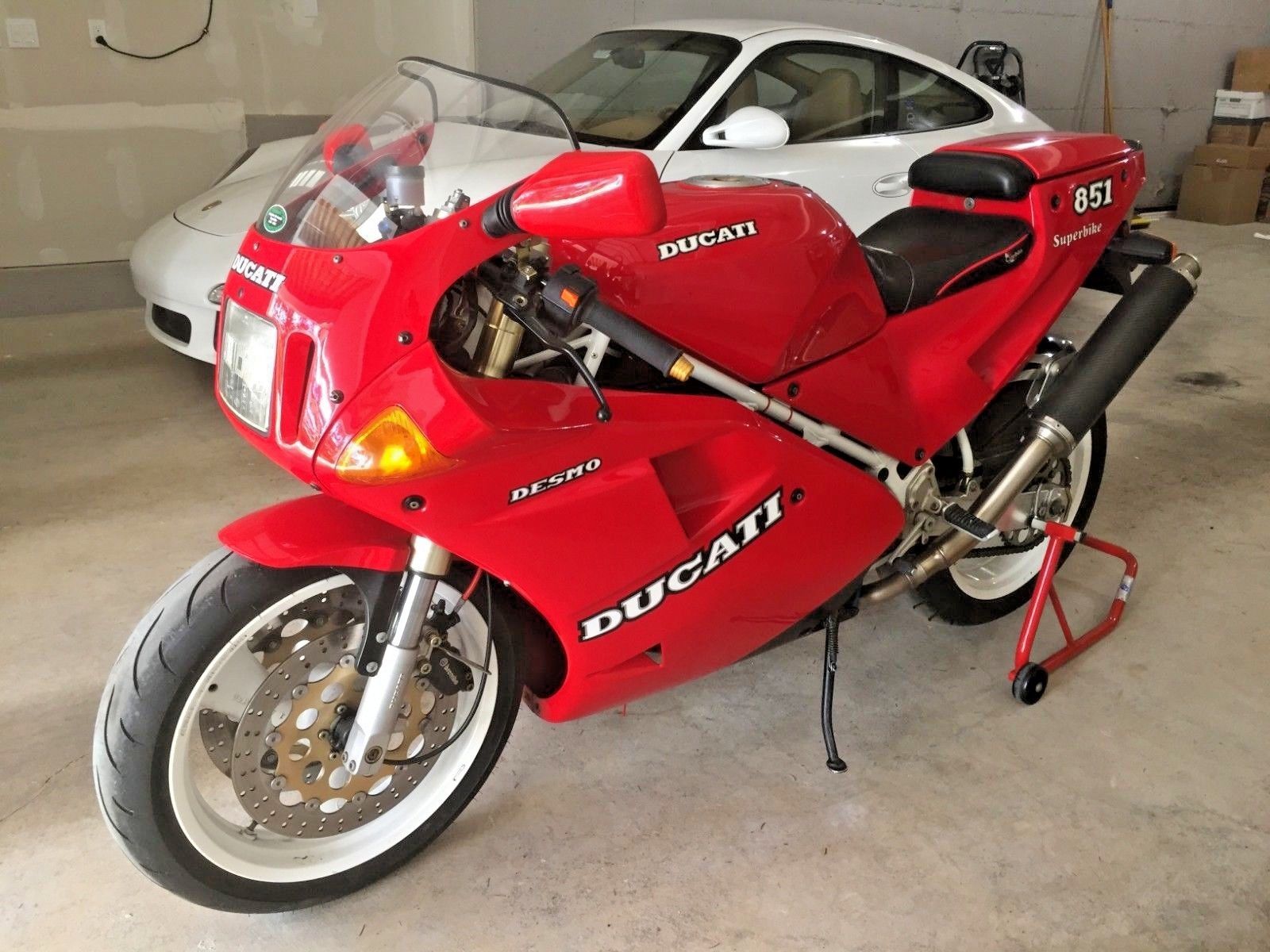 MI