Update 1.3.2019: Our first confirmed sale of the season — this bike has SOLD! Congratulations to buyer and seller! -dc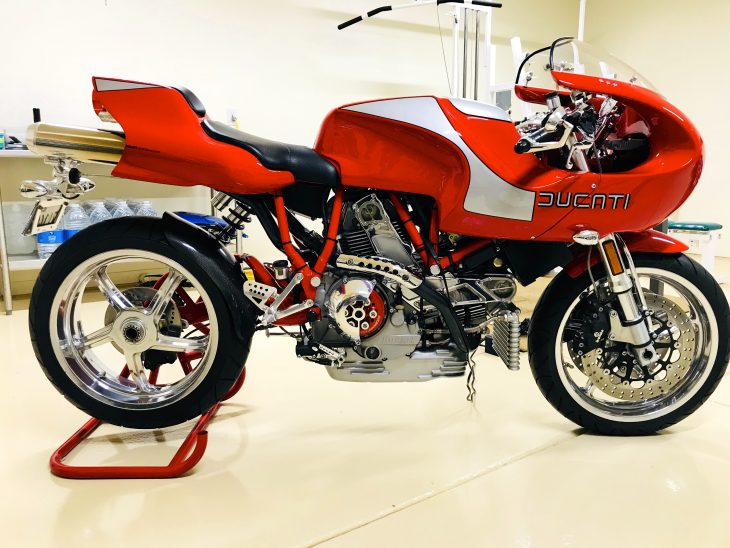 Like most of its 1,999 brethren, this 2002 Ducati MH900e has spent its life being absolutely babied by two fastidious owners. The second owner has had the bike for not quite three years, and in that time has added a scant 20 miles. As with most of these Pierre Terblanche-designed machines, its value has been as a show piece, rather than a rider. The care shows, one very small scratch on the lower bodywork (which won't be noticeable unless you're on your knees) to show for its 3,500 miles and 16 years.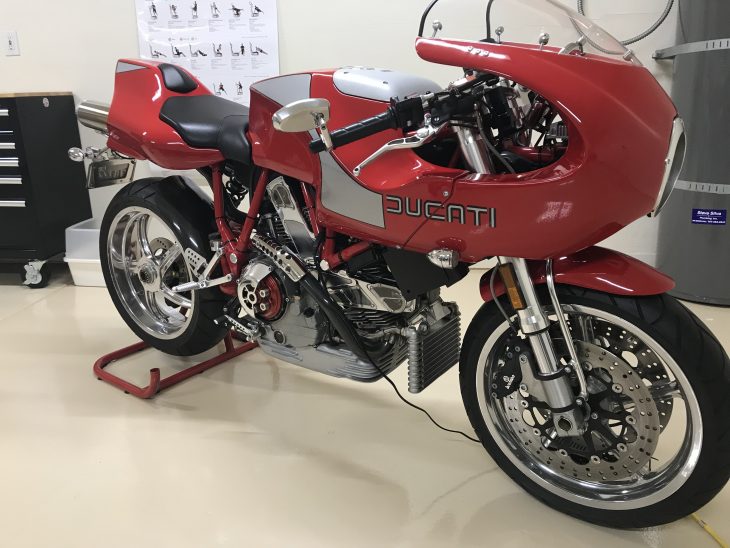 Though the bikes were designed to be as satisfying to ride as to look at, their scarcity and plethora of hand-built unobtanium bits make them a slightly sketchy proposition on the street, unless you're a true gambler. Take the gamble, though, and you'll be rewarded by a torquey v-twin suspended by a combination of adjustable Marzocchi forks and a remote reservoir Paoli shock. This example has been started regularly and had a belt a fluid service in 2015, but will needs its original tires replaced if the new owner plans to ride it.
From the seller:
I purchased the bike in spring of 2016 from the original owner and rode the bike approximately 20 miles, I bought the bike to display. Original owner did all the tasteful modifications and kept all original parts. Including: owner's manual, tool kit, plaque in case, bike stand, and front of shipping crate. Tires are original and show no wear or age. If new owner plans on riding bike fresh tires should be installed. Also have a Ducati bike cover. Bike is in excellent shape and has no problems or issues. There is an extremely small nick next to the lower front turn signal (photo enclosed). Original owner also put Cycle Cat bar risers on the bike, and longer bars to accommodate the Rizoma bar end mirrors. Have factory bars, clamps and mirrors. Able to return to the stock appearance if new owner desires.

Original owner had the bike serviced on 10/11/15. At that time belts were replaced, all fluids changed, replaced spark plugs and installed two new batteries. Work was performed by Donald Bell of Modesto Ducati. Batteries are always on a maintenance charge. Bike is fired up a few times a month and brought to operating temperature. Bike is in excellent shape. Both respective owners have babied this bike.

2002 MH900e 761/2000 3548 miles

Two-owner bike
Staintune Exhaust
Carbon Fiber Rear Hugger
Rizoma mirrors and turn signals
Open clutch cover
And the rims have been professionally polished, which makes the bike look amazing and so much better than the drab gray rims that came from the factory.

Have all factory parts that were removed (except for emissions canister). Which includes:
Mirrors
Turn signals
Bars
Clamps
Exhaust
Clutch cover

Also:
Both keys
Ducati tool kit/tools
Owner's Manual
Bike stand
Plaque in case
Front panel of shipping crate (see photo)
Ducati bike cover
Bike was just registered in California for 2019 (expires Jan 2020)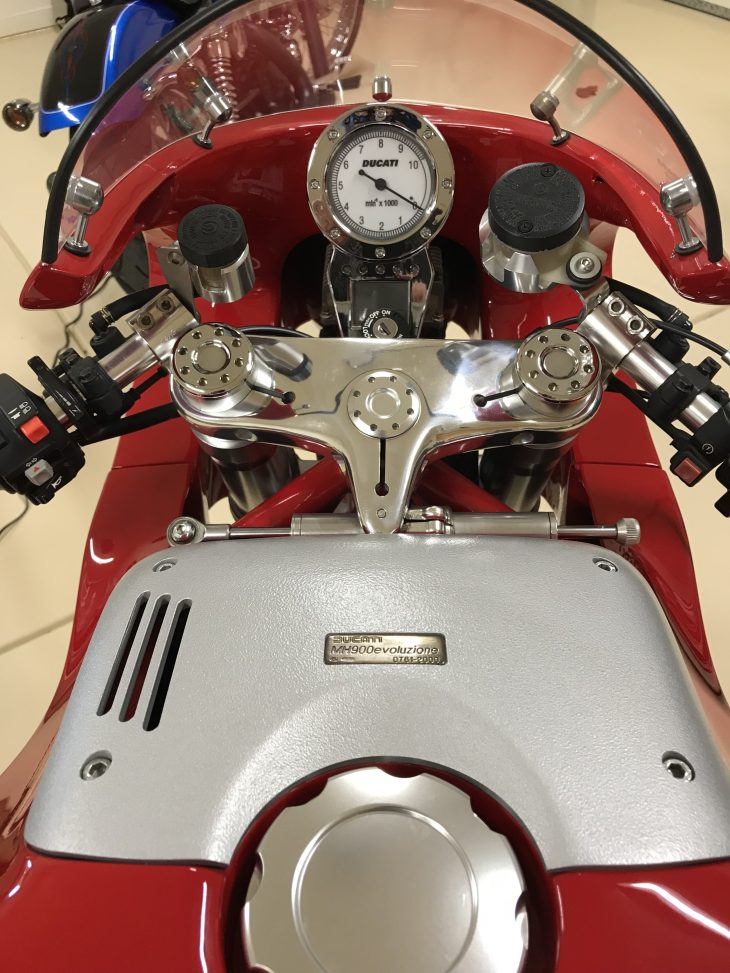 If you're in the market for an MH900e, the bike that kicked off Ducati's celebrated Sport Classic line and celebrated a historic Isle of Man win, you aren't likely to find one nicer or better sorted than this one. The seller is asking $25,000.