The Ducati 900 Supersport series is one of those bikes that is just so solid that it persists in company that is far more exotic, expensive, and technologically advanced. Even in the day the 900 SS was a bit of a dinosaur – an air-cooled, 2-valved, carburetted throwback to the 1970s – while the competition was spending wildly on technology such as fuel injection, liquid cooling, multi-valve per cylinder, variable valve timing, turbocharging and more. But you can't hide greatness – and the bones of the Supersport were truly great. Comparing the 900 Supersport to the same year 916 is a bit like comparing a basic cheeseburger to a dry-aged ribeye steak. But you know what? That cheeseburger can be a mighty satisfying meal in the end. And so too is it with the 900 Supersport – especially the SP model such as today's example – it has all the basics to be a truly great bike. And continues to be to this day. If you are looking for a fantastic ride without the flash, farkles and other nonsense, you've come to the right place. Today's seller is clearly an enthusiast and it is worth reading a few of his own words about this bike:
From the seller:
Ducati 900 Super Sport
1995
Sports Production (SP) Model with Fully-Faired Chassis Production Run #412
Desmodromic 90 Degree Twin-Cylinder Engine Six-Speed Transmission

Model Specific Details Per Owner
This motorcycle has been preserved exactly as one would want. Period. I have gone to great lengths to minimize any unnecessary changes that would otherwise compromise what Ducati intended this bike to be. Obviously a blood-red Italian work of art needs nothing in the way of cosmetics, so let well enough alone.

I felt the best use of any improvements would be more of personal expressions such as un- restricting the exhaust to allow the bike to actually sound like a Ducati should with a set of Remus canisters. These match the factory equipped carbon fiber components much better than any others in my opinion. To facilitate the most from the exhaust, I perfectly jetted the carburetors. No flat spots, nor burning eyes, and of course the results are impressive for the torque curve of an already excellent engine.

To welcome more fresh air into the carburetors, I added the Genuine Ducati air-box cover. I'm sure others with hole saws and hack-saw blades get the same results, but i chose OEM whenever possible. As far as the Slave Cylinder, the stock one seemed to lack feel and a clean return. Off it went and was promptly replaced by the excellent unit from Pro Italia. Regarding the braking system, it is what it is. Nobody was impressed when new, the same remains today. I added Ferodo pads at both ends and have felt these are aggressive enough for a spirited run through the curves. The brake lines are shockingly original. I'll leave YOU to replace them with fresh, likely stainless-steel braided models. They will certainly be an amazing upgrade.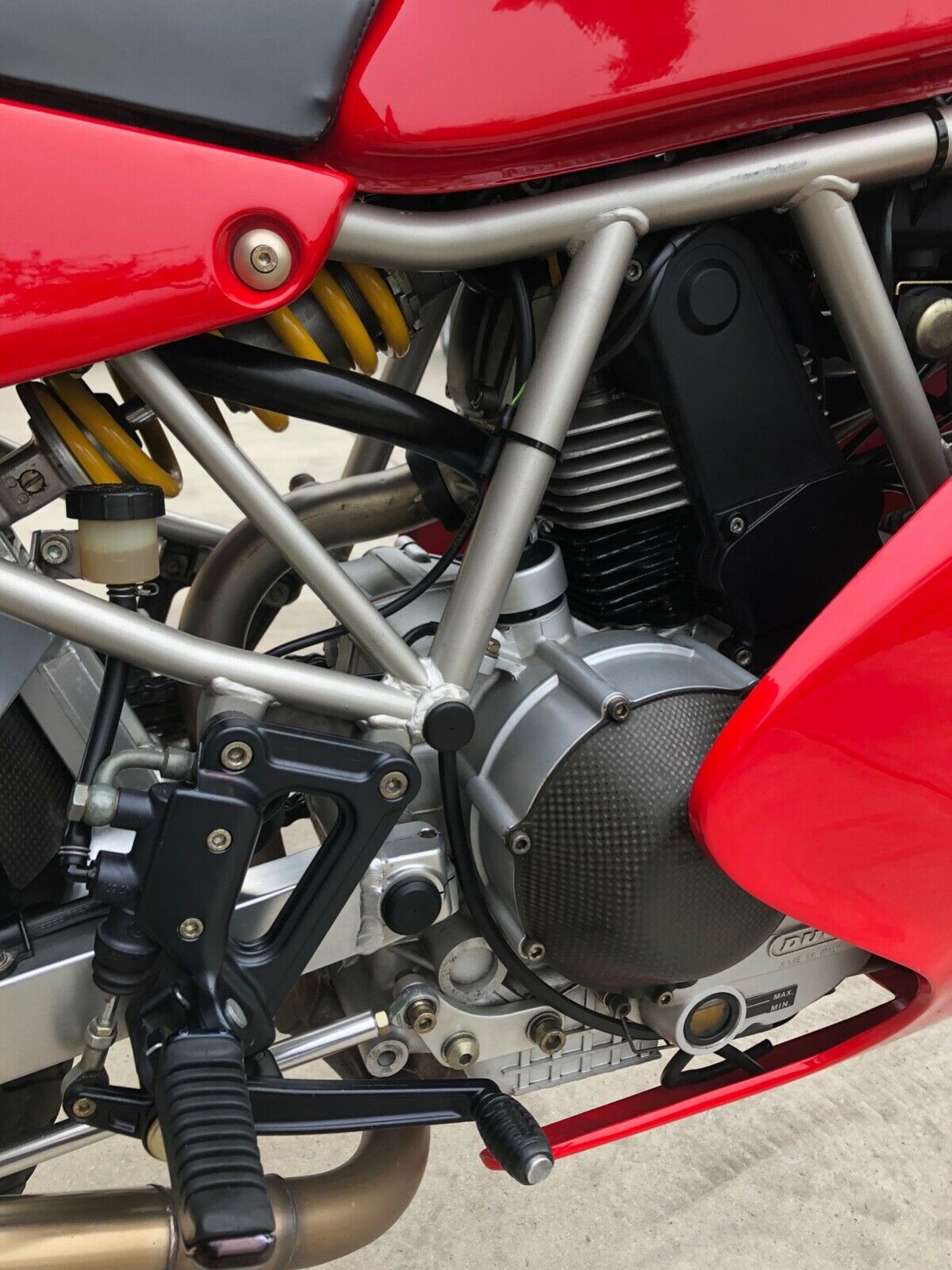 More from the seller:
The dry clutch is holding its own in the fully enclosed carbon cover and has been gently used. The tires are fresh, new Metzler's, of the sport touring variety. The chain has plenty of life in it, and the sprockets are newly replaced. All good stuff to head out with confidence.

In 2013, I decided to have the fine factory trained mechanics at The Motor Cafe in Sunnyvale, California pull the top end off the Duc and take a look around to see what it needed to keep on living. Not surprising to me, because of my impeccable maintenance schedule, and my gentle albeit, frequent abuse of the mountain roads, three out four of the valves, and their many clearances were just at, but not over recommended tolerances. One valve was now due for adjustment. I decided to go the full service treatment and get a bit more done.

This is what was performed: cylinder heads stripped and cleaned. Checked for cracks. New copper/beryllium seats. New Del West valve guides. New OEM Ducati valves and hardware such as keepers and rings to hold it together. The pistons were cleaned up and received new rings and the cylinder bore was prepped appropriately. It was all buttoned back up leak free for the next go round.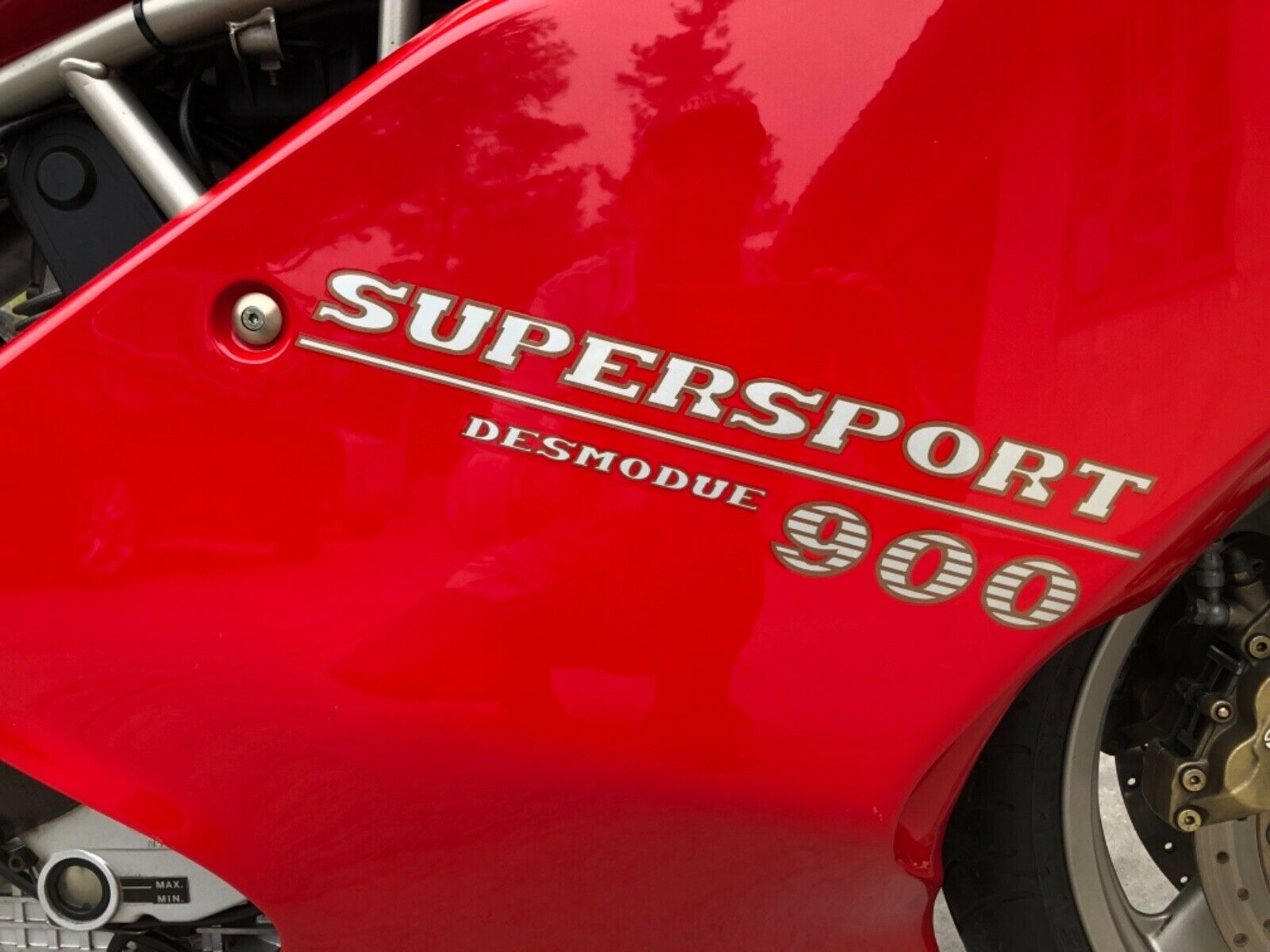 More from the seller:
Following this, the carburetors were checked for synchronization. The fuel filter was replaced in the tank and the gasket around the filler as well. A new front odometer drive unit was installed which I purchased back in 1998 when still available along with a fresh set of wheel bearings to smooth things out. Out back, the linkages were greased too.

A few additional things too mention about this machine. I have replaced the original clear windscreen which is still in excellent shape, with an OEM Ducati "smoke" model to help preserve the appearance of the instrument cluster. With that in mind, please take note in the accompanying photos the genuine Ducati carbon fiber gauge enclosure. This is not a common item as far as I've come to notice. Also, the front fender is BRAND NEW. I still have the original, which also is in good shape. All the carbon on this bike is better than most for the amount of actual miles enjoyed in real sunlight. Anyone could certainly sand and clear coat the existing carbon if they would like too as a restoration option.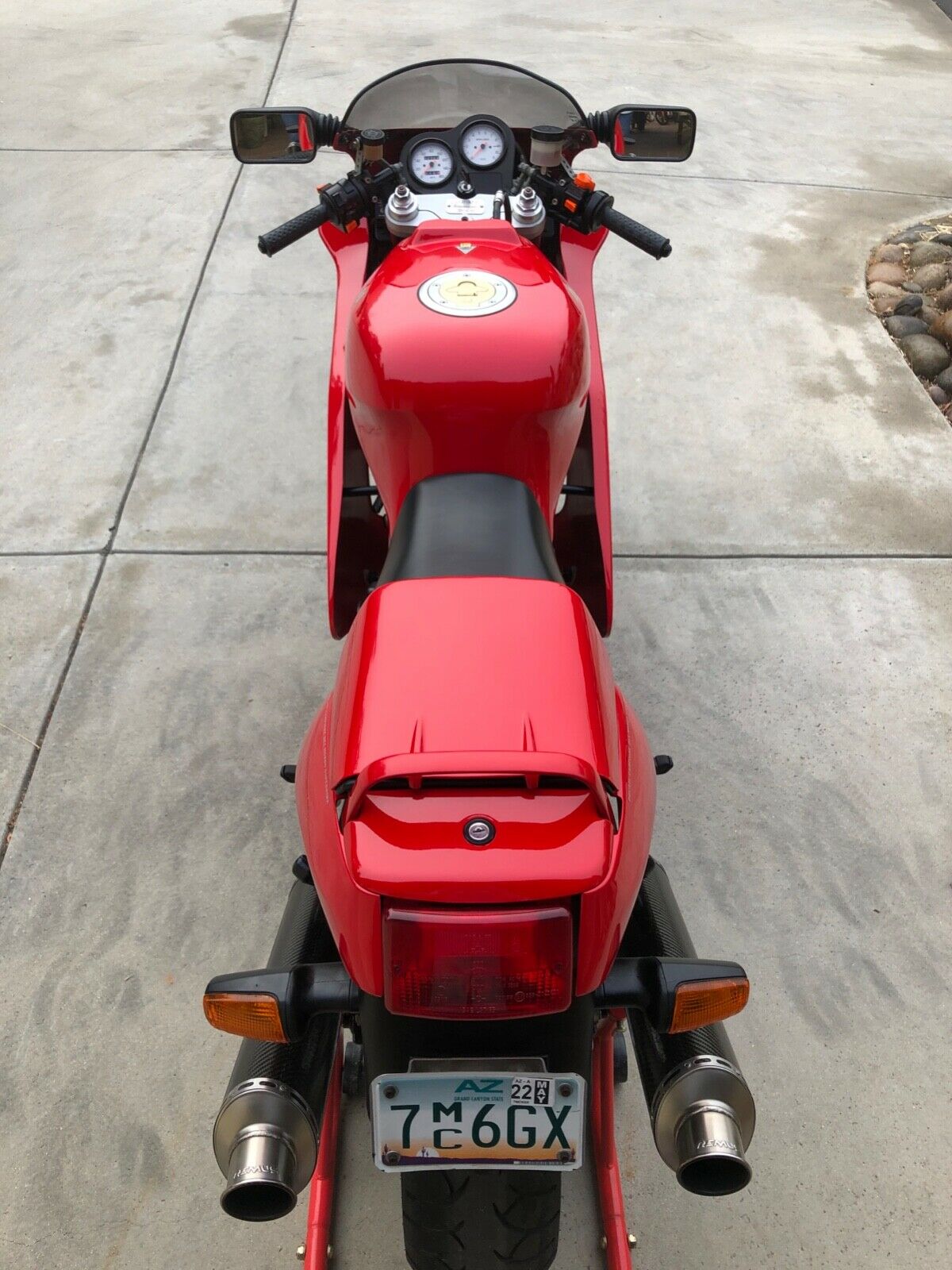 There is a LOT more text from the seller in the advert (I recommend you go check it out), but from what has been shared it is obvious that this was a well loved machine. And what is not to love? The basic bike feels like it has been hewed from solid rock. The big L-twin lumps a bit at idle, and thrashes in the upper RPM ranges. But in between the two is a wave of throbbing torque that grabs you out of one corner and launches you towards the next. And when you get to the next the excellent Brembos and the stiff, chrome molly trellis frame chassis do a great job of making the corner a no-brainer. Every bike should make you feel this good – but few do. This is a bike to be ridden… and by the looks of it, this one has. There are no fewer than 32,000+ miles on this bike, and it still looks new and ready for the next go around. And did I mention it is an SP? In the case of a 1990s Supersport, that means adjustable suspension (a great improvement, especially up front), floating front disks, remote reservoir brake and clutch masters, carbon fiber mudguard, and a wider rear tire thanks to a special aluminum swing arm. And let's not forget the most important bit: a SP-specific serial number plate on the triple clamp. Some folks go so far as to call the SP model a Superlight with a passenger pillion.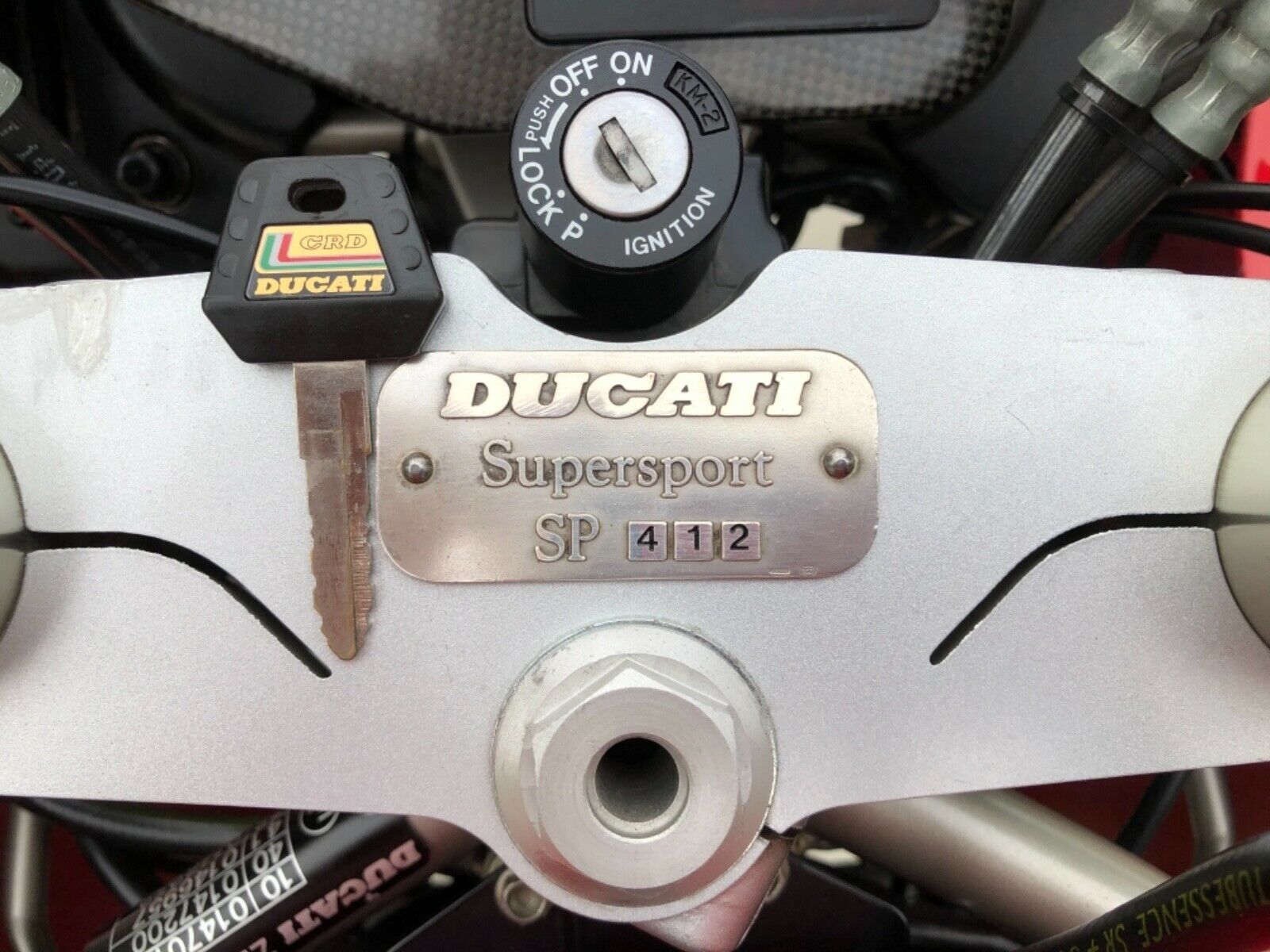 Despite the low tech and the basic nature, 900 SS SP models continue to be desired by riders. That is no surprise as the basic SS platform is extremely forgiving and very capable. It is also very reliable. This particular example has a lot of miles, but it has obviously been lavished on as well. It has some upgrades, and some very serious maintenance. That is all very positive, as these are bulletproof bikes if kept up, as this one appears to be. This one just hit eBay with a Buy It Now price of $5,500. That is strong money for a CR model, but probably well in the ballpark for an SP that shows like this one. And did I mention the spares? There appears to be quite a lot. Check it out and let us know what you think. I believe someone will pick it up relatively quickly, as this is the kind of bike worth holding on to. So who is the next owner? Good Luck!!
MI