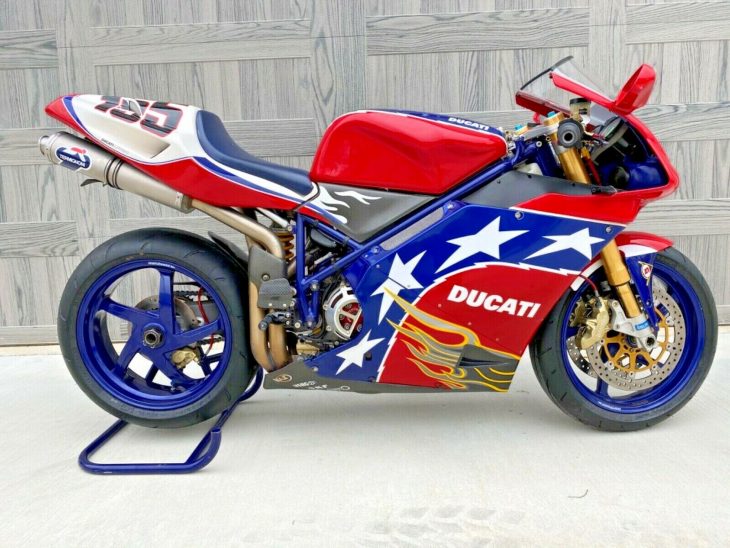 Ducati went all in on special editions in 2003 after Troy Bayliss took home the metal in the 2001 World Superbike Championship and American teammate Ben Bostrom followed him to third. They kicked out a special edition 2002 Ducati 998S for each man, wearing special carbon fairing pieces, Ohlins suspension, colored chromoly frames and Marchesini wheels, among other little tweaks.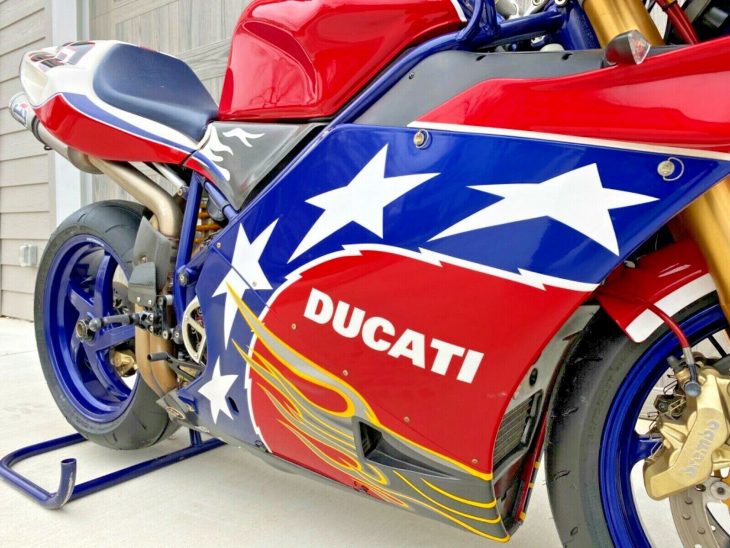 Bayliss certainly had more to celebrate, but Ducati knew American riders would eat up a Star-Spangled Banner-adorned 998, and at the time they did not shy away from the opportunity to build a special edition. Aside from the paint and carbon bodywork, there wasn't much to the Bostrom Edition that you couldn't find on a 998R. The Tetrastretta v-twin kicked out close to 130 horsepower, the suspension was blue-chip stuff and the Massimo Tamburini-penned looks were in full effect.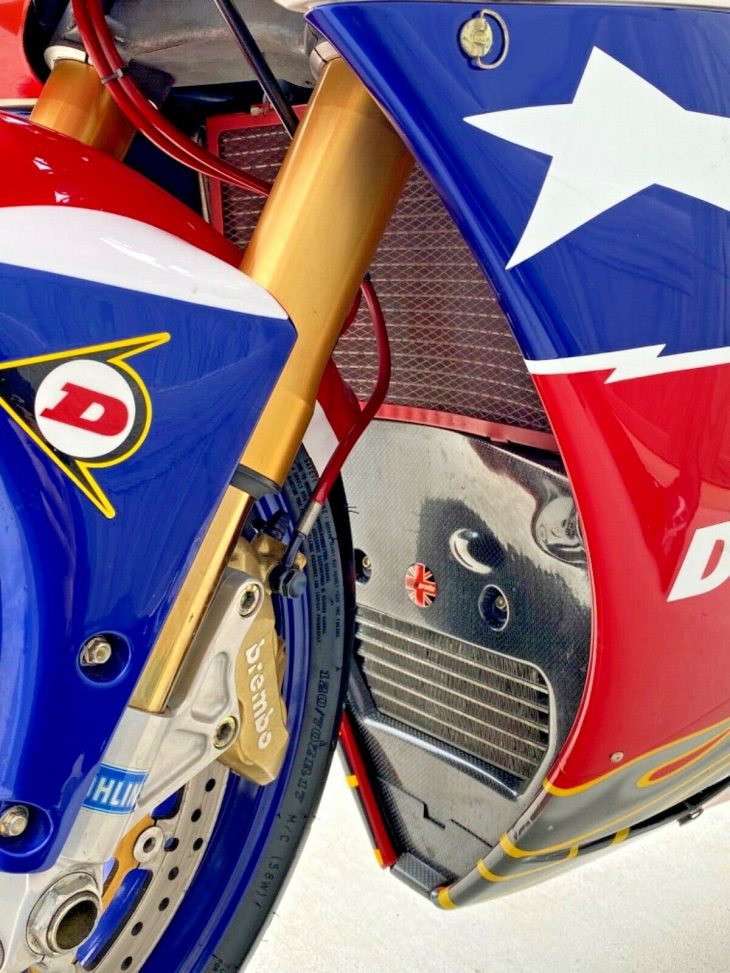 This one has its share of knocks and bruises, especially for such a low mileage and rare bike, but overall it presents nicely. It wears what appear to be aftermarket rearsets and Termignoni cans.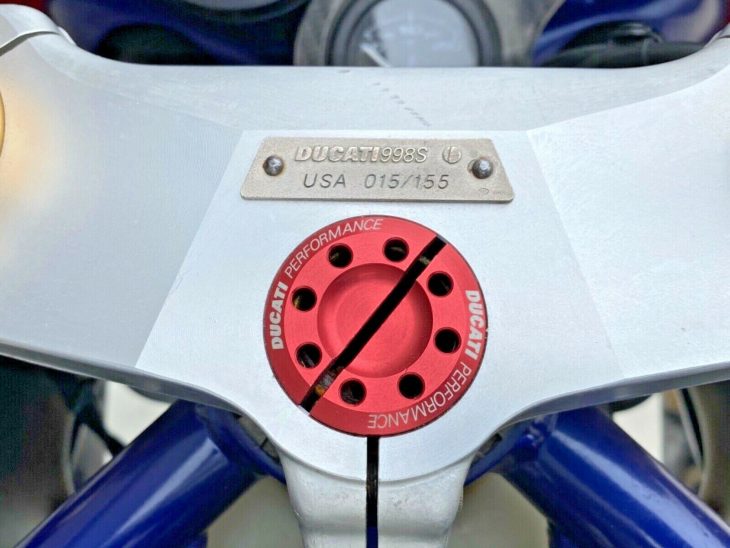 From the eBay listing:
2002 998s Ducati Bostrom out of my little collection

-5726 miles
-Brand new tires
-Great condition but doesn't have some blemishes. Please see the pictures and ask any questions you may have. The right side mirror has a rub mark, left fairing has a hairline crack, tail has slight spider webbing above "Superbike" and a little crack on the inside of the right fairing. All of these appear to be from bumps and none from the bike falling.
-Two piece side fairings, carbon belly, carbon under tray.
-This bike has several added carbon parts as well as other bits to add to the appearance.
-I am an avid fan of Ducati and added this Bostrom to my collection about three years ago. I have since found one with much lower miles and since I display my bikes, I bought the lower mileage and am now selling this one.
-The pictured bike stand IS NOT INCKUDED in the sale-it is for my other Bostrom.
-Bike has a service to include belts being done prior to my purchase. I added less than two miles during my ownership. It stayed displayed in my second story "bike cave". The tires have 100% tread and all the little nuns are still visible. The bike does start and runs. While displayed, I started it at least once a month.

The bike is now downstairs and you are welcomed to have it inspected prior to auction ending.

Bike is located in the Dallas, Texas area. I will make myself available for inspections and to meet with a shipper for transport to you. However, inspection and shipping costs are the responsibility of the buyer. I have had numerous cars and motorcycles shipped to me so I can help answer questions.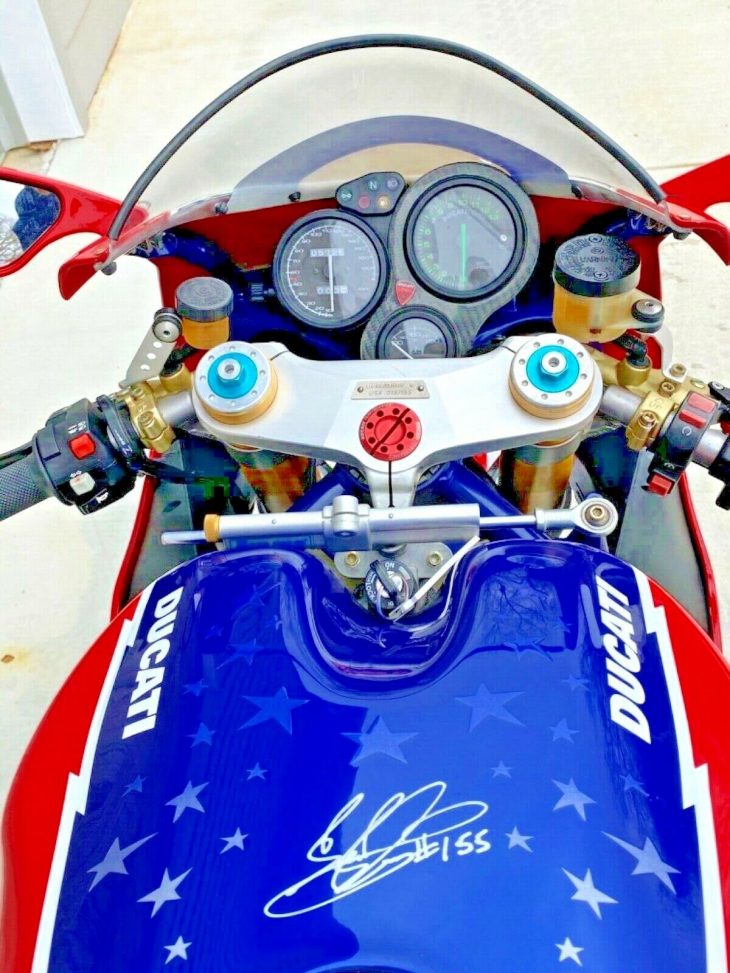 Whether you dig the paint scheme or not, there is no denying the desirability of 998s, as they were the swansong of the awesome 916 line. Add a little rarity and scarce mileage, and you get a bike that a collector will drool over.