Update 12.14.2022: This bike has SOLD! Congratulations to buyer and seller! -dc
Ducati's 851 is a once a significant milepost in the manufacturer's history, a beautiful design artifact, and a rare and epic riding experience.  RSBFS friend Thomas has made some some nice improvements to his final year 851, and offers it for sale near Milwaukee.
1992 Ducati 851 Strada asking $11,500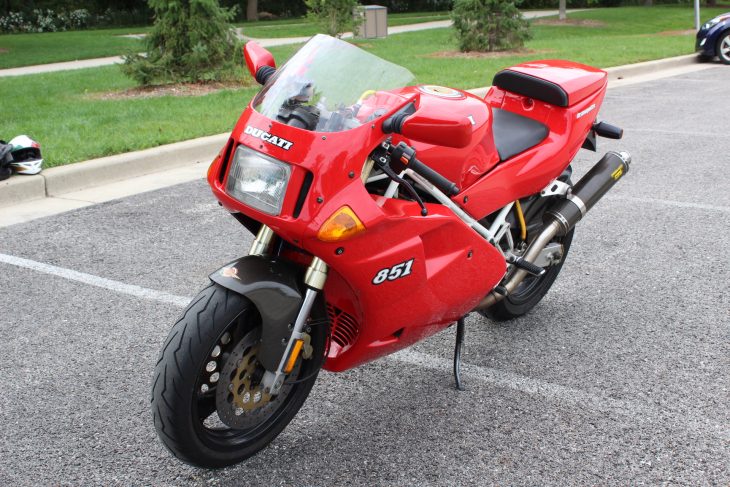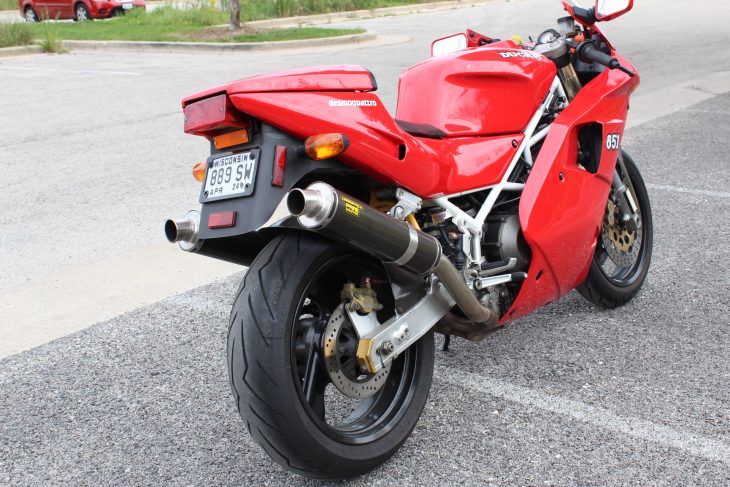 Cagiva funding provided the impetus to update Massimo Borda's earlier desmoquattro design and developed the heads for Ducati's belt-driven cam engine.  Fuel injection and water cooling were implemented and superbike 93 hp was the result.   Now classic, the trellis frame was light and rigid for the day.  Componentry was forward-looking, with inverted Showa forks, and wide 17-inch alloys front and rear.  Riding position is uncompromising, though over the four years of production fairings were lightened at least visually, looking every bit a world superbike.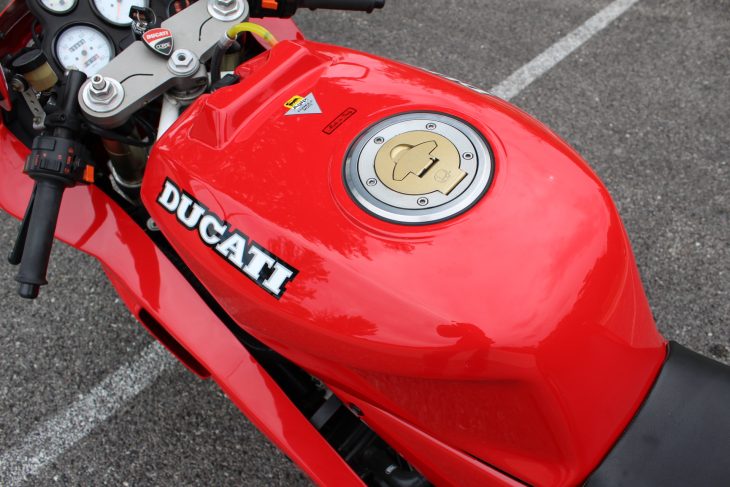 Thomas is only the third owner of this 851, and had the cosmetics nicely freshened, plus the suspension serviced and tuned on his watch.  Previous owners provided a freer exhaust and intake, and had hydraulic systems updated.  Thomas asks $11,500 for his 851, which can be seen on – Cycletrader – and sent these comprehensive notes to RSBFS – 
This is my 1992 851 Strada that I'm offering for sale. Those familiar with the marque will know that the 851 series essentially gave birth to the 4-valve Ducati dynasty that we see today.

The example I have here is a well sorted bike with many period and later upgrades to maintain its looks and performance. It may have higher mileage but ask any real expert and he/she will tell you an early 4-valve will go forever if properly maintained and reward its rider with many more happy miles. I am the third owner and have owned it for the last 2 years in Wisconsin, only run in dry conditions and stored in a dry garage or local Ducati dealer for winter storage.

The bike is in excellent condition. It runs and rides flawlessly and pulls like a train.  There are some signs of age on parts of the frame and the foam instrument surround but not unexpected.  Period mods include an Australian ECU performance chip for open air box and exhaust mods. (original chip available) Carbon fiber front and rear fenders, and Carbon Tech high mount exhaust cans.

Major work conducted by the second owner in Dec of 2019 at 25393 miles:
Full service including valve clearances and belt change.

Coated braided brake and clutch lines
Clutch master and slave cylinder overhauls
Full Samco silicone cooling system hose upgrade and cooling system flush and refill.

Pirelli Rosso III tires (fitted 2020) with loads of tread.

I purchased the bike in June of 2020 and had a complete suspension overhaul performed by Trackside Suspension and Engineering of Darien Wisconsin that performed a complete rebuild and replacement of all internal suspension components. A Hyperco blue rear spring replaced the original. Suspension is currently set for a 140-150lb rider.

I have only performed around 500 miles on the bike since owning. A simply amazing and correct full respray was performed by (Artissimo Designs, Waukeshaw WI) that took care of accumulated road wear and my own carelessness in the garage. (Tipped over removing from wheel stand) They also made repairs to minor cracks and crazing that had accumulated over the years. The results are phenomenal. In addition I replaced the brake pedal and lever and gave it a full complement of new factory fasteners.


Own an appreciating and beautiful beast from the 90s and a piece of Ducati history. These are still pretty affordable and sound awesome and surprisingly many parts are still available through the dealer system.

Bike has a clear Wisconsin title.  The bike comes with a workshop manual, original complete tool kit, both keys, original ECU, and receipts for the work performed as noted.
Thomas also has a cold start walkaround for your viewing pleasure –
The 851 blazed a trail for Ducati's decade of WSBK championships as well, starting in 1990 under Raymond Roche.  The model was so sport-oriented that Ducati had to develop other designs for around town and sport touring.  Though riding season is winding down, Thomas' 851 could make a beautiful early start to next year. 
-donn