Like Chevy's Z28 Camaro, the H2 is a model that creeps back into Kawasaki's line-up occasionally, but here we have the pre-historic beast that made the name.  The fire-breathing two stroke triple lasted only a few years before being regulated out of existence, but memorable enough that H2 is only applied to the most extreme green offerings.  The Florida example has somehow escaped the overcooked wheelies and tank slappers that claimed so many of its siblings.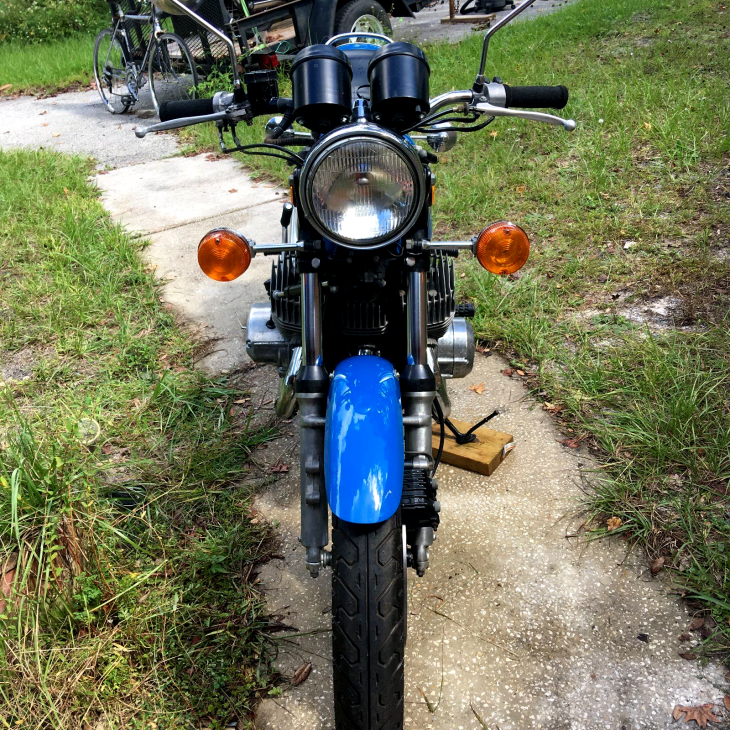 Coming hot on the heels of the 500cc H1, the Mach IV used the same successful formula - acceleration above all.  The 74 hp available were jammed into the upper reaches of the powerband, and weight was kept to a minimum at just 450 lbs. topped off.  Period single front disk and rear drum were adequate, as was the double cradle chassis, unless they were hopelessly out-gunned by the right wrist.  With a 19-inch front and 18-inch rear wheel, straight line stability was favored in the handling compromise.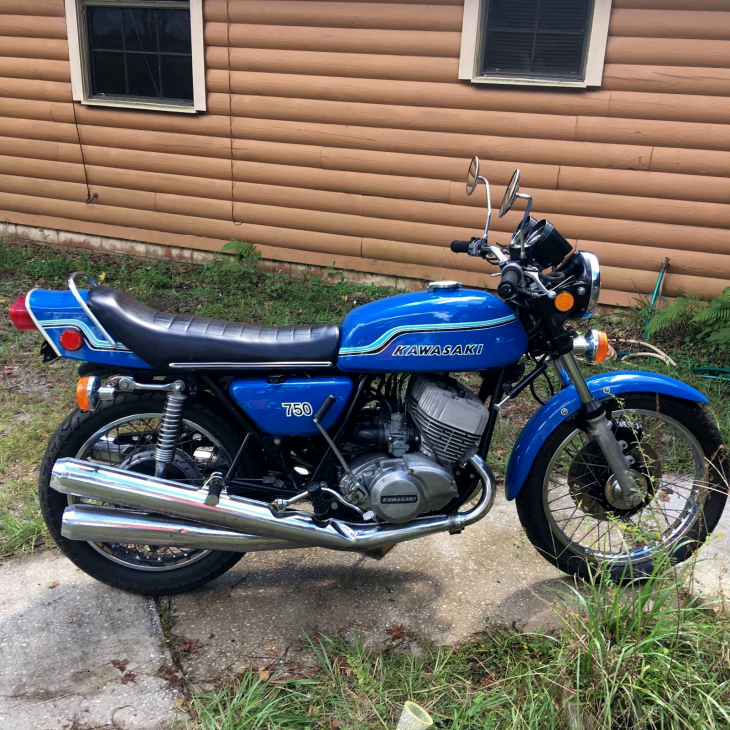 This H2 is returning to the road at a ripe old age, and looks very good for its 30K miles.  Though not mentioned, the paint might be a little too nice and spell an older restoration.  The owner has gone over it carefully maintenance-wise, and provides this list in the eBay auction:
installed air filter box with a new (genuine) 3 way rubber manifold,
and a new (unknown manufacturer) upper snorkel.
needs internal filter element as I have none left.
drained and put new brake fluid in front cylinder, shoes and pads look good and all cleaned.
reset timing, cleaned and re-gapped pickups.
pistons are very recently installed (you can still see the cylinder honing marks) virtually no carbon build up.
cylinders are still at factory standard bore of 71mm - great compression.
complete new carb internals and set to factory standard.
crank seals and gearbox were inspected, all sweet.
3 x new NGK B9HS Japanese plugs.
new battery.
gas tank cleaned and new complete fuel tap seal kit installed.
no center stand installed but I can (if interested) supply one with bike that needs minor work,
a clean and a return spring.
clutch stripped/inspected and rebuilt, working great with no slippage.
as new bridgestone spitfire tires fitted and rims balanced.
all new fuel/vacuum lines installed.
the seat cover is perfect, the pan has no rust but the original foam will soon start making the dust particles.
exhaust is totally solid with very minor scuffs/dents but the chrome is starting to get tiny blistering on the lower middle pipe and would need to be re chromed to be show quality but is great as a daily driver.
new cylinder exhaust gaskets were fitted, center seals were checked and good,
all baffles are present and the only place you see two stroke fumes are coming out of the back end 🙂
I left the engine casings with the original patina on them as I know some people think polishing reduces value, so I have left that choice to the new owner.
Kawasaki had their eyes on the new Formula 750 race series and went racing in 1973 with the likes of Yvon DuHamel and Gary Nixon, but had more success rubbing Honda's nose in it on the road.  The quickness and low price of the H2 glossed over a lot of irrational rider exuberance, and though subsequent model years smoothed out the power delivery and handling a bit, the early models are legend.    The 900cc Z1 was introduced in 1972 and though the two models existed side by side for a couple of years, time marched on and showed the H2 the exit...
-donn