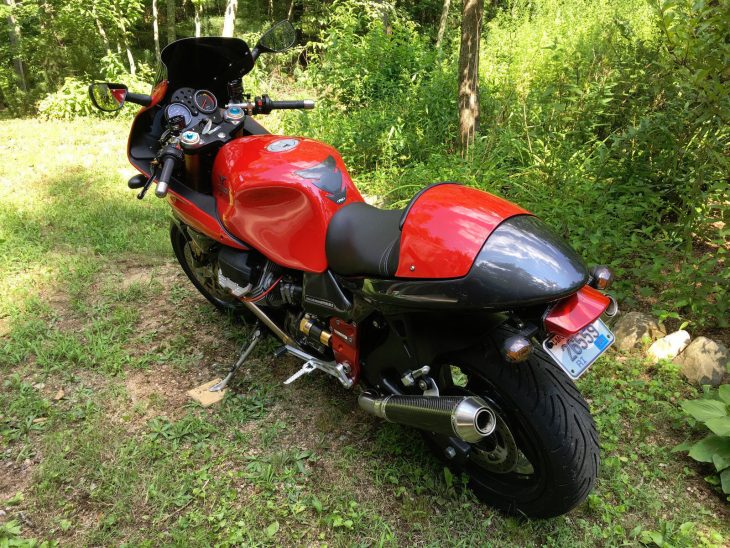 Despite their wanderings toward the edge of insolvency, Guzzi managed to further develop the ngine for the V11, still air cooled and only slightly oversquare for great power and torque numbers of 91 hp and 69 ft.-lbs.  Updated Marelli fuel injection and a smooth 6-speed transmission brought them clearly into the new century, though the overall feel is reverential to past Le Mans.  Premium bucks for the time brought premium components from Öhlins and Brembo, along with staples like shaft drive.  The sporty aura is completed by clip-on handlebars, some carbon accents, and a monoposto-looking pillion cover on the tailcone.
Offered by a shop specializing in vintage Jaguar parts, this Rosso Corsa has been nicely updated and maintained.  The Rizoma reservoirs and Pazzo levers are easy on the eyes, and lowered foot controls help the older knees.  An insider mod is the Roper windage plate, which keeps oil from splashing around the crankcase and protects the engine at higher revs.  Recent Rosso paint looks excellent.  From the eBay auction:
This bike has been repainted to remove the decals that had lifting edges.  It has one small scuff on the right hand fairing in the clip on clearance area.

Mileage:  9,200
Clear Title in my name
New Michelin PR4 Tires
New Battery
Rizoma Fluid reservoirs
Motra Tech lowered foot pegs and levers
Pazzo control levers
Mistral CF Mufflers
"Race" ECU
New rear rotor and pads
Roper Plate
Fresh synthetic engine oil (Agip)
Fresh transmission and rear drive oil
Iridium spark plugs
Valves have been adjusted
Tool Kit

The bike runs very well and needs nothing.
Never meant to challenge the onslaught from the east, Guzzi stuck to their formula and has survived as Italy's oldest marque.  The V11 Le Mans reviewed as a nice all-day rider, fast and stable.  Judging from the boutique Jag offerings, this owner knows nicer things and has improved this already very good Le Mans with top-quality updates.  If the reserve can be met it should make the new owner quite happy.
-donn