BMW attempted to put some pizazz in their stodgy 70's reputation with their first S-bike in a while.  The R90S had an improved powertrain, the usual excellent BMW build quality, and design by the up-and-coming Hans Muth.  This example looks original but has had the works restored.
Wanting to thrill and retain their existing customers, BMW stuck with the flat twin and bored the engine to 898cc's and built cylinders for 9.5:1 compression resulting in 67 reliable hp.  38mm Dell'Orto carbs helped breathing through the two-valve heads.  A second hydraulic front disk was added with the master cylinder still under the tank, and a steering damper is mounted on the triple clamp.  A comfortable ride was afforded by the long chassis with typical shaft drive.  After many years of black with white pinstripes, the factory "smoke" paint highlights were a revelation.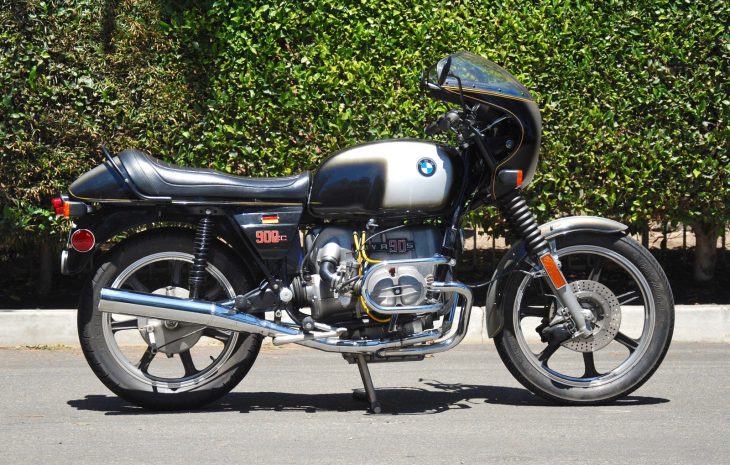 This S looks to be complete and pretty original, with 43K-plus miles there's some patina, but more desirable than a new almost correct re-paint.  The crash bars are a bit much but the engine and chassis re-build is what makes this a standout.  A neat two-into-one exhaust, oil temperature and pressure gauges are a nice addition.  Not mentioned in the notes, I think the cast wheels are a period update.  From the eBay auction:
The bike is offered in excellent mechanical condition, fresh from service to ready the bike for sale. At 41,000 miles the bike was thoroughly mechanically restored. A full engine rebuild was undertaken with lightened flywheel, oversized pistons, new valves and guides, and dual plug heads were fitted. A deep oil sump was also installed. For added reliability a Dyna3 electronic ignition system was added with new upgraded coils.

The front suspension was rebuilt and progressive shocks were installed at the rear. The steering head bearings were replaced and a new steering damper fitted. The brakes were overhauled as well, rebuilding the master cylinder in the process. The electrical system was gone through and new switchgear installed on the right, powered by a fresh battery. Even the clock works! Heated grips were installed for some added comfort.

The original paint shows some blemishes here and there, most noticeably on the tank where the wearer's jacket zipper has made contact and rubbed through a small patch. The paint is good, though, and showing nice patina rather than needing restoration. The side panels aren't correct. The whole bike has an air of a super well-maintained and cherished machine, with no signs of neglect or abuse.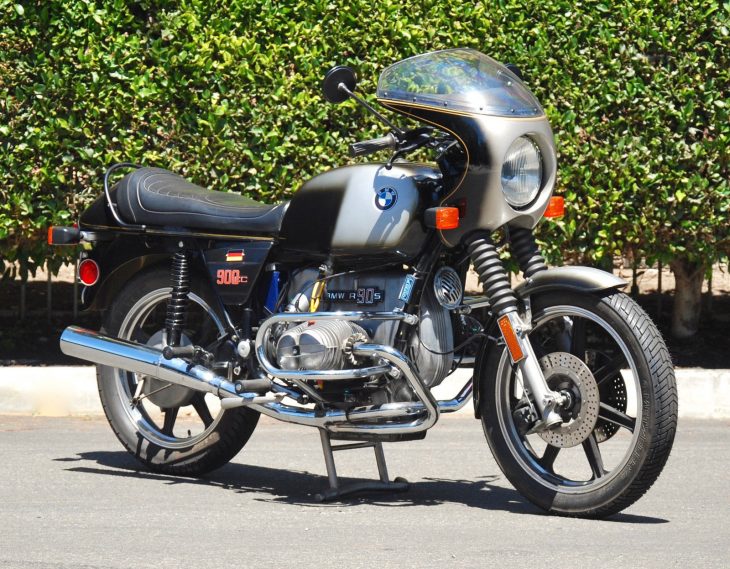 Revered for the boxer's smoothness, the R90S had sporting aspirations and the importer's race team took it all the way to the AMA Championship in 1976.  Most were ridden more gently and burnished the reputation for reliability.  Because of updates to the crankshaft and block, and drilled brake disks, the '76 model was worth the wait.  The combination of condition, originality, and maintenance might make this the R90S to go for…
-donn