For a few years in the late 1980's – early 90's, Honda had double coverage in the 400cc segment with two 4-cylinder 4-strokes, the V-4 VFR and the straight four CBR400RR.  Marketed somewhat differently, the CBR400RR really only made it to the western hemisphere as a grey import, where it has recently shined.  This one comes out of a collection and despite some miles, has been nicely prepared for a future life.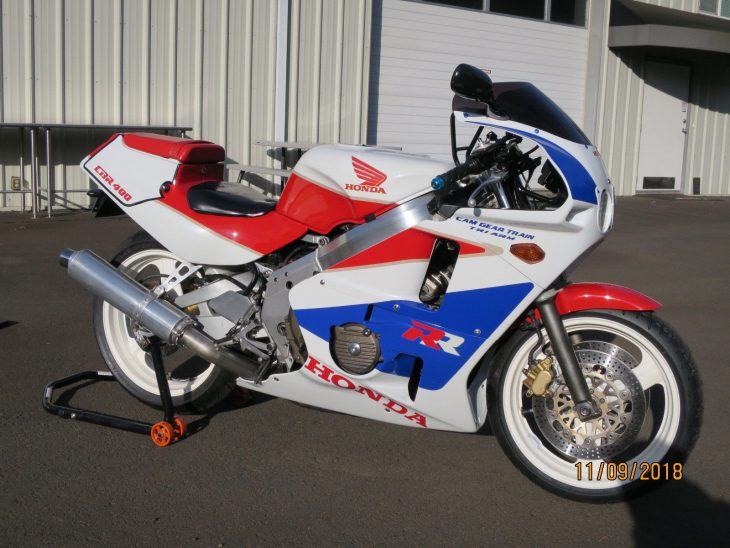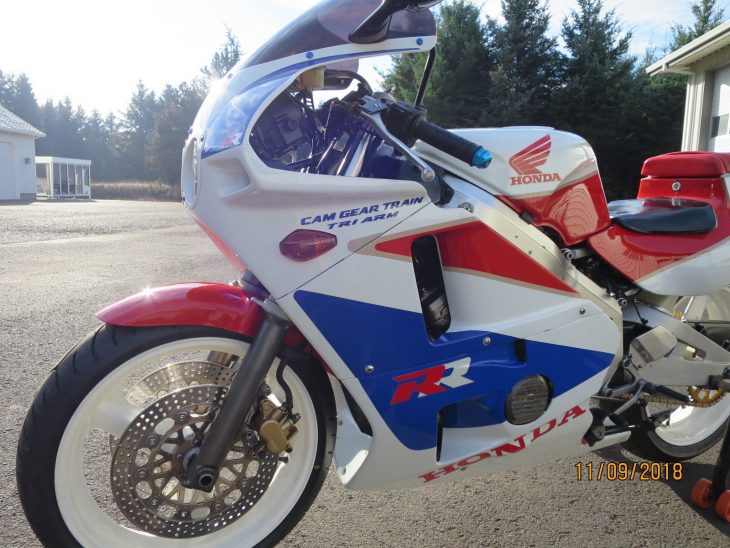 Around mid-life for the 400cc model, the NC23 built on past successes and styling from its larger cc brothers.  The nicely oversquare 399cc four has gear driven cams, and a pre-ordained 59 hp are available.  Air-adjustable forks and dual 4-piston disk brakes are up front, with Honda's beefy Tri-Arm monoshock out back.  Tire sizes are staggered 17 and 18 inches, and exhaust goes 4-into-1.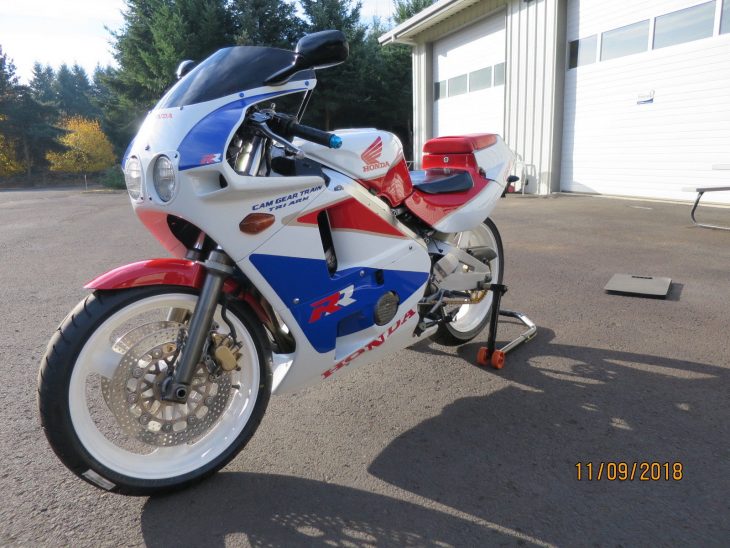 This owner has brought several bikes forward recently, and has taken some flack for his optimistic assessments.  This CBR though, looks better than advertised with fresh cosmetics, and the long list of mechanical freshenings take some of the concern out of the mileage.  An in depth walk-around is available – here –.  From the eBay auction:
1-Entire new Stainless Steel Exhaust System back to the OEM Can with all new donuts & mounting hardware.

2-Installed new fuel petcock

3-Rebuilt BOTH Front Calipers and the Rear Caliper – Repainted Honda Gold

4-Installed new brake pads front & rear

5-Installed New Gold Chain and new sprockets

6-Rebuilt all 4 carbs using only Honda OEM parts

7-Carbs all Digitally Sync to perfection

8-Installed New Tapered Head Bearings both upper and Lower

9-Installed New OEM Air Filter

10-New Spark plugs

11-Valves adjusted (Shim under bucket) – see pics of valve train and condition of the cam shaft lobes.

The cam lobes show almost ZERO wear!!! Installed new OEM valve cover gasket

12-Installed New rubber cushions in the drive hub

13-Installed new radiator – water pump – thermostat – radiator cap and coolant hoses

14-Installed NEW Rear Shock – big upgrade over the stock one

15-Rebuilt Front forks – new seal – dust caps and used 15w fork oil
With its slightly higher CG and different frame geometry, the CBR didn't get the handling raves that the VFR did, but it's a couple of gallons lighter and lives for the twisty bits.  Owner-readers will be able to spot discrepancies, but no one can quibble about the sound of the cam train.  The owner has elected a no-reserve auction, which seems undervalued with two days to run.  Plan ahead for spring !
-donn