Honda's early NSR-250's were nicely templated on the winning RS250R race machine, in race livery almost hard to tell apart.  This one went from road to private collection and has been made ready for the new owner's choice.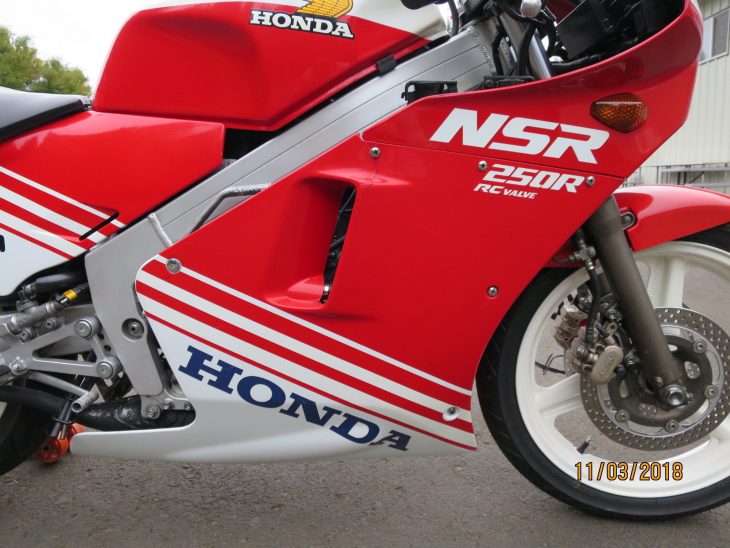 Honda's MC16 used a 249cc V-twin, with cylinders slightly turned to ease intake and exhaust routing.  Exhaust port sizes are adjusted, and torque band extended, by Honda's RC Valve.  Almost any frame could cope with the legislated 45 hp, but Honda built a twin spar from alloy extrusions welded to cast connectors and headstock.  In-house suspension used air adjustable forks and Pro-link monoshock, with the straight swingarm that pre-dates the banana.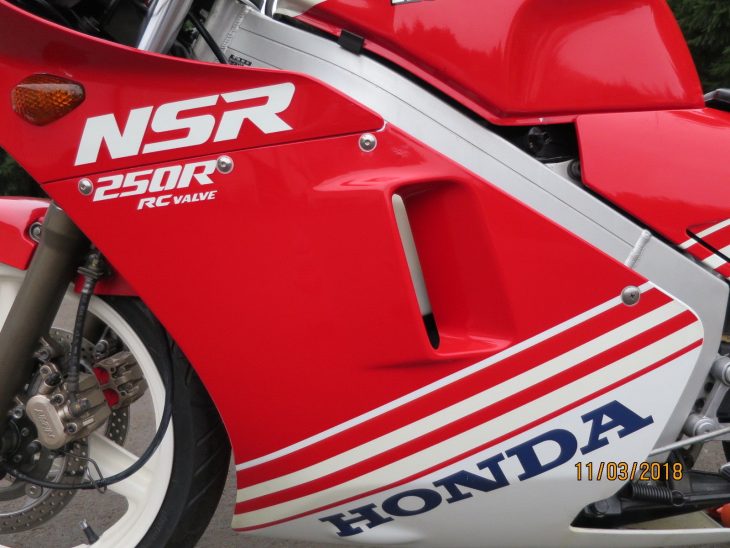 Evidently this collector is more than proverbially thinning the herd, and has auctioned several over the past few months.  Not a virgin with over 15K miles, but still looks excellent.  Beside one cracked corner on the right fairing and a couple of paint chips, it appears complete and original.  A lot of new wear parts were installed when the NSR was taken off the road, though we don't know when that was, cables and pads should be ok to sit.  Here is the list of freshenings that were done to make it ready for sale, from the eBay auction:
New Battery & amp; Battery Tender Hookup - which can also be used to run Electric gear

New front and rear brake fluids flushed and replaced with Honda Pro DOT 4

Carbs were Digitally Synchronized

New Spark Plugs Installed

Perfect Mechanical and Great Cosmetic condition and needs nothing

Replaced the fork oil with 15W

New transmission oil

Oil Injection Tank filled up

Coolant flushed and replaced

New set of tires have 250+/- miles on them in 3 rides this last summer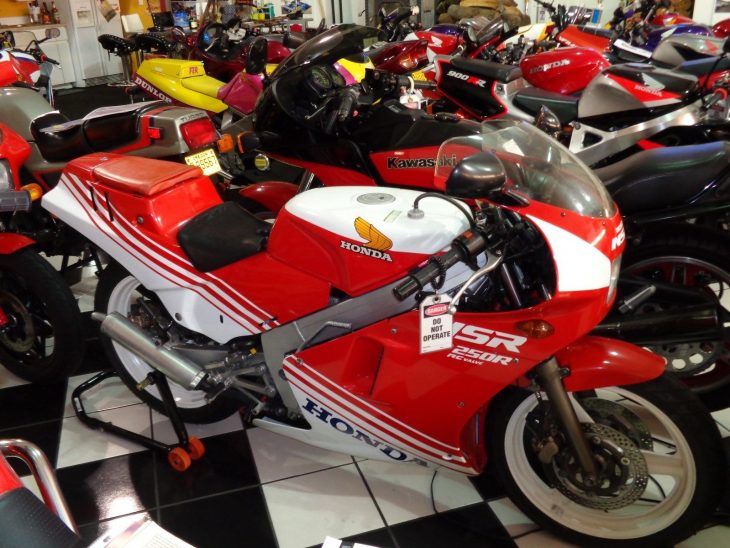 Honda continued with the NSR250R for another ten years, so the early model is less collectible, but also doesn't have the harder to defeat PGM ignition controller.  Not the lightest small sport, but Honda build quality took sales away from Yamaha, who had been ruling the two-stroke market.  Not exactly museum quality, this NSR looks like it could be a great rider.  Interest in the auction is high with 5 days to run...
-donn