Update 8.2.2019: This seller has upgraded to a Featured Listing. The bike is back on eBay and is now NO RESERVE! Good luck to buyers and seller! Links updated. -dc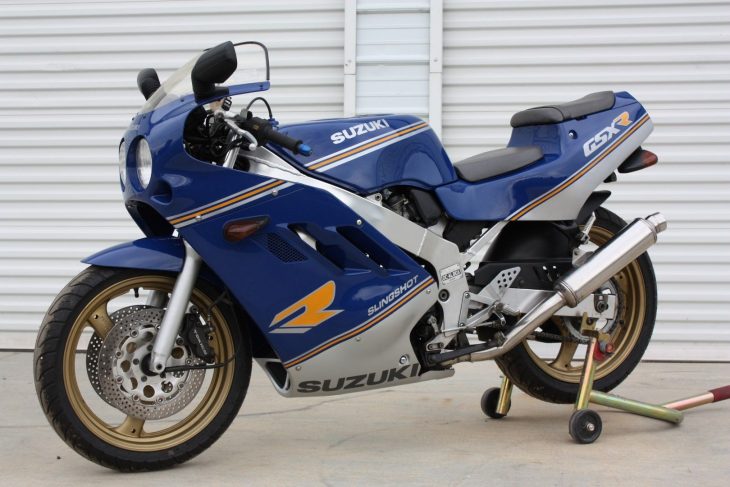 I'm a big fan of smaller, less powerful sportbikes. Sure, maybe that sounds like I'm not a real motorcycle enthusiast, since I'm not addicted to excessive horsepower… But I've always found that chasing peak power to be a bit of a pointless exercise: there's always something newer and faster. I really can't use the power most of the time anyway, especially on the road. And let's be honest: neither can most of you. I love the idea of a 250cc inline four, but the meagre power output and small physical size mean they're probably not practical for my 6'2″ frame, but something like this Suzuki GSX-R400R might be perfect.
Many sportbike fans don't realize that it was really the GSX-R400 that came first in 1984, a year before the GSX-R750 was introduced. Although they could be easily forgiven, since it wasn't available in all markets. Unlike the bigger 750 and 1100 versions, the 398cc inline four was actually liquid-cooled, and produced a claimed 59hp, a power figure that didn't really change throughout the different versions, since it had more to do with government regulation than actual performance. It was the lightest, fastest 400 four-stroke on the market when it was introduced, although other manufactures quickly jumped on the bandwagon and the whole class was hotly contested throughout the 80s and 90s.
The GSX-R400 was redesigned for 1986 and introduced SATCS, Suzuki's "advanced, three-way cooling system" that used both water and oil to cool the engine. So basically like a normal liquid-cooled engine… I assume it incorporated an oil-cooler so they could tie it in with the bigger, "oil-boiler" SACS bikes, but technical details are pretty scarce online, so I'd love input in the comments. Those 1986 bikes also used an oddly modern-looking rectangular headlamp that wasn't popular, so the 1987 bikes went back to the twin-round lamp setup. 1988 saw the bike styled to tie in with the whole GSX-R lineup, with "baby Slingshot" looks, a new aluminum frame, regular-old liquid-cooling, and a set of "slingshot" carburetors, along with a shorter wheelbase and a claimed 352lb dry weight. 1989 seen here was virtually the same bike, but added the "R" at the end of the name, probably for added poweR…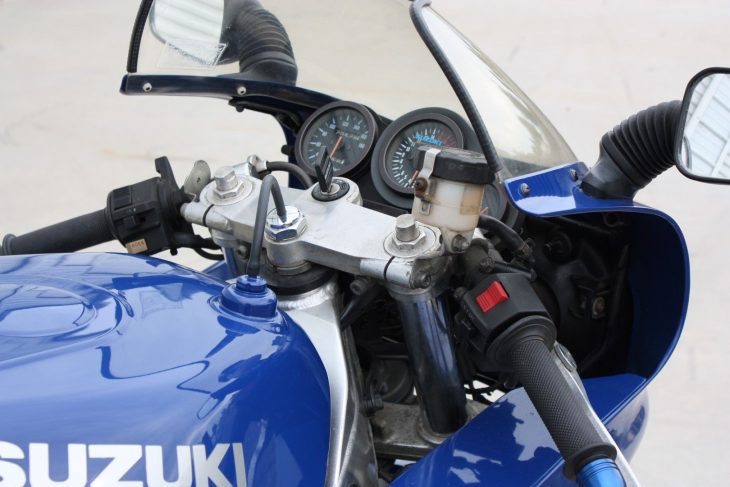 The seller is asking $4,999.00 for this particular GSX-R400R. It needs a little bit of mechanical attention to make it a runner but, as you can see from the pictures, it doesn't need much cosmetic work. The original listing has plenty more pictures if you need convincing.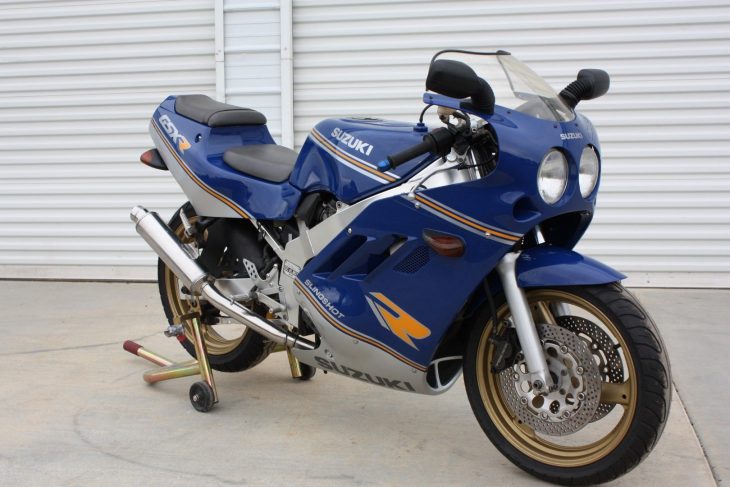 From the original eBay listing: 1989 GSX-R400R for Sale
This is a 1989 Suzuki GSX-R400R GK73. I found this bike in Japan back in 2015, it was a very rare color for 1989, few of them were made and it really caught my eye as being especially unique. The GK73 was an interesting model with the aluminum frame and liquid cooled engine. 

I imported this GSX-R legally from Japan and it has a clean and clear U.S. title with plate and street registration.

I did a mini restoration on this bike, it still needs a small amount of work so I am selling it AS IS (at a loss as well as I have over $6000 in it).

The bike currently does not run. I have rebuilt the carbs with the Litetek kit replacing all internal o-rings and seals. I had the bike running well but the fuel inlet o-rings weeped so I replaced those with original Suzuki new OEM ones. One of these leaked and the carbs needed to be synced… somewhat defeated and pulled away on other projects this is how I left the bike. So it will run, but you will at a minimum need to pull carbs and check the fuel inlet o-rings and make sure they are seated/installed properly and then double check carbs, re-fit and sync. The bike has a decent battery installed and all electric/lights work as they should.

The bike has had a FULL service front to back and has ZERO miles on the following. 

ALL fresh fluids front to back, brake fluid, coolant, engine oil. New spark plugs. Front forks were rebuilt with new fluid and seals, brand near tires on freshly powdercoated wheels with new bearings and valve stems.

I had the bike completely repainted in the stock colors and using all of the original OEM bodywork! The originally paint had some sun fading and typical scuffs and scratches for its age but no major damage. Likewise the wheels had some marks and corrosion so I had them powder coated, I did not get an exact match of the bronze type color Suzuki used on this unique paint scheme but it is pretty close!

This is a VERY nice GSXR-400R, most of the ones I have seen in Japan and elsewhere need a lot of work. I have done all the hard stuff (and costly work $$$!!) already, it will just need a few hours put into the carbs and some tuning work to have a VERY NICE rider!

I can help arrange shipping anywhere in the U.S. or world wide including crating!
It's in California and claimed to be "plated" here but definitely do your homework. It's not perfect, but the simple mechanical work indicated by the seller is something you'd expect of any bike this age, and the cosmetics look really sharp. I've ridden a Honda NC30 and you might think that the 60hp of a JDM 400 sounds pretty weak, but you might be surprised. Sure, you do find yourself twisting the throttle to the stop more often than on other bikes, but it means you get to run the bike to redline more often as well. If you and your buddies regularly head out to terrorize the freeways at 160mph, you will find a 400 underpowered. But if twisty canyons are more your thing, you might love something like this.
-tad