Pure prototype racing, as seen in MotoGP, is hideously expensive, since teams with money are free to develop every component from scratch, giving them an obvious leg up on teams less financially endowed. Production-based racing, on the other hand, is intended to keep costs down and allow a variety of teams and brands to participate, helping to drive new talent into the sport. Depending on the class and sanctioning body, production-based racing requires that you, naturally, use a production machine, available to the public, as the basis for your racebike and success is dependent upon having a good foundation. And this Suzuki GSX-R750LE from Iconic Motorbikes made the perfect foundation for a racebike when it came storming onto the scene in 1986.
Actually, the GSX-R750 came storming onto the scene in 1985, but the bike didn't officially make it to the US until 1986, the same year this Limited Edition was introduced. There wasn't any one thing about the Suzuki GSX-R750 that really stood out as revolutionary, it was the synergy of the parts that helped make it so special. The twin-cradle frame was a well-established design, and bikes that came before it featured sixteen valves and dual-overhead cams, although the six-speed transmission was a modern touch, as was the monoshock rear suspension. Wheels were 18″ at both ends.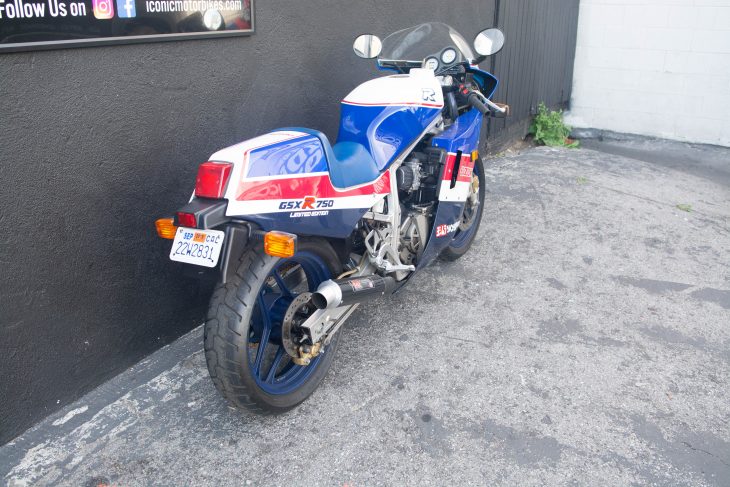 But things started to get interesting when you looked closer. That simple frame design was made from lightweight aluminum. What looked like an air-cooled engine was actually cooled by oil. Technically, that's true of most air-cooled engines, but the GSX-R used a high-capacity oil pump and an oil-circulation system known as SACS that included jets aimed at the underside of the pistons. This was all intended to keep temperatures in check and increase horsepower-per-liter to a level where it was on-par with liquid-cooled bikes being produced by other manufacturers, while saving weight.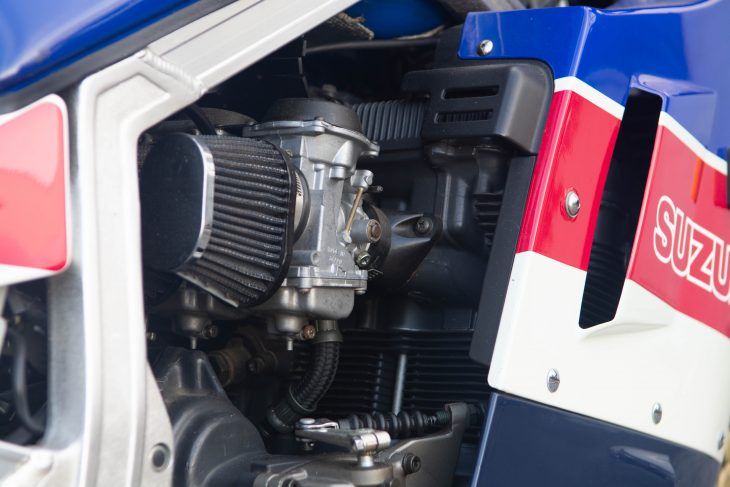 It worked, and, when combined with a weight of just 426lbs dry, the 100hp from the 749cc engine gave the bike competitive straight-line performance and surprising agility. Bikes like Bimota may have blazed that particular trail, but were insanely exotic, expensive, and generally impractical on every level. Suzuki took many of those same weight saving and performance concepts, engineered them for mass consumption, and introduced the world to the modern interpretation of what a sportbike could be.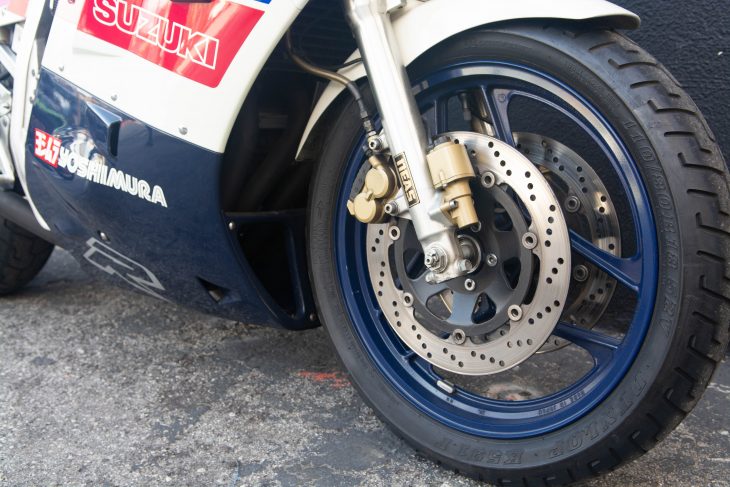 Changes were minimal between 1985 and 1986, the first year the bike made it to our shores, with just revisions to the bodywork, upgraded headlights, and a 25mm longer swingarm to improve stability. To create the Limited, Suzuki added a dry clutch and close-ratio gearbox that made the bike a popular target for thieves, a steering damper, a solo-seat race tail, NEAS electronic anti-dive forks from the GSX-R1100, and some sharp blue wheels to match the graphics that set it aside from the regular machine. This was a serious piece of kit in 1986: the stock bike went for $4,499, while the Limited went for a shocking $6,499 and was aimed at collectors and racers.
And although many of today's homologation bikes like Ducati's 1299R get tucked away as an investment, admired as part of a collection, or ridden sparingly on weekends to show off at bike gatherings, many of these GSX-R750s were stripped of bodywork, actually raced, and likely crashed at some point, making original examples very, very hard to find. And while the Honda RC30 was always going to be a rare and valuable machine, it took a while for the Gixxer that arguably started it all to gain traction as a collectible. Now, with values of even the early water-cooled bikes jumping in value, the Limited Edition is a very hot bike among collectors.
From the Seller: 1986 Suzuki GSX-R750LE for Sale
1986 Suzuki GSXR750 Limited – DRY CLUTCH, very rare! GSXR
Originally imported to North America in limited numbers for racing, this here limited edition GSXR750 is 1 of only 299 ever brought overseas to the United States. With the exception of the exhaust, this model is completely OEM in overall fantastic condition.

On the engineering front, this limited edition GSX-R was known for several things. It was the lightest of the 750s of the era, coming in at 458lbs, features an extremely rare dry clutch, sharper steering, a stiffer suspension, electronic NEAS anti-dive components, and more powerful brakes.

Moreover on the dry clutch, it is particularly special because it can be universally mounted to GSXR1100s and other 750s. They go for almost $2000 alone. Durable, but hard to find parts for, thankfully there are some aftermarket options for clutch plates and springs. The title is clean with a CA Title.

Price: $19,750

This is arguably the most special and unique GSX-R model ever released. Come take a look at it in person! We're located 15 minutes from LAX.
With some bikes, it's not all that hard to track down just how many were made. If you've got a Honda RC30, in particular, you can find production numbers by year and market. With the Suzuki GSX-R750LE, online sources, even reputable ones, are all over the place. Between 200 and 300 were imported to the US to satisfy AMA and allow it to race here, but worldwide production seems to have been 500-1000, which would make sense for an homologation bike of the era. The question is: how many have managed to survive? The answer is: not many, and this one looks to be a very clean example of an exceedingly rare bike, excepting the non-standard exhaust. It doesn't look like the stock part or an actual Yoshimura part, for that matter, but I don't believe the exhausts were specific to the LE and shouldn't be any harder to source than for any other GSX-R750 of the period.
-tad