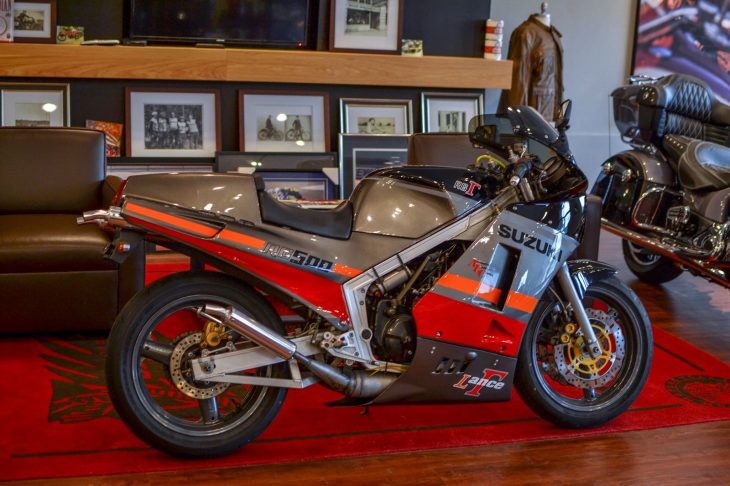 Suzuki's RG500Γ "Gamma" is a modern classic, a bike from the tail end of the two-stroke sportbike era, at least here in the USA where lightweight, smoky strokers were gone by the mid-80s. At the time, it offered significant on-paper advantages over something like a GSX-R750: it was lighter and the 498cc engine made similar power and torque to the four-stroke 750. But the two-stroke engine was much more highly-strung, making it a more challenging bike to ride quickly, but that's exactly what two-stroke sportbike fans love about them. They relish the involvement required by the narrow powerband and the trail of heavy, oily smoke that drips from the four tiny exhaust pipes.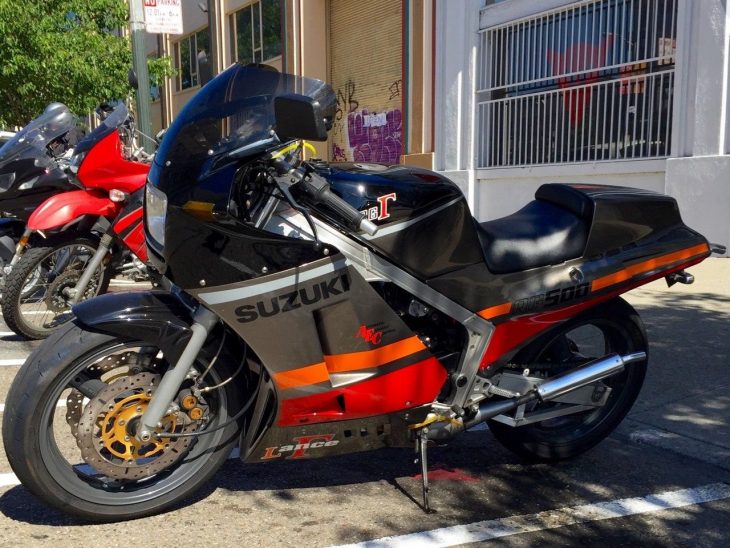 Why four pipes? Well the Gamma was powered by a square four engine that, although not actually based on the unit that powered Suzuki's Grand Prix machines, at least used the same format, with twin crankshafts and a pair of very compact Mikuni carburetors on either side. Of course, like all two-strokes of the period, it featured a power valve system, in this case Suzuki's AEC or "Automatic Exhaust Control" and a cassette-style six-speed transmission theoretically allowed quick changes to the gearing trackside. The aluminum frame resembled the GSX-R's, and the Gamma had hydraulic anti-dive forks at the front and a complex, rising-rate monoshock rear suspension that Suzuki dubbed their "Full-Floater" system. A 16″ front and skinny 17″ wheel out back seem odd today, but were fairly standard at the time.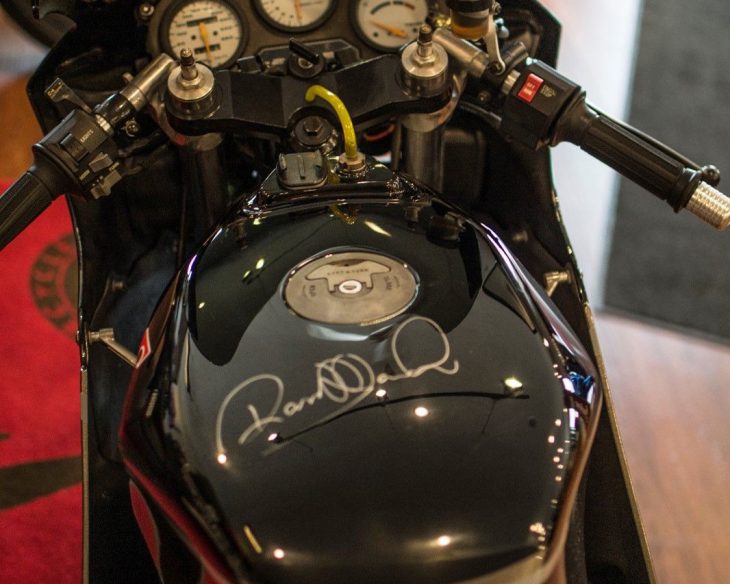 This particular bike should be familiar to long-time readers, as it was posted up here a couple years back. The individual who purchased it has decided the time has come to pass the bike along and let a new owner appreciate the craftsmanship that has gone into it. Most Gammas look very much alike, as 99% of them originally were, or have been repainted, in the traditional blue-and-white Suzuki colors, with a few blue-and-red Walter Wolf examples thrown in for good measure. But this particular example was custom-painted and, lest you think the less traditional colors mask a bike that's been less than lovingly maintained, let's dissuade you of that notion right now: it was rebuilt a couple years back from the ground-up, and tuned by none other than Rick Lance. Basically, this bike has had a kitchen sink worth of upgrades thrown at it, as you can see from the seller's description, and the result may not be original, but is pretty spectacular.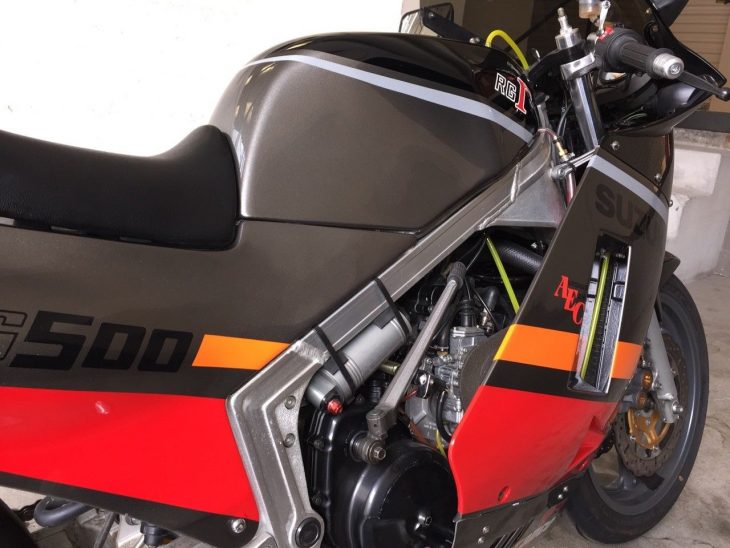 From the seller: 1986 Suzuki RG500Γ for Sale
I have been blessed to own 3 of these legendary motorcycles. Out of the 3, this is the nicest and best out of my collection. I purchased this bike in October of 2016 from California. It was a recent build done by Rick Lance. I was talking to Rick at the time about doing a build with him in the exact format. However the cost was more and the timeframe was about 2 years wait. I came across this one on eBay and snatched it up. When it arrived it was nicer than the pictures detailed. Furthermore, it was listed as a 1985 and the California title reflected it as a 1986. The details are as follows:

This 1986 RG500 has ~1200 miles on it since being fully rebuilt in 2011 by Rick Lance from Lance Gamma lancegamma.com

It has the following features:

Motor: full motor rebuild including:
555 upgrade, GSX-R radiator, valve kit
Maranello transmission kit
Lance Gamma clutch upgrade
Lance Gamma TriPod air filter kit
Lance Gamma supplemental petcock
Lance Gamma pipes

Chassis, bodywork, etc:
Battery + oil tank conversion
Wheels ands rotors
Forks
Shock
Lance Gamma fiberglass bodywork with custom paint scheme

This bike is something special and unique

BTW– when Randy Mamola visited the previous owners home he autographed the bike on the gas tank, so that makes it even more unique!

The bike is the nicest you will come across. I have very much enjoyed it. I only put 200 miles on it since the purchase. It has spent more time sitting in the storefront window of my Indian dealership. My business circumstances have changed and I am looking to reinvest in my business.

I have a service manual and extra windshield that will go with the bike if desired.

I will ship worldwide on your dollar. Feel free to contact me for pictures, videos, or call me if you desire to discuss specifics.
As the seller states, this bike has covered just 200 miles since it was last seen on RSBFS. Frankly, I wasn't a huge fan of the looks when it was posted previously, but the photos that feature the bike indoors, in less glaring light, show just how classy and striking the paintwork is and it's sure to stand out in any crowd [?!] of Gammas… I generally prefer the Walter Wolf colors for the RG500, but there's no denying the quality on display here. It is posted on eBay, no reserve, so submit a bit and take a chance!
-tad