"Now why would somebody use this funky bronze paint on this GSX-R ?" you say, not the usual red/black or red/blue/white, but otherwise an -80's GSX-R750.  But this is a not-available-here limited edition in Yoshimura racing colors.  With several factory go-fast goodies, the GSX-R750R conformed to KISS endurance racing principles, taking light weight and reliability to the winners' circle.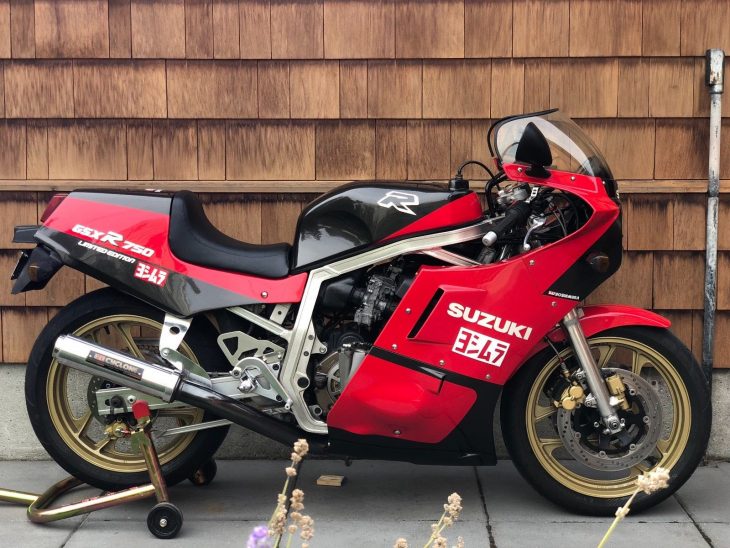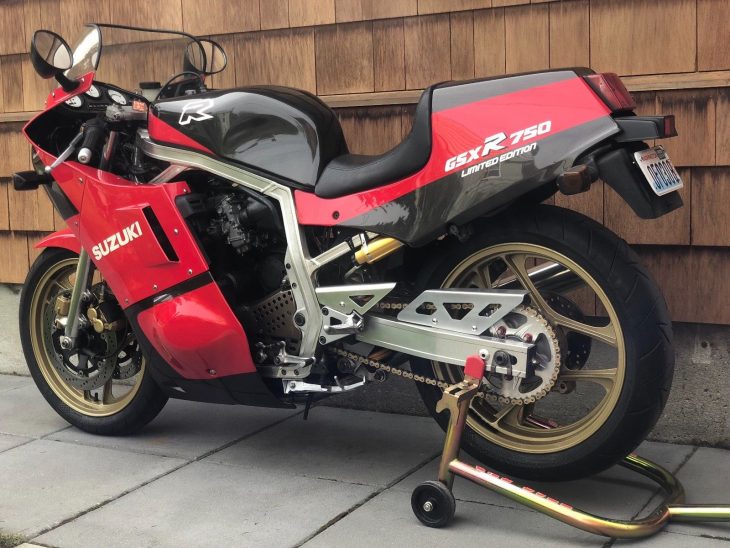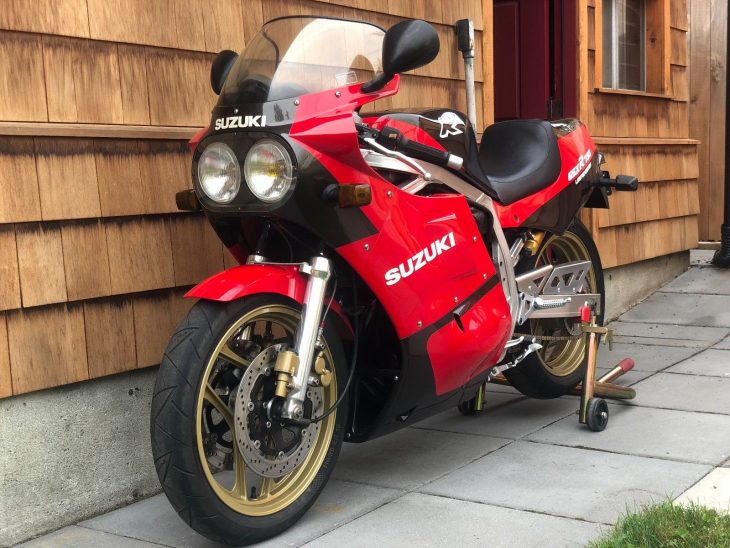 Suzuki capitalized on their air/oil-cooled experience and the new 749cc engine made 100 hp, hung in an alloy perimeter frame.  Despite having recently introduced the model, they extended the swingarm for 1986 by 25mm to calm the handling.  The Limited Edition features front suspension and brakes from the 1,100 cc model, including an electrically operating anti-dive system.  Other particulars include a monoposto seat and lightweight dry clutch.  18-inch tires are fitted front and rear, ostensibly to ease wheel and brake changes in the pits.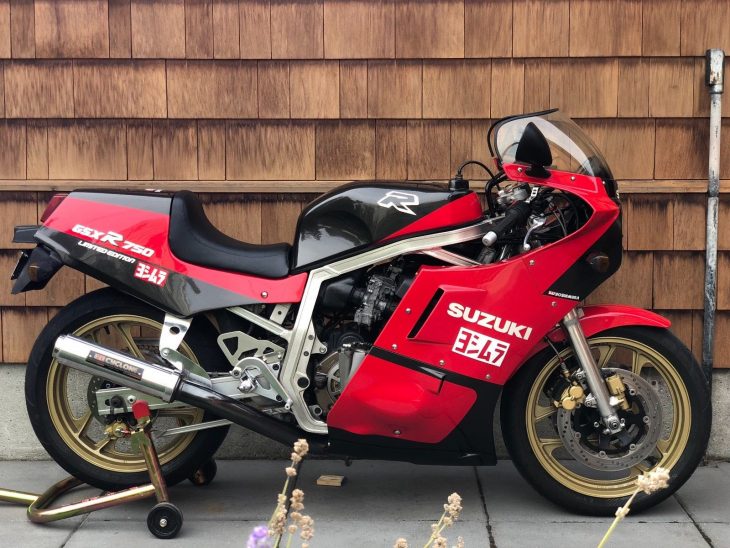 The outstanding condition of the paint on this LE initially had me thinking it was a U.S. model painted by the owner in Yoshimura colors, but apparently the mods are limited to the Öhlins monoshock and Cyclone muffler, along with some slightly oversized decals.  With 22.5K miles, a repaint is almost certainly somewhere in its history, but it is faithful to the original.  Not sure about the gold wheels, looking back shows them most often in white, but they look great.  From the eBay auction:
While I have changed a few things that does not mean you can not change it back. The Yosh stickers are noninvasive and have not damaged the stock paint. Yes, this is factory stock paint that was available in Japan. I installed and recently rebuilt Öhlins shock. The forks are polished and the brake lines are SS braided. I took a risk that, in my opinion paid off, by having the wheels powder coated gold. I wanted the bike to resemble a Yosh race bike from back then. The inside clutch side cover and Yosh covers were painted. The housing for the clutch actuator is NOS. I recently purchased it, removed it from the factory packaging and installed it on this bike. This bike has been gone through very thoroughly and it is ready to ride or store to admire.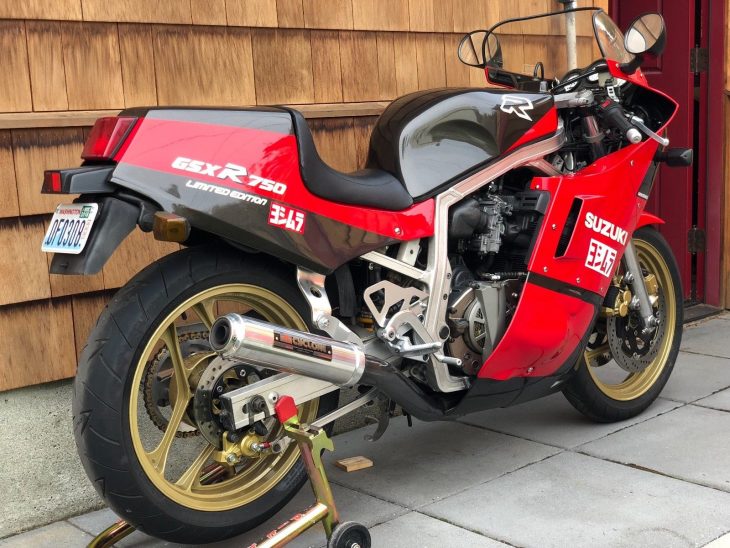 You can only pick two from the fast/reliable/cheap menu, and the GSX-R750R was expensive at the time, a result of low volumes of special parts.  Bidding has reached nearly $10K without nudging the reserve, so this will still be a pricey 750.  Maybe a more period-correct Yoshimura muffler in black could be found, but otherwise this is a pretty together and special example.  Guess you're only allowed two from the golden-age sportbike menu, when the choices are a nice stock presentation, a special model, and a pretty good bargain…
-donn