I'm a day late on Track Day Tuesday, but with the recent sale of the Featured Listing Katana yesterday, this seems appropriate for those looking to go further than street duty allows. Located in Portland, Oregon, this Kat sports multiple Heavyweight Championships and a completely rebuilt engine. The buy-it-now listing on eBay shows $9,500 or best offer.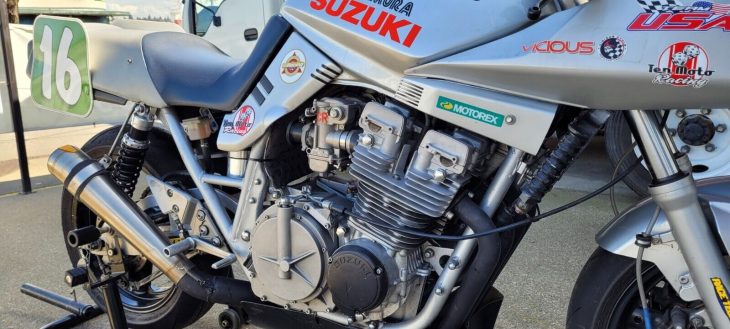 Details from the listing:
1982 Suzuki Katana GS1000sz AHRMA legal Race bike. Vintage Superbike Heavyweight Championship winning bike multiple years. Well sorted. Excellent condition. Completely rebuilt engine built by Frank Lyons PNW Machining. 1015cc/ 128 H.P. EVERYTHING NEW!. Custom ported head. Pearson Crank, Web Cams, Katana rods, JE Pistons, Stainless Kibblewhite valves/ springs. Yoyodyne Custom Slipper Clutch. Can be started by remote hand held starter or rollers. CR29mm Keihins. Dynatek 2000i Ignition and coils. WEGO air/fuel gauge. Braced swing arm. Custom Race Tech shocks G3, New 41mm forks springs and oil. Extra sprockets. Also raced at the famous Phillip Island Circuit in Australia at the International Challenge multiple years. This bike is ready to race or track day! Buyer will arrange shipping and or crating.
dc