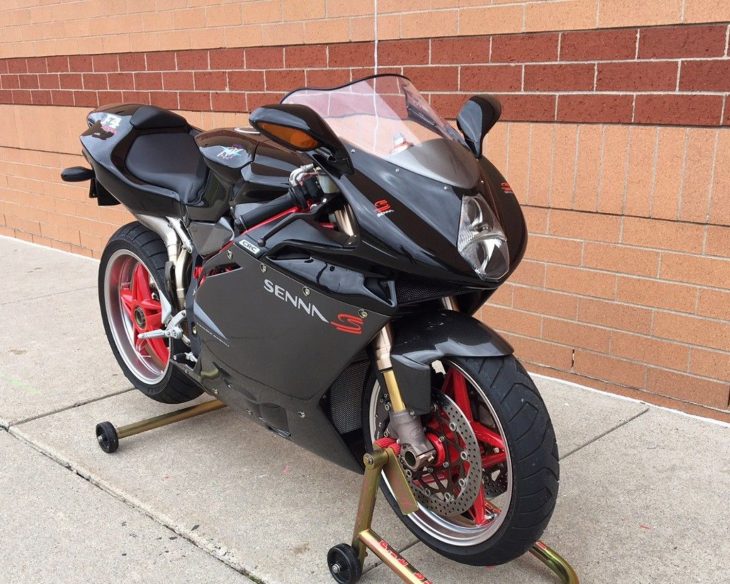 An MV Agusta F4 750 Senna "signed by the master" would normally mean that it was signed by its creator, Massimo Tamburini. In this case though, the "master" in question is Giacomo Agostini, the famous rider who rode MVs to victory in so many races during the marque's heyday. The F4 was to be their return to prominence, and the 750cc displacement of the original F4 introduced in 1999 would have allowed it to compete in World Superbike, a series with roots in production-based motorcycles, rather than Grand Prix racing.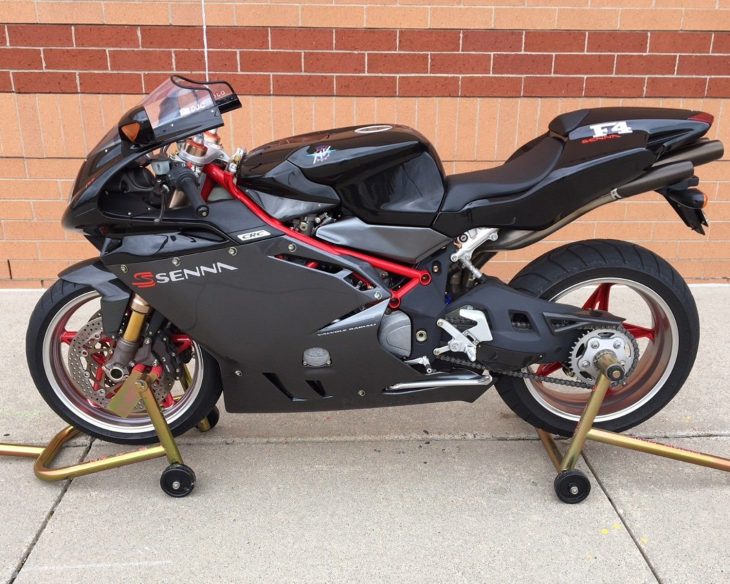 Unfortunately the F4 suffered in comparison to much more affordable bikes from the Japanese Big Four but, even at the time, the biggest disappointment seemed to come from the bike's lack of any performance advantage compared to the benchmark GSX-R750 and its high cost, rather than any real flaw in the bike itself. Given the exotic looks and racing pedigree, they expected riding nirvana and they got… a perfectly competent, fast motorcycle with typically uncomfortable Italian ergonomics and suspect electicals.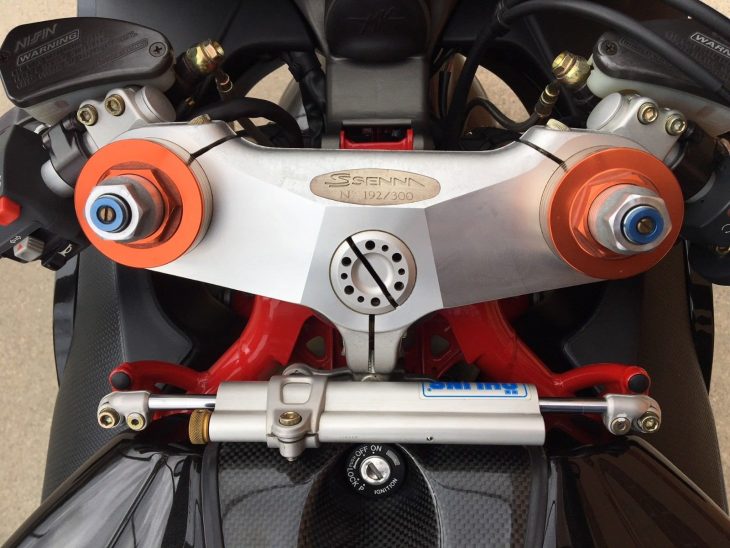 The 750 wasn't actually slow, it just wasn't any faster than a GSX-R750 and really, why would it have been? Aside from a shocking price tag, the big problem was that the achingly beautiful exotic was launched as a 750cc machine just as the class was being made redundant by rules changes in racing and the new breed of literbikes that fit 1000cc power into 750cc packages. MV released their updated 1000cc version of the F4 within a few years, but the damage was done to the bike's reputation, and you still hear people refer to the 750 as if it's a bit of a dog.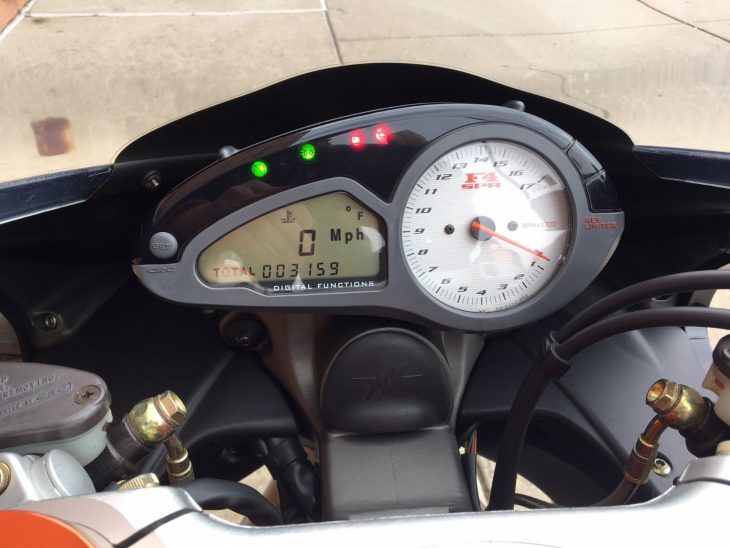 Claimed horsepower was 136, with 118 real-world ponies finding their way to the ground, which was nearly identical to a GSX-R of the same period. Unfortunately, weights were not identical: the F4 clocked in at nearly 50 pounds more, full of fuel, and it seems to carry that weight up pretty high. The riding position is definitely uncomfortable and, compared to modern machines, it's awkward at low speeds and runs hot in traffic. But get into a groove and a well set up F4 corners beautifully: it may never have been the most agile bike in its class, but it's a testament to the soundness of the original design that the same basic machine was able to remain competitive for ten years, at least in terms of handling.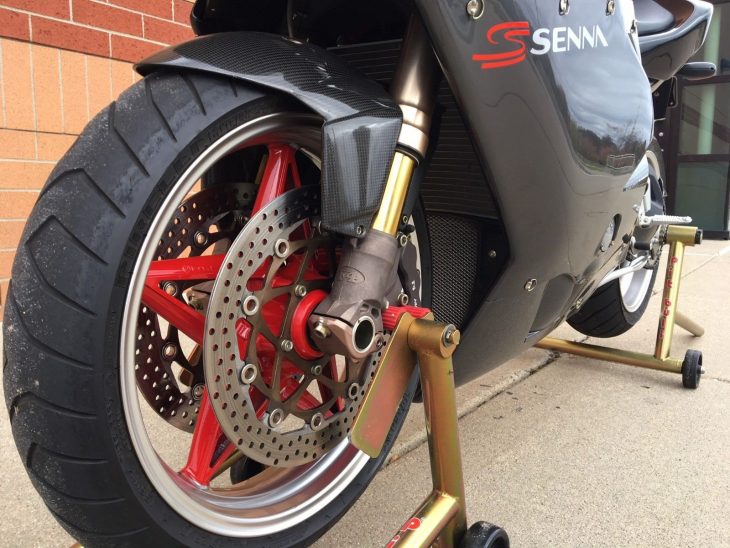 I've never been particularly excited by the sound of an inline four, and the F4 doesn't sound all that exotic riding past. But from the saddle there's a metallic rasp not found on other bikes, and the engine has a frantic quality that gives the conventional inline four wail an exotic quality that sets it apart. This particular F4 is the limited-edition [aren't they all?] Senna edition, named after famed racing driver Aryton Senna. Miles are collector-bike low ad the bike is sporting the aforementioned signature of the great Ago on the windscreen.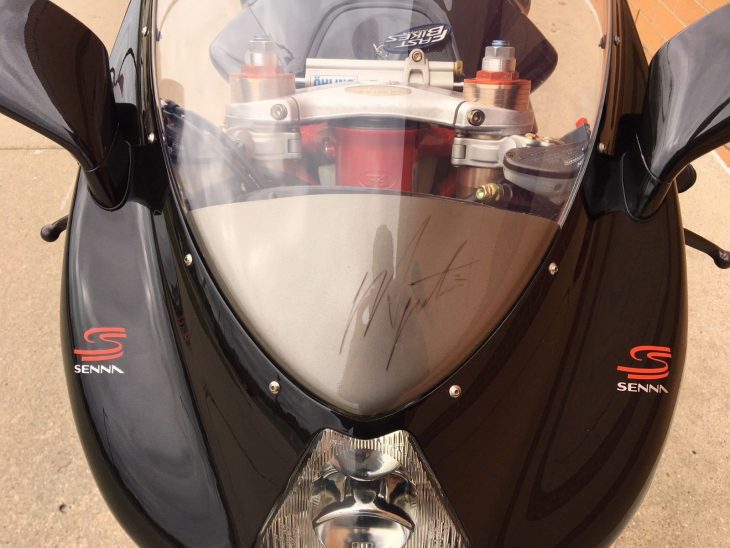 From the original eBay listing: 2002 MV Agusta F4 750 Senna for Sale
Extremely rare and beautiful. Part of a small collection of bikes purchased new by NHL Hall of Famer Sergei Fedorov. Bike has been personally signed by legendary MV Agusta rider/ champion Giacomo Agostini! This bike is number 192 of 300 built for worldwide production. MV reported that only 50 of these bikes were imported to North America. Inline 4 cylinder engine designed with cooperation from Ferrari produces 136hp at 13900 rpms. 0 – 60mph in 2.9 seconds. Quarter mile in 10.7 at 136mph. Lightweight and extremely fast. These bikes are legendary not only for performance and handling but for design and collectability!

Bike is in excellent cosmetic, running and riding condition at 3200 miles. The sale includes original owner's manual, spare key, spark plug tool, and factory red rear wheel bike stand.
The bike appears to be in excellent cosmetic condition, although we really don't care about claimed horsepower for a bike that was famously unexceptional in that regard. The bike wasn't "lightweight" or "extremely fast" but it was definitely a very serious performance machine and it is still one of the best-looking motorcycles ever built. I prefer the F4 in standard colors, with the cool, yellow-faced tachometer, but it certainly looks very special in the black, grey, and red seen here. F4s can be surprisingly affordable to buy at the moment, but values of the very rare Senna are a good bit higher, and Ago's signature certainly adds to the cool factor. Bidding on this example is up to $13,000 with very little time left on the auction.
-tad