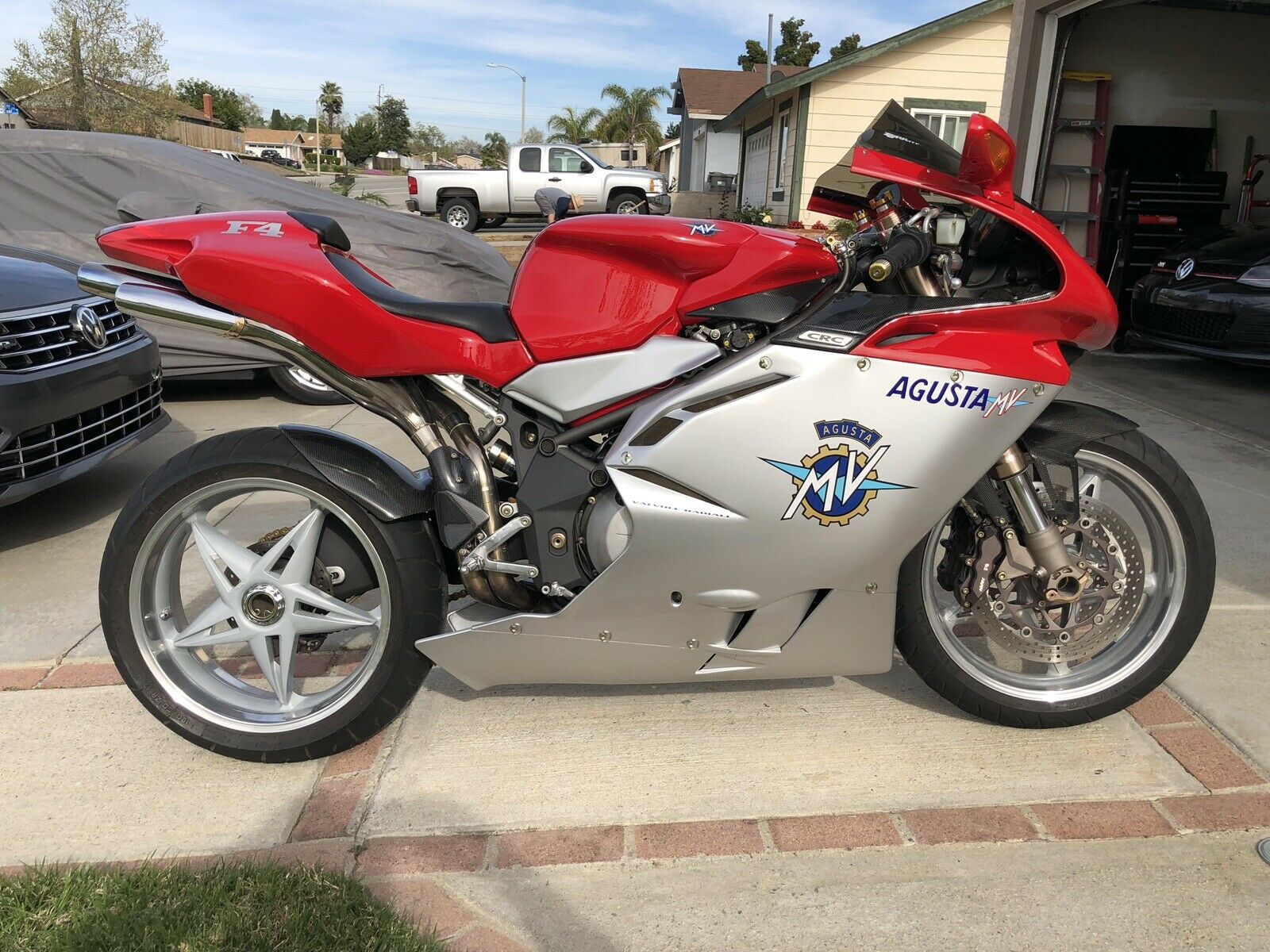 There are fast motorcycles, there are unique motorcycles, there are iconic motorcycles and there are truly beautiful motorcycles. The re-introduction of the fabled MV Agusta brand in 1999 seemingly achieved all those goals thanks to the vision of Massimo Tamburini and the might and wealth of the Cagiva Research Center.
Following the well-trodden path to sport bike glory, the MV Agusta F4 utilizes an in-line four cylinder engine with four-valve heads, fuel injection, and novel variable length intake runners to help control engine power across the rev range. Dubbed Torque Shift System (or TSS for short), that intake wizardry is one of two Formula 1 technologies utilized by the F4. The second is the oft-hyped hemispherical head chamber with 4-valves per cylinder. And while the hemi head and radially splayed four valves definitely maximize the airflow and flame front during combustion, neither are particularly new in terms of technology. All told the 750cc power plant was good for a stout 126 HP.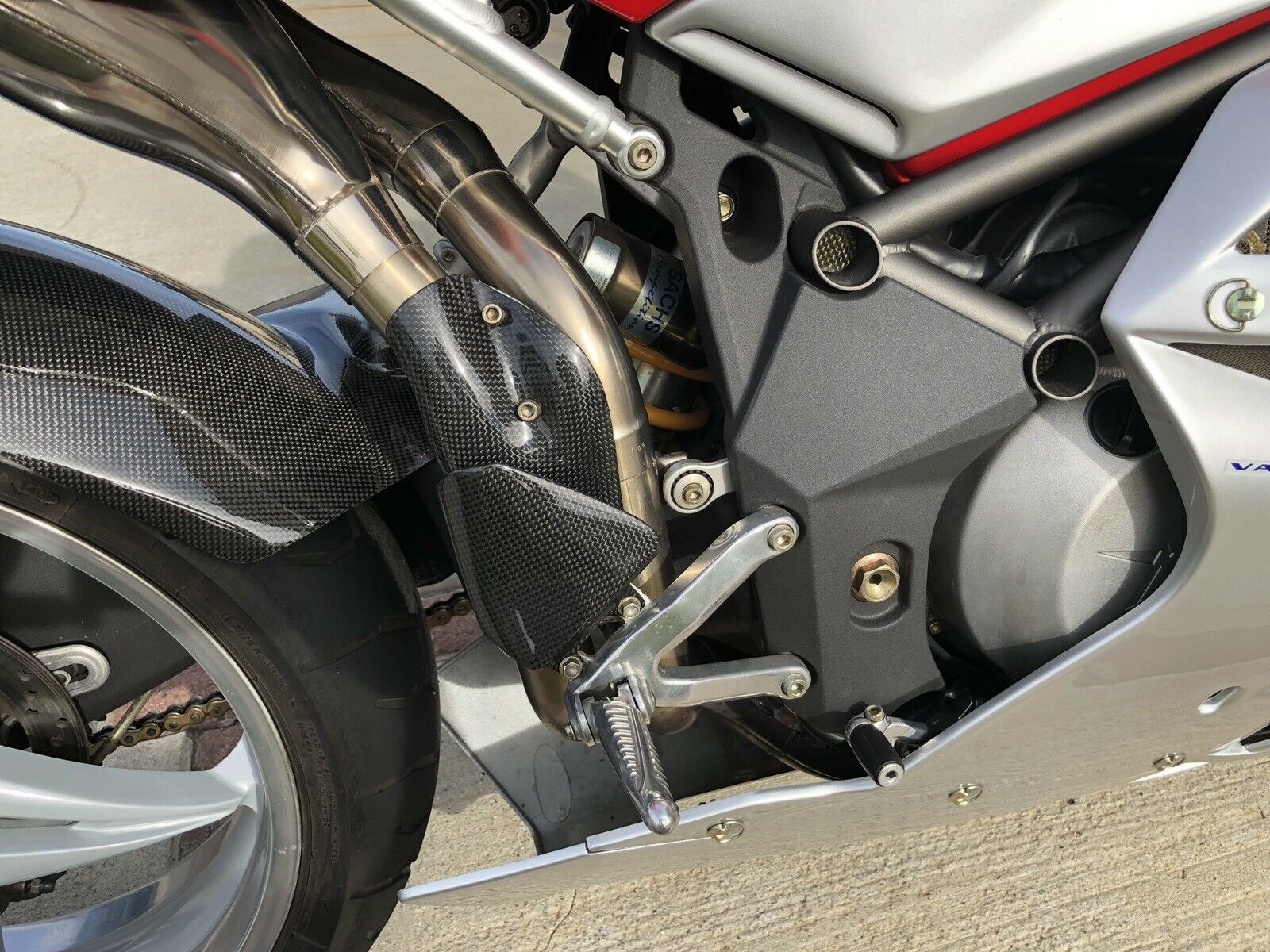 From the seller:
This motorcycle looks like is brand new…..it's a model year 2000. 750 cc engine. sounds fantastic… bought it from the original owner who use to keep it in his own room…..always garaged and covered. it only has 3,900 original miles on it, it has good tires and all the fluids have been exchange recently. runs beautifully. it has quite a few carbon fiber pieces and the previous owner did some polishing on the engine cover, chain cover and foot pegs along with the rims… . too many things to list here. Look at the pictures and give me your thoughts about it. This one of a kind has to go to a good home. If you are looking for a unique, head-turner, clean bike, blast to ride, this is it….check what is available in the market!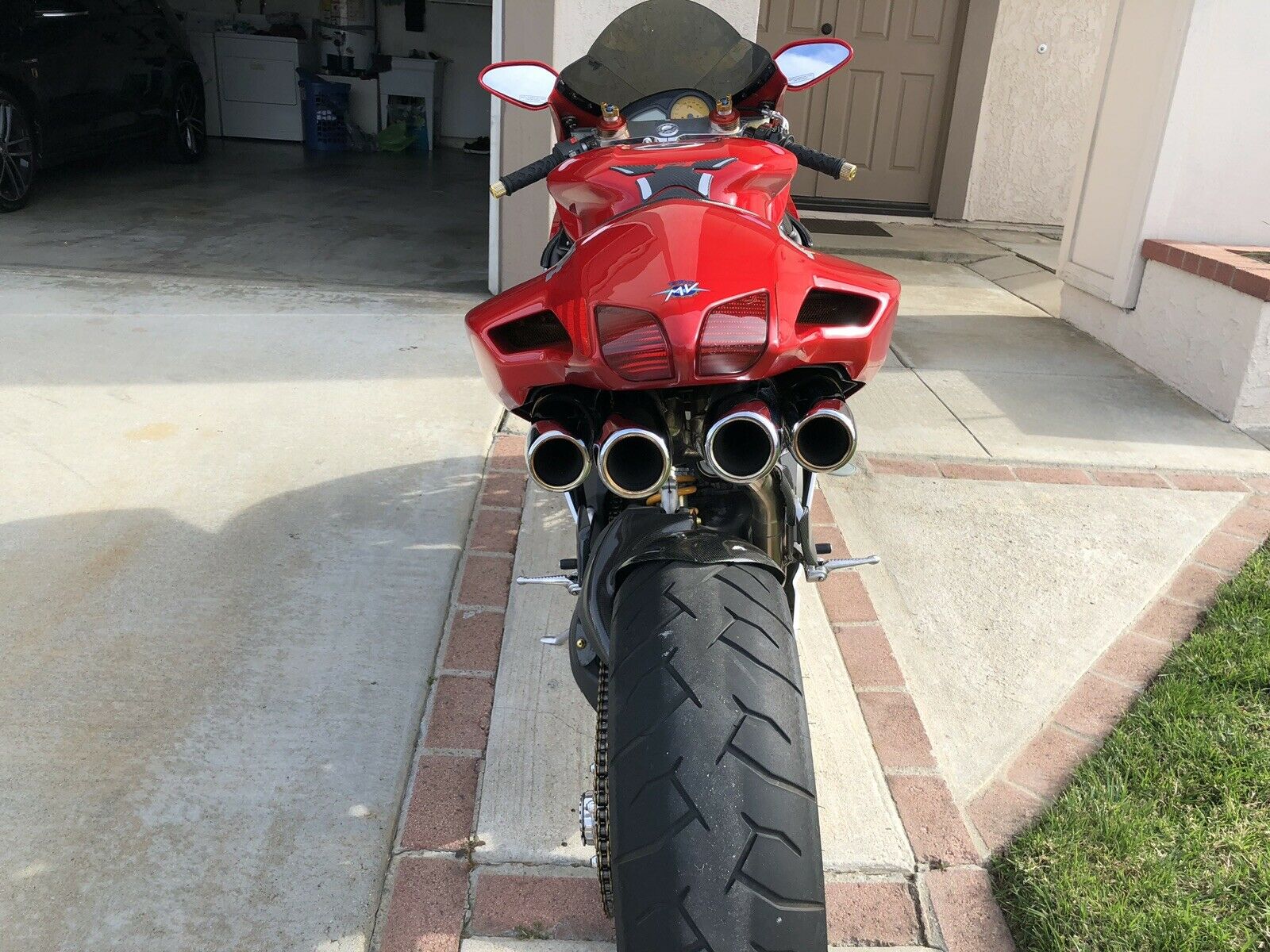 In addition to the F1 technology, the F4 borrowed heavily from the fertile past of designer Tamburini. Both the single sided swing arm and the under seat exhaust are derivations of the Ducati 916 (which Tamburini also designed). The exhaust pokes out of the underside of the seat in a not-so-subtle fan out of four separate pipes, and sounds glorious. The rest of the bike relies upon yards of aluminum for the frame, beefy front forks (Showa), and a fair bit of carbon fiber flair.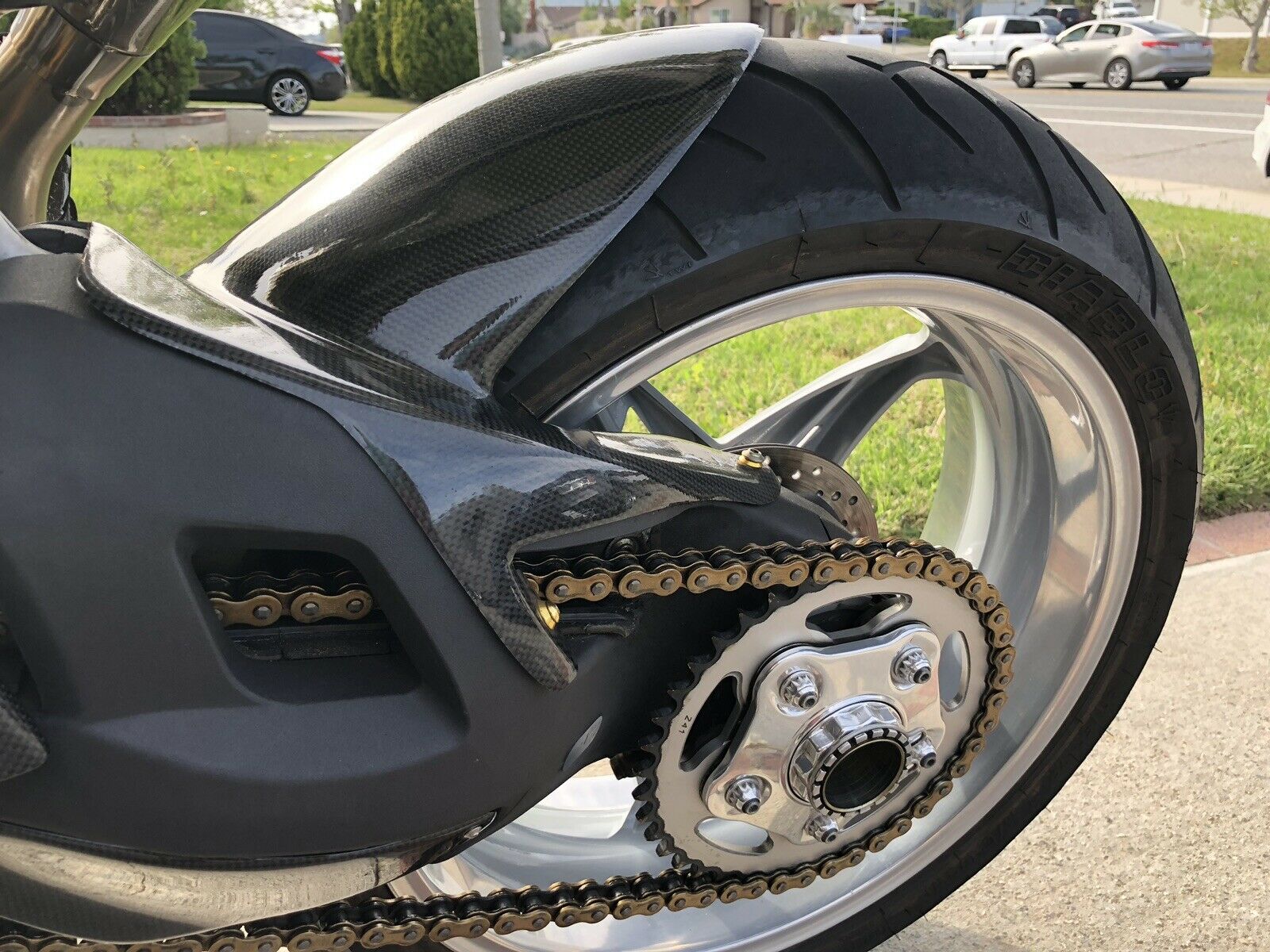 The introduction of the F4 was a massive investment into technology, and the resultant bikes were as beautiful as they were fast. Limited production and high prices kept them to the exclusive territory of well-heeled riders or even better heeled collectors. Today they are available on the used bike market at more realistic prices – but still not cheap. This particular example is an early model with few miles (<4,000) and what appears to be a great deal of care bestowed upon it. With a Buy It Now price of $7,500, this bike is asking strong, but not outrageous money. The seller is open to offers, so there may be an opportunity to pull this down somewhat. With bikes of this caliber, prospective buyers would do well to find the cleanest, best example possible. I could do with less of the polished bits, but this 2000 MV Agusta F4 750 looks to be better than most we have seen in some time and is worth checking out. The full details are here. Good luck!!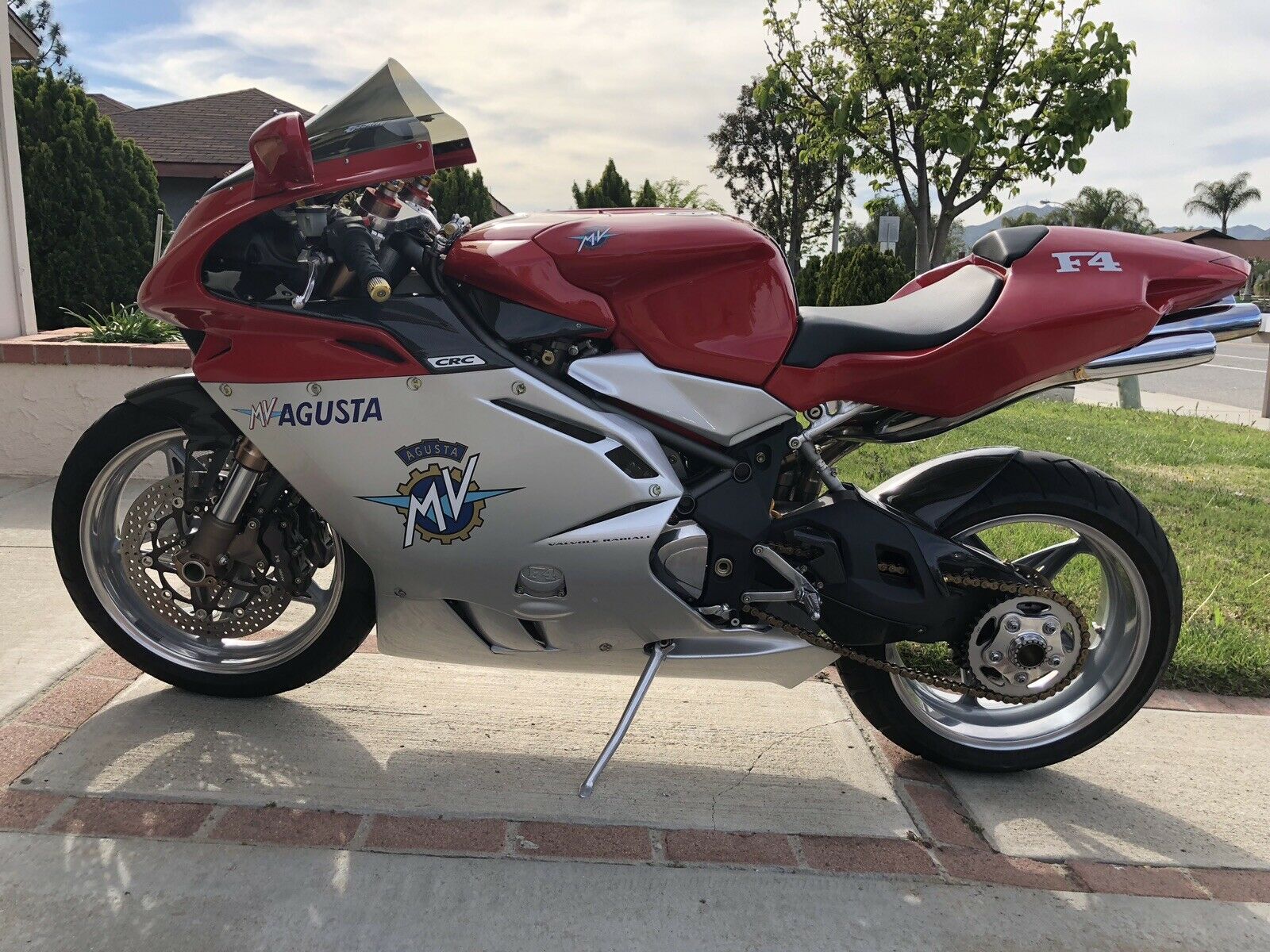 MI