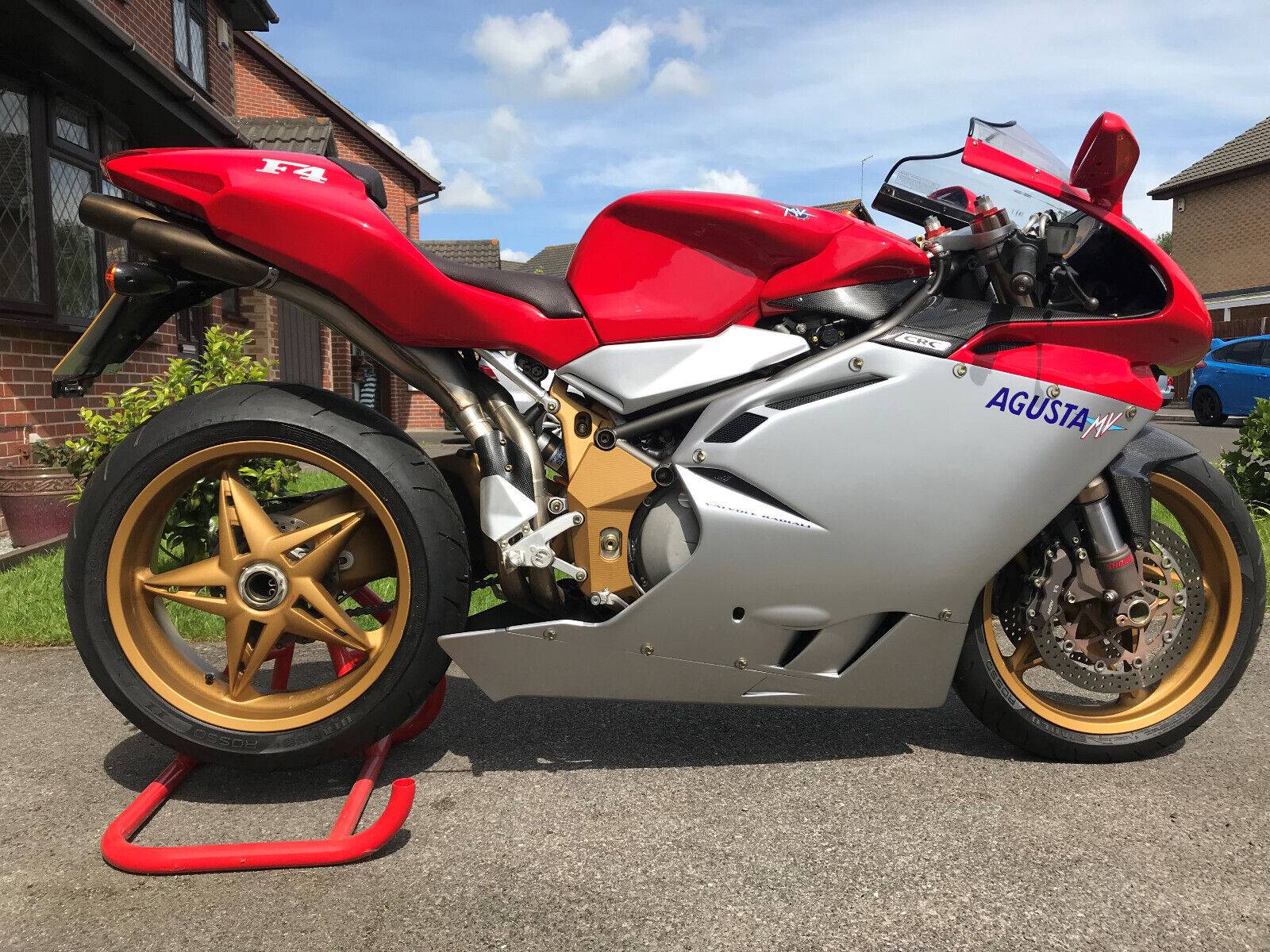 MV Augusta seems to be everywhere today, with the silver and red bullets seemingly at every bike meet, on the streets, and even back in top-level racing (where, frankly, they belong). And while the history of The Count and the exploits of Agostini are deeply satisfying to study, there is a new history concerning the rebirth of MV Agusta after the original family lost control of the brand in the 1980s. By the 1990s MV Agusta was under the control of Cagiva, and some well known players molded a new form and vision for the brand. Claudio Castiglioni was at the helm of the Cagiva Research Center, Massimo Tamburini was head of design, and Massimo Bordi and Fabio Taglioni were pulled in as the engineers to drive forward the development. What transpired is one of the great comeback stories in the long story of motorcycling, and a new legend was born: the MV Agusta F4.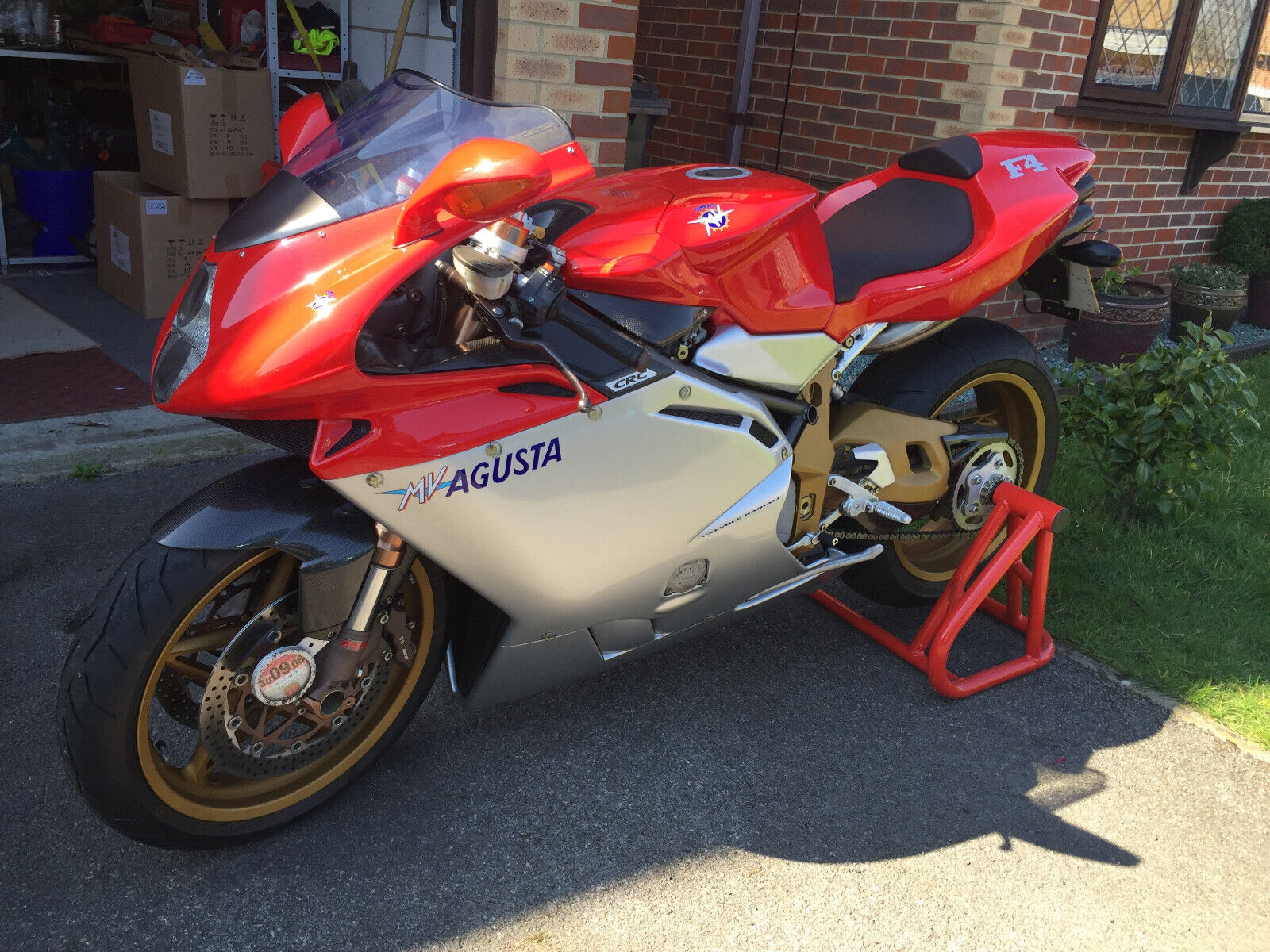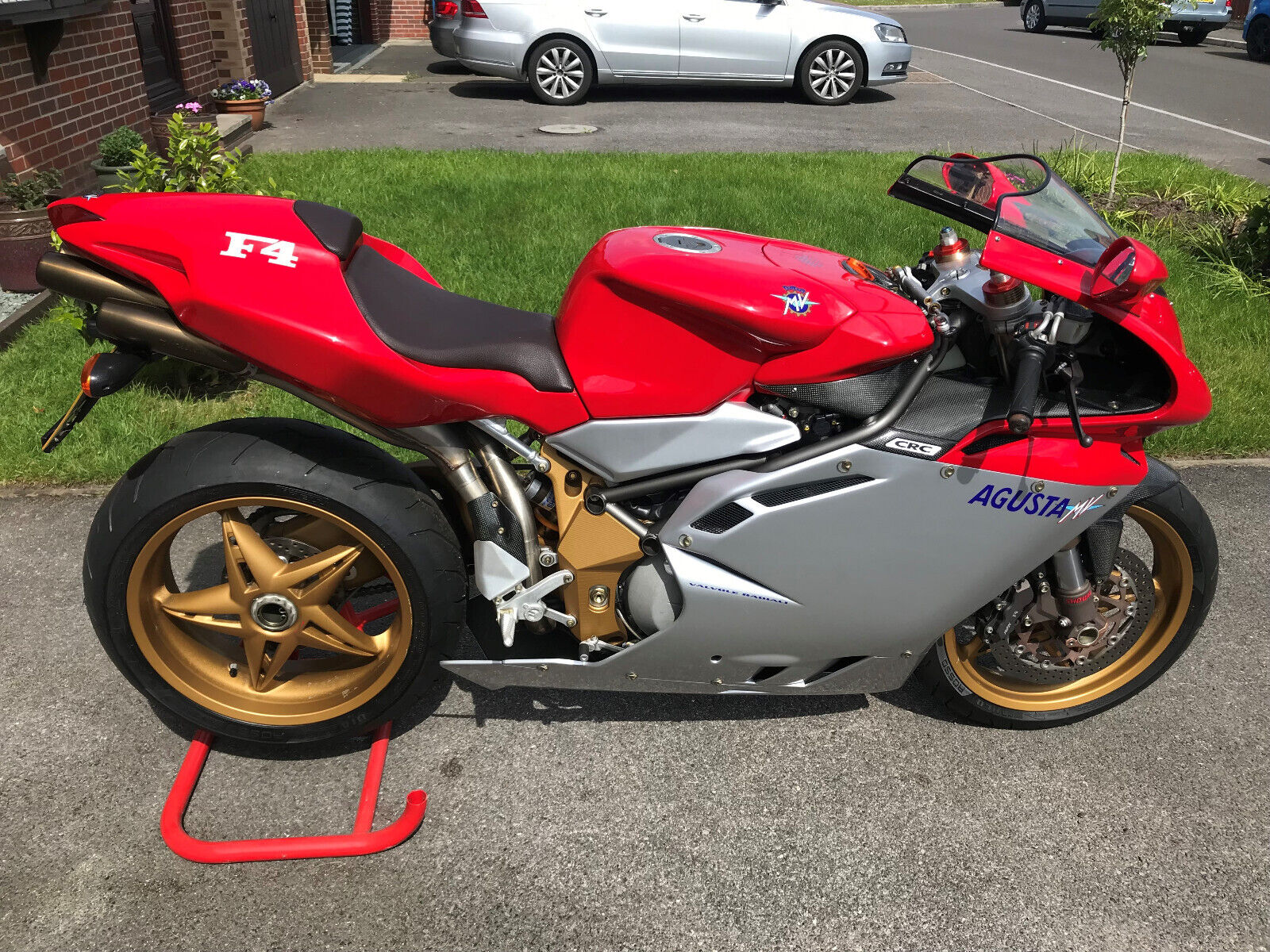 The original F4 was launched as a 300 unit, limited edition 750cc model. This was known as the Serie Oro, due to the gold colored bits highlighting the bike. But this was no simply livery; the gold looking bits were actually magnesium, designed for light weight and strength (including wheels, side plates, and the massive swing arm). The tooling for this material is vastly more expensive than steel or aluminum, but the outcome made a serious statement. If that were not enough, everything else that was painted was actually carbon fiber underneath – another vastly more expensive material than fiberglass or ABS plastic. This was an exotic, iconic brand name that simply exuded quality throughout – from design, to materials, to mechanicals. All 300 units were sold before the first example shipped in 1999.
From the seller:
The first F4 model released was the F4 750 Serie Oro in may 1999 with only 300 models being produced. Many of the parts (swing arm, frame sideplates & wheels) were made from magnesium. These parts were anodized gold for consistency with the name 'Oro (Italian for gold) All painted parts, such as fairings, seat unit, front mudguard, airbox and even the fuel tank were manufactured in CARBON. This produces a bike at under 400lbs in weight, giving exceptional power to weight ratio. Only 500 dry miles from new. Stored in an air conditioned office with genuine MV Agusta cover and rear paddock stand. Currently SORN.
Today's ultra-rare Oro is located in jolly olde England. For those that speak English in a colonial fashion, "SORN" is the Queen's English manner of indicating the bike is currently on non-op (SORN = Statutory Off Road Notification). That means it is unlikely to incur additional mileage beyond the meager 500 miles stated, and it also (likely) means there should be no concerns or additional fees when it comes to registration in that country. Plus this thing is housebroken – always a plus!
Pricing on these models can be difficult given the scarcity of recent sales, however fear not that an original Oro is worth mucho dinero regardless of the language you speak. Bidding on this one is over $20k GBP, which is nearing $25k USD at time of writing – and there is still much to happen on the auction. Pictures show a clean and beautiful Serie Oro that is just begging to sparkle in the sunshine. Interested in giving this one a home? Check out all of the details here, and Good Luck!!
MI