The Corse was MV's first limited edition of the F4 1000R, and a pretty big investment.  This San Jose example has some interesting details, very low miles, and one 'oh darn*' in its past.
MV Agusta cut their teeth on special editions of the F4 750 and first gen F4 1000, and in the Corse's case only 300 were made.  The second generation F4 1000 had been substantially re-designed, with 174hp on tap and a new chassis under the carbon fairings.   Marzocchi forks have carbon nitriding on the legs, and the Sachs monoshock has adjustments in high and low speed ranges.  Brembo supplied their new monoblock 6-piston brakes, and a special Corse exhaust was fitted.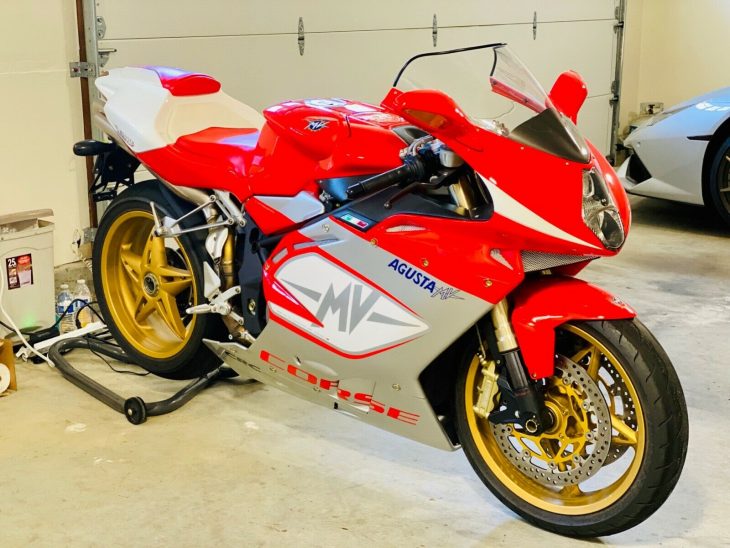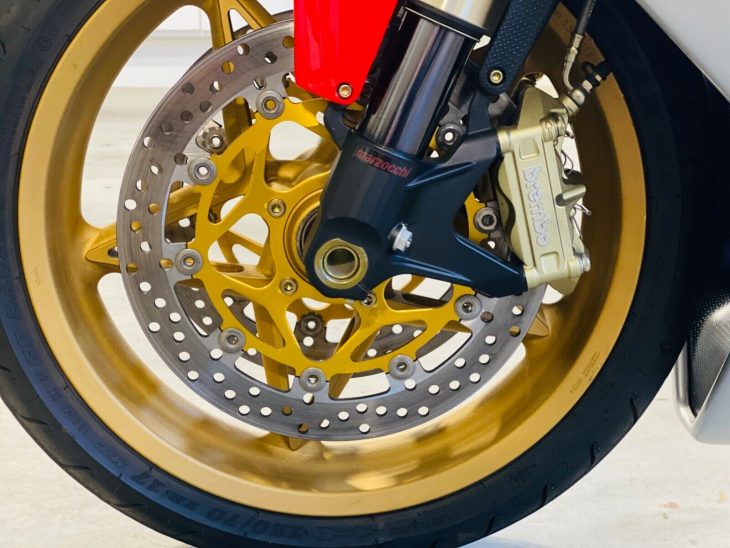 Most Corse's are built as single seaters, but this one has a pillion ( best suited for a thoroughbred jockey ).  Also most references show the Corse wheel set as a silver 5-V spoke, but these are the usual and lovely MV stars, finished in gold.  A numbered badge would be expected on the top tree, but it's not pictured.  An apparent tip-over victim, the handlebar end and crank sensor cover should be easy replacements.  Just 890 miles, but the original tires will require replacement if the bike is to be ridden much.  The second owner did re-new the fluids and make the bike ready, as they state in the eBay auction:
– Brake fluid flushed

– Upgraded the water pump 

– Flushed the coolant and changed to engine ice 

– Flushed the fuel system 

– Changed every fuel pipe and all connectors 

– Upgraded and changed the fuel connectors from plastic to metal 

– Changed the fuel filters 

– Changed the oil and filter 

– Changed the fork oil

– Changed and upgraded to a BMC High Performance Air Filter

– New Battery

– Battery Tender is also fitted
While not exactly the museum piece this seller states, it shouldn't be forgotten how far off the charts the Corse is.  It's got great potential and could be a substantial savings over a perfect specimen.
-donn