MV Agusta SPRs #198, #184 and another unlisted number bike are all available at the same time!  Only 300 F4 SPR bikes were produced but three are currently available:
#198 Of 300

This SPR is located in San Diego, California and has 3,100 miles.  The only modification is clear indicators on the front.  Otherwise, the bike is in perfect condition and has never been dropped or damaged.  All items supplied with the bike when new appear to be included with this bike.  The asking price is $11,500.  See the bike on Craigslist here.
#184 of 300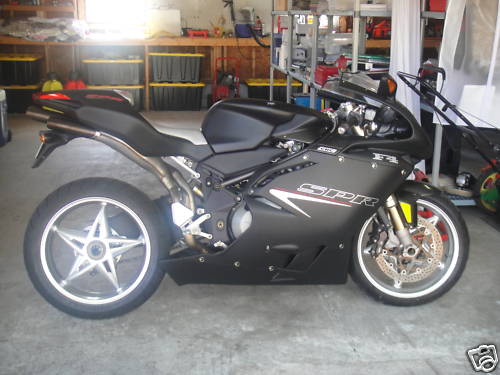 Located in Morehead City, North Carolina is #184 with 3,775 miles.  This bike has two modifications: A ThrottleMeister and bar risers.  This bike looks to be in very good, if not perfect, cosmetic condition congruent with the mileage.  See this bike on eBay .
Number Not Listed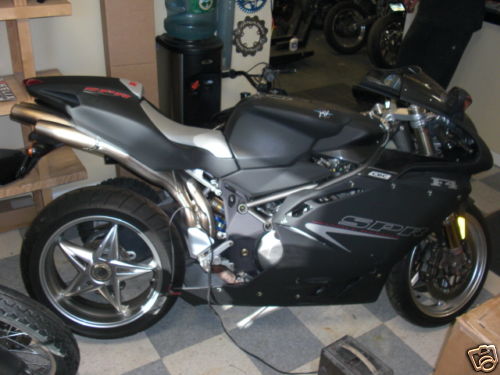 Located in Stamford, Connecticut is a the last SPR of the three currently available.  The seller does not list this bikes number but does state that it comes with all the extras originally included with the bike.  The photos do show a series of scratches on the right side fairing.  This bike has 2,600 miles.  See this SPR on eBay .
Phil posted #290 earlier in the month which makes four of these that have become available this month!  The SPR was the fastest and most powerful F4 when it was released.  The cosmetics are the same but the mechanics differ in these ways:
The technical staff at MV AGUSTA designed a new cylinder head, new inlet ducts, and redesigned the combustion chamber. Also thanks to the new "MAHLE" pistons, stamped and with cooling oil jets, the SPR engine reaches a stratospheric threshold of the rev limiter at 13,900rpm.

A further and significant development involved the primary transmission, now with shorter ratios, equipped with a reinforced clutch. As a demonstration of its racing spirit, the SPR comes with a close ratio gearbox whilst having a long first gear with respect to the SENNA model; this solution in conjunction with the possibility to choose three different final transmission ratios, allows one to match the motorcycle's performance to any type of track. Those of whom will use the SPR on track may further increase performance by adopting the RG3 open exhaust, available as an option.

On a vehicle conceived for such an extreme use, much attention has been directed towards weight reduction, working not only on the engine but also on many components concerning the bodywork. In fact, numerous parts in carbon fiber are evident: the front mudguard, the ignition system cover, and the upper and lower chain-guard protection.
These also feature 50mm Marzocchi forks and an adjustable Sachs shock in the back.  Any MV is special but these three are even more special being designed for owners that visit the track more than the local Starbucks™.
AG