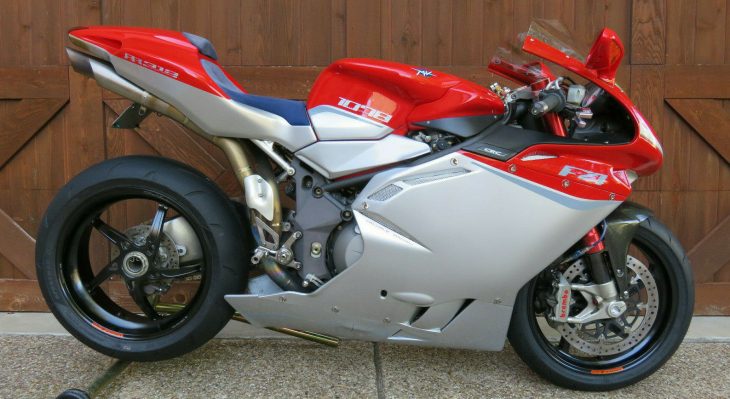 A very sexy bike with a very un-sexy name, "MV Agusta F4 1078RR 312" is at least descriptive. It tells you that it's a premier Italian superbike displacing 1078cc and capable of 312kph, or nearly 194mph. "RR" generally stands for "race replica" in the motorcycling world and frequently adorns homologation machines, but the nearly 1100cc would make the 1078RR ineligible for most production racing series, so it's probably here just to signify the bike's uncompromising nature. High quality components litter the bike: Sachs shock and steering damper, Brembo Monoblock brakes, a Marzocchi fork, and MV's EBS engine-brake system that works with the slipper clutch to improve rear grip during rapid downshifts.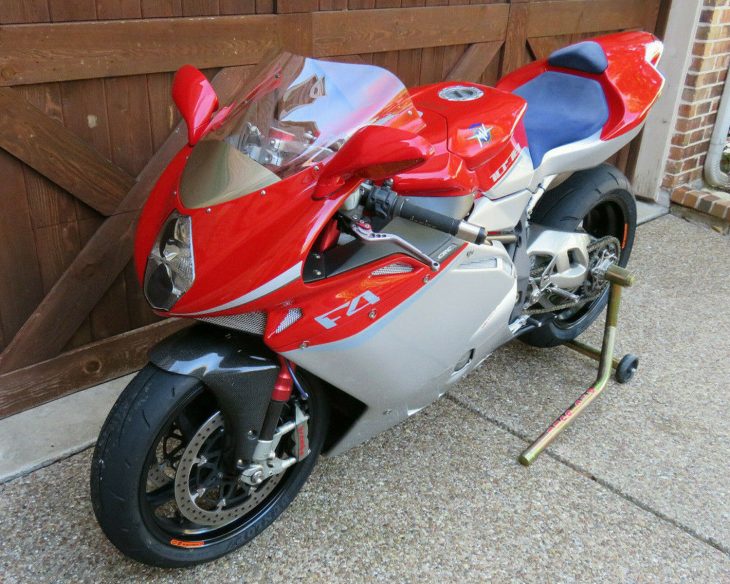 These bikes are not easy. They aren't especially light by modern standards. They run hot, and vent scalding air at your inner thighs in traffic. The riding position is cripplingly uncomfortable. The mirrors are useless, unless you're tucked in with your head behind the screen, and barely adjust at all. The throttle is wickedly crisp, especially with a properly-tuned aftermarket ECU. Have you ridden an Aprilia RSV4? The F4 is basically the complete opposite of that: where an RSV4 is friendly and confidence-inspiring, the F4 is intimidating. One bike flatters you, the other highlights your inadequacies. As a rider, and possibly as a human being. The RSV4 is your partner, an ally that helps you look like a hero. The F4 a femme fatale in a slinky black dress with a stiletto strapped to her thigh that will make you feel like you're not worthy. Or stab you. Or both. The MV Agusta F4 does not suffer fools gladly.
That's not to say that the 1078RR isn't fast, or that it doesn't handle. It's just that it takes hard work and commitment to get the best out of an F4. There's a reason so many of these bikes are barely broken in: everyone lusts after them, but they work much better as garage art than as bikes to actually ride, unless you're a masochist or are willing to risk one on track. The 190 horsepower may seem to barely qualify it for a place among today's superbikes, but the increased displacement gives it massive torque [91.5lb-ft!] to go with the high-rpm power, making it a beastly motive force.
Honestly, unless you're chasing lap times, any F4 is plenty challenging and entertaining on road or track. Even better: nice ones are usually shockingly affordable. A GSX-R1000 is still a better bike by every quantifiable performance metric, but these days you can buy an F4 for the same price. And as a bonus the F4 is one of the best-looking motorcycles ever designed. This particular example is not shockingly affordable, although it is very, very nice and features some very choice updates that should improve both performance and reliability.
From the original, colorful eBay listing: 2009 MV Agusta F4 1078RR 312 for Sale
1 of 6: red/silver Monoposto 1078 312RR sent to USA

This auction is for the following 2009 MV Agusta F4 1078 312RR (pictured)

Only 60 of the 1078 312RR were sent to the USA. They offered them in 3 color combinations. And also offered them in Monoposto and 1+1. This bike is 1 of only 6 RED/SILVER Monoposto bikes out of the total 60.

This bike has the following UPGRADES added:

Magnesium oro swingarm that has been finished in a brilliant titanium color
Marzocchi front forks
Bitubo rear shock
Ohlins steering damper
Titanium rear sprocket flange with upgraded cush lugs
DID chain
Titanium rearsets/levers
Full titanium BODIS exhaust
Microtec ECU (dyno tuned)
OZ forged aluminum wheels
NEW tires
320mm full floating Brembo T-drive rotors with titanium bolts
Titanium caliper bolts
Brembo Z04 pads
Stainless brake and clutch lines (blue)
Titanium Staubli Quick Disconnects on front brake line
High temp silicone hose kit
High flow water pump conversion
Oberon quick fuel cap
Various carbon parts
Suede seat
Titanium Dzus fasteners for body

Bought NEW in 2009 ($25,000)

Adult owned, never tracked, never raced, never crashed

Serviced by MV dealer at all intervals

Over $30,000 in aftermarket parts added

Selling to make room for another project… It's been a great bike!
Okay, so the $37,500 asking price is pretty eye-watering, and the seller seems to make the whole "the aftermarket parts and labor add to the value" mistake that afflicts so many people. The 1078RR is a very rare MV, but honestly all MVs are pretty rare, even the the ones that aren't part of some limited edition. The aftermarket bits seen here appear to be of the highest quality, and the dyno-tuned Microtec ECU is a very nice bonus: it should make this F4 the bike it always should have been, at least in terms of the power and response. Combined with the Bodis exhaust, this MV really should be the quite an event to ride. Unfortunately, that same money would buy you a clean Tamburini, a bike that will probably be even more collectible. Or you could pick up a clean 1078RR for around a quarter of the price and get it properly tuned…
-tad