Prices for the Massimo Tamburini-styled MV Agusta F4 are currently at a low point, so if you can put up with the bike's limitations and sometimes frustrating quirks, you can have what is arguably the best-looking sportbike of all time in your garage for the price of a used Suzuki. Most early F4 1000s you'll find are the classic MV Agusta red-and-silver, but occasionally, you'll see one of these silver-and-blue ones for sale.
It is a factory color combination, although you only rarely see them. I have a soft spot for this particular design, since the very first MV Agusta I had the opportunity to ride was in these colors. And, although everything you've heard about them is true, I was still smitten.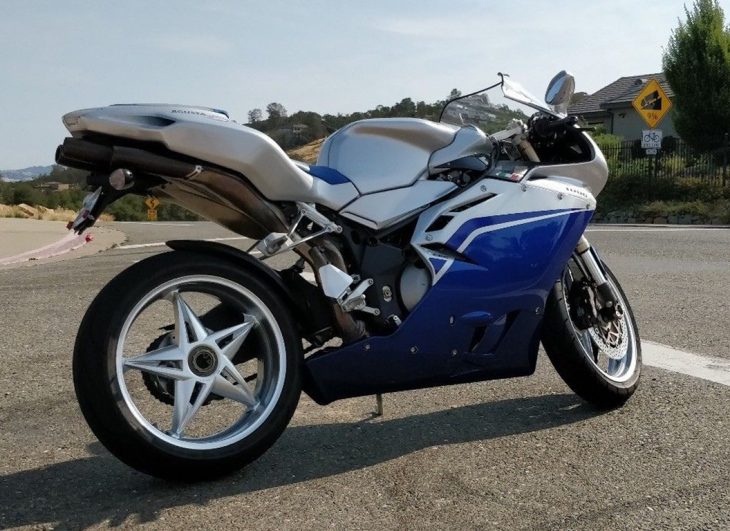 Issues with the first-generation F4 are well known: they're hideously uncomfortable and they run hot, especially in traffic, the rear hub is very sensitive to overtightening and can fail catastrophically if not properly adjusted. Or even if it is. The fuel injection is crude, and obviously parts can be a problem for a bike that's long been discontinued and was never produced in great numbers.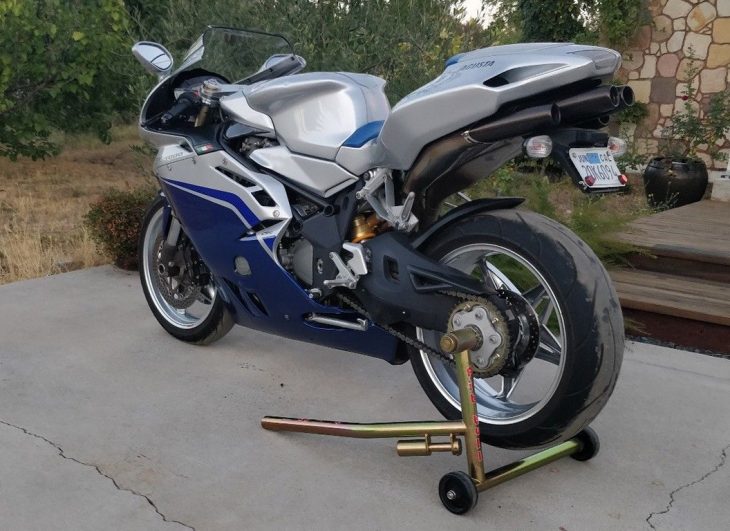 But if you're willing to take the plunge on an older MV, you can update the radiator and fans, a more robust hub kit is available, and when the injection is properly sorted with a Power Commander or stand-alone system, the 998cc inline four pulls like a freight train and the F4 handles like you'd expect of a thoroughbred Italian superbike. There's not a whole lot you can do to sort the cruel ergonomics, but adjustable rearsets and clipons might make it bearable, depending on your particular physique…
From the original eBay listing: 2005 MV Agusta F4 1000 for Sale
2005 Mv Agusta F4 1+1 well maintained super bike (recipients available) 

Unique and rare motorcycle for enthusiasts with great power and beautiful design.

Always garaged and adult owned, please let me know if you have any questions.

Thank you

*update please note a small dent on the tank (see last picture)
If you want an icon in your garage and have limited cash, or just want to convince strangers you've got more money and taste than you actually do, here's your ride. The seller is asking just $6,900 for this one. Honestly, that's a sharp price, assuming it's been well maintained and doesn't have any history of mechanical problems: the F4 is generally pretty robust, aside from the aforementioned issues, but the electrics can be fickle and a neglected MV will be a nightmare to put right. The seller doesn't include much information in the listing, but claims it's been well cared-for, and the photos suggest it's a clean bike. The fact that he points out the small dent in the tank suggest that he's probably pretty meticulous…
-tad