Even as their "base model" F4, MV Agusta's 750S ran interference for their many limited editions and total production could have been accomplished in an afternoon in Japan.  Today's MV looks to have great potential, with a few notable upgrades.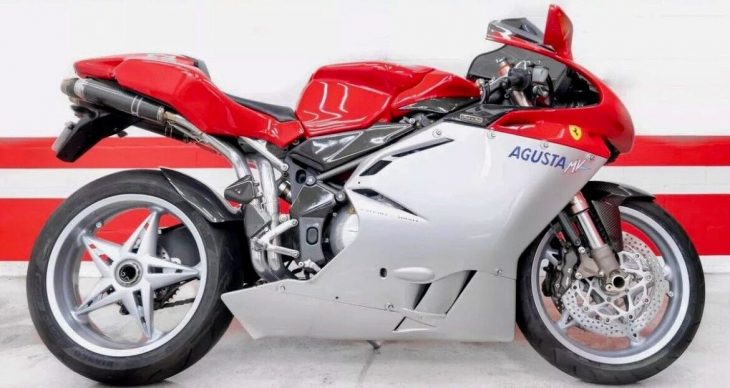 Engineers at the Cagiva Research Center placed a call to their buds in Maranello for a little assistance with the hemi-head design on the F4, and its radial array of valves.  It's been a great engine for MV Agusta, with the original 749cc mill clocking 126 hp.  Though initially built with a magnesium swingarm and sideplates, for the not-so-limited edition they were aluminum.  Designer Massimo Tamburini's latent thoughts on the Ducati 916 are evident when looking at the F4 unfaired, with the compact trellis frame and speed-oriented riding position.  The hinted velocity was delivered with the 750S, able to run an 11-second 1/4-mile and a top speed of 160 mph.
With 8K and change miles, this F4 has been enjoyed, but looks excellent with the second owner's attention.  Along with the carbon Silmotor mufflers, the exhausts have been ceramic coated, elevated by the included designer rear stand.  Some better pictures could be requested, but fairing tip-overs seem to be in the past, and some nicer spare lowers are included in the sale.  Comments from the eBay auction –
Many spare fairings, Rizoma rear brake fluid reservoir (red), three stands (2x rear 1x front), much carbon fiber, new tires, new tune up, fresh oil change, coolant flush, new plugs, new neutral switch, Moto Corse billet aluminum side stand (and original side stand), new fuel filter, new rear hub. Two owners (including myself), clean Carfax (included).

 

Also Factory magnesium wheels, ceramic coated pipes, Fast by Ferracci carbon fiber silencers (Italian Silmotor slip-ons), FbF bar risers, and two bike covers. One rear stand is Pitbull, one rear stand is the now unobtanium original Tamburini rear stand.

 

Note 1 – Ferrari badge from previous owner removed from fairing. Pix with fairing off are so potential buyer can see the frame and engine. Can send video of running bike. One LH fairing damaged in garage when I dropped the bike on my leg (see fairing pix) because of auto-retract side stand "feature". No other damage. Fairings currently on bike are "daily driver" bought used to save new or nearly-new fairings. Two keys. "Suicide stand" auto-retract side stand "feature" now disabled with Ducati 748 side stand spring. Typical crack in RH side belly pan fairing – epoxied and this is shown in the pix. Magnesium wheels in great shape. Front and rear fenders are carbon fiber (see pix).

 

Note 2 – The stock rear hub has been replaced with a new "Mitch" rear hub. Bike will also come with the original used rear hub in a box.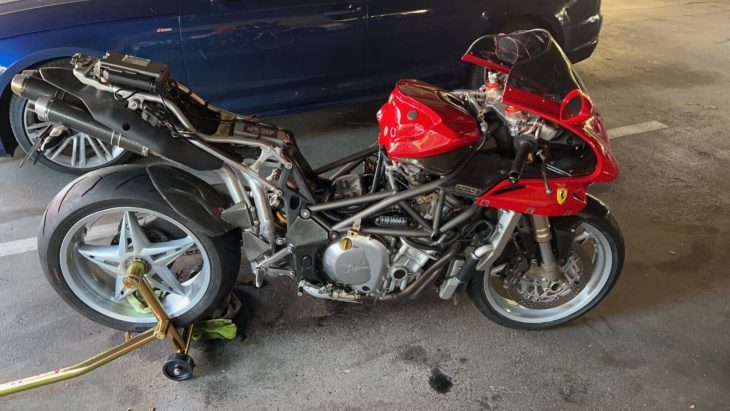 There isn't an MV Agusta dealer in every town, but fans of the brand will have a couple of websites and an "indy" service shop handy.  This seller doesn't hide the bike's history and seems to have made every effort to make things easy for the next owner.  At this point the F4 is an acknowledged classic and is as solid an investment as any motorcycle, with an occasional spirited ride as a benefit.
-donn