Thirty years after Giacomo Agostini won his last championship, MV Agusta paid tribute with their introductory F4 1000 Ago.  RSBFS reader Danny presents his barely broken-in Ago on its original tires.
2005 MV Agusta F4 1000 Ago asking $28,000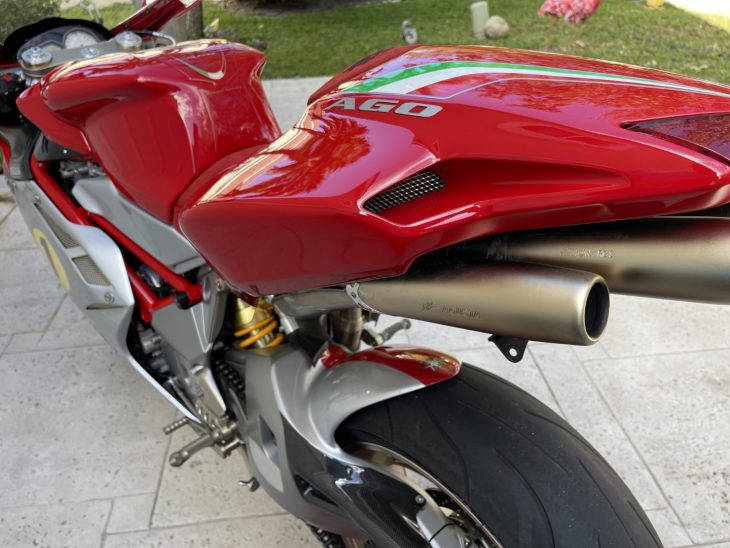 As an update to the 1999 F4 750 design by Massimo Tamburini, the F4 1000 picked excellent parentage.  The engine shares the F4 radial valve architecture, and though it comes at nearly 12,000 rpm, a full 166 hp await.  The 310mm six-piston Nissin brakes are simply the most capable, and the forged ten-spoke wheels Marchesini's lightest.  Gold-finished forks and shocks are from Marzocchi and Sachs, and Arrow made the underseat exhaust.  Outwardly, the F4 1000 is another Tamburini masterwork, sleek and shapely, the sharp nose making room for a big radiator inlet, with the sidestand faired into the full lowers.
Danny isn't the original owner, but has exercised considerable restraint, obviously providing excellent care and improving his F4.  Gilles rearsets offer more adjustments, and the Arrow exhaust is musical in Danny's walkaround video –
Danny's comments show his appreciation for the Ago –
MV Agusta F4 1000 Ago is one of the most desirable machines that money can buy, only 300 Ago models have been assembled for the 2005 model year honoring the legendary Italian racer Giacomo Agostini.
Agostini was one of the greatest motorcycle racer of all times.
He holds the world record for the most Grand Prix victories ever with over 120 wins.
This bike is in pristine condition with just over 2,800 miles in like new old stock condition, and still carries the factory original tires.
I have owned this bike for over 10 years in my personal collection with over other 20 unique Italian bikes.
Bike starts and runs perfect.
Few upgrades are the factory Arrow RG3 racing exhaust that sounds amazing 
and Gilles Tooling rear sets (extremely hard to find).
Bike includes rear factory stand, 2 keys,framed certificate of authenticity numbered and signed, an original MV Agusta Ago leather suit and gloves (extremely hard to find).
Manual book and tools.
Asking price $28,000
Contact Danny via email with questions – here -.
Agostini's winning streak certainly deserves the big number 1, with 13 MV Agusta championships over an eight-year stretch, in the 500cc and 350cc classes ( and then a couple with Yamaha ! ).  MV Agusta's own competition record is just as remarkable, with a championship in at least one class from 1952-1974 except 1957, and winning every class ( except the sidecar ) in the 1958-1960 seasons.  Danny's Ago is eminently collectible, and with some new rubber could be ridden a bit since it's not a zero-mile bike.
-donn